Chorizo is a type of sausage that originated in Mediterranean countries like Spain and Portugal. It consists of a cured and smoked pork sausage that is often present in many Spanish dishes.
Fresh or cooked, chorizo is full of strong flavors coming through the meat and the spices like paprika.
Chorizo is an ingredient that is commonly used in stews, meat dishes, and sandwiches. However, it isn't an ingredient for paella, despite some countries believing chorizo goes with paella.
If you are ready to cook with this flavourful ingredient, we have compiled 16 traditional Spanish chorizo recipes for you.
Spanish Chorizo Recipes
As soon as winter comes, Spaniards love enjoying stews and soups. Lentejas con chorizo is a classic lentil stew that is a synonym for comfort food.
The dish is made with green lentils, carrots, onions, garlic, chorizo, and bay leaves. It is a stew that can take a bit of time to cook, but it is definitely worth making.
The flavors coming from the vegetables and the chorizo are incredible.
Serve this warm stew with a few slices of bread and or a salad.
If you are visiting Seville, there is one dish you must try, and that is huevos a la flamenca which is literally translated as flamenco eggs.
It consists of a dish made of fried diced potatoes, fried eggs, chorizo, and peas. It is a very simple and quick recipe that is packed with flavor.
Enjoy huevos a la flamenca with slices of bread to dip in the egg yolk.
3 . Chorizos a la sidra – Chorizo cooked in cider (Asturias)
Chorizos a la sidra is a common appetizer in the region of Asturias, in the north of Spain. There is no tapa bar that doesn't serve this dish.
Fresh chorizo, Asturian non-sparkling cider, garlic, and bay leaves are the four ingredients you only need to cook this Spanish chorizo recipe.
This dish goes perfectly with bread, and it will be your next favorite tapa if you love the smokiness flavor of this sausage.
4. Fabada asturiana – Asturian pork and bean stew (Asturias)
One of the most famous stew dishes in Spain is fabada asturiana, a traditional stew from Asturias whose main ingredients are beans and different types of meat, including chorizo.
As happens with many Spanish stews, it isn't difficult, but it does take time to cook. However, regardless of the time of preparation, this is the perfect dish for a winter day.
Beans, chorizo, black pudding, bacon, and sweet paprika come together in this delicious dish.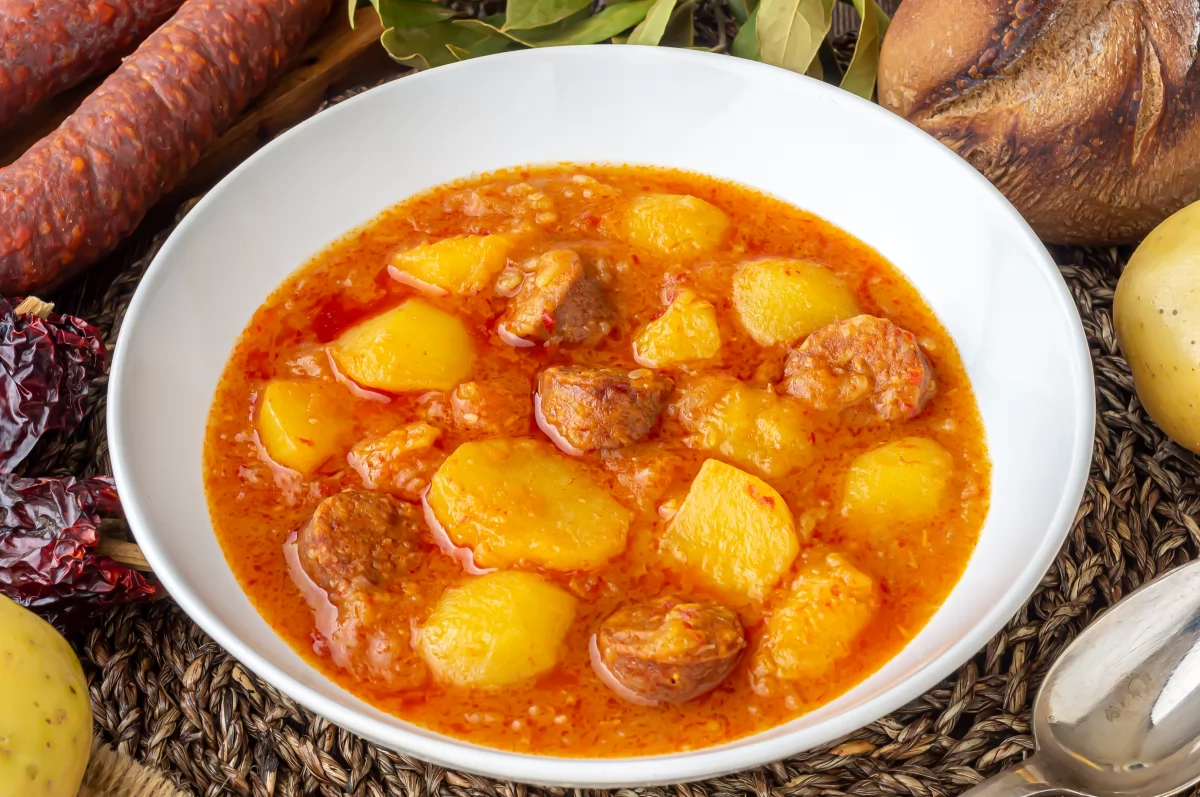 Patatas a la riojana is a budget-friendly, delicious, and full-of-flavor chorizo dish from La Rioja region. Although it is seen as a winter dish, you can enjoy it all year round.
Potatoes, chorizo, onions, garlic, sweet paprika, and bay leaves are the key ingredients to making this hearty dish.
Make sure to have a loaf of bread on the table when having this stew.
If you are looking for a unique recipe that uses chorizo, don't look any further, tortos asturianos con picadillo y cabrales is the best option for you.
This is a traditional and generous dish of Asturias that will surprise you. It consists of thick corn tortilla wraps, which are topped with fried eggs and chorizo. It is also very common to add small chunks of Cabrales cheese.
It is a simple but delicious recipe that makes an excellent lunch.
Cazuela de garbanzos con chorizo is a classic Spanish recipe with chorizo. It is the typical dish that is often made in the winter months.
Chickpeas alongside carrots, onions, red peppers, garlic, bay leaves, and, of course, chorizo are the essential ingredients for this recipe.
It is very easy to put together and doesn't take as long as other stews, so it is a great dish to prepare any day.
Another classic Spanish stew is alubias con chorizo, a perfect dish for a cold and rainy day. It is packed with flavors and nutrients too.
If you want to give a go to this recipe, you will need dried white beans, carrot, pepper, celery, sweet paprika, fresh chorizo, and garlic.
It is a recipe that needs planning in advance since you need to let the beans soak in water the night before, but apart from this, the preparation is very straightforward.
Serve this bean and chorizo stew with a few slices of bread; we can guarantee you that you won't be hungry after having this hearty dish!
9. Cocido madrileño – Madrid-style chickpea stew (Madrid)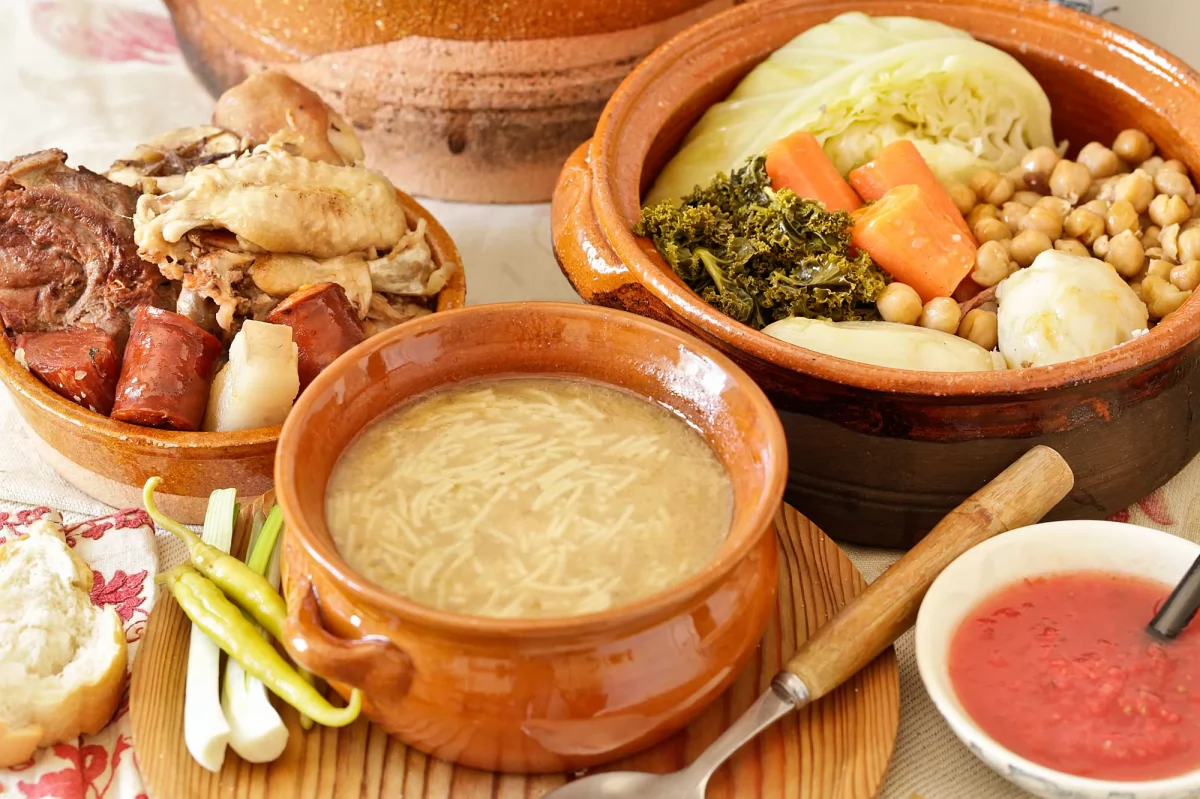 There is no visit to Spain's capital without trying its delicious dishes. If you visit Madrid during autumn and winter, this Madrid-style chickpea stew is all you need after a morning of sightseeing.
Chickpeas, potatoes, carrots, chicken, chorizo, and black pudding are a few of the ingredients that this scrumptious dish contains. Due to the number of ingredients, you can actually make two dishes out of this recipe.
Some locals have chickpeas with vegetables first, and then the meat with a good piece of bread.
It is a recipe you can also make at home and surprise your family or guests.
If you are in a rush but would love to make a filling and delicious dish in less than 30 minutes, huevos rotos con chistorra ticks all the boxes.
Chistorra is a special type of chorizo from the north of Spain, and this recipe includes this delicious sausage.
The dish consists of homemade fried chips, fried eggs, fried onion, red pepper, and chistorra.
Serve this delicacy with a good loaf of bread.
11. Bollo preñao – Chorizo bread rolls (Asturias)
Are you looking for a delicious appetizer made with chorizo? These chorizo bread rolls that originated in Asturias are the perfect bite for birthdays and any occasion – picnics, afternoon tapa, etc.
The most difficult part of making this recipe is its homemade pastry in which you wrap a small piece of chorizo.
The key to making the best chorizo bread rolls is using good quality chorizo and making small bread rolls.
Potaje de guisantes con chorizo is a rich and nutritious Spanish chorizo recipe that you want to add to your cooking book.
If you are ready to prepare this dish, you will need split peas, fresh chorizo, bacon, onion, tomato, and chicken broth.
This is an easy recipe that won't take much of your time since you will leave the cooking pot to do its job.
13. Cocido montañés – Cantabria stew (Cantabria)
Cocido montañés is a synonym for comfort food. This traditional strew from Cantabria, in the north of Spain, is a delicious dish that will keep you warm and full for hours.
Dried white beans, potatoes, collard greens, and a good variety of meats that includes chorizo and bacon make this stew.
The best way to enjoy this Cantabria stew is piping hot and freshly made; however, you can also have it after a few days too.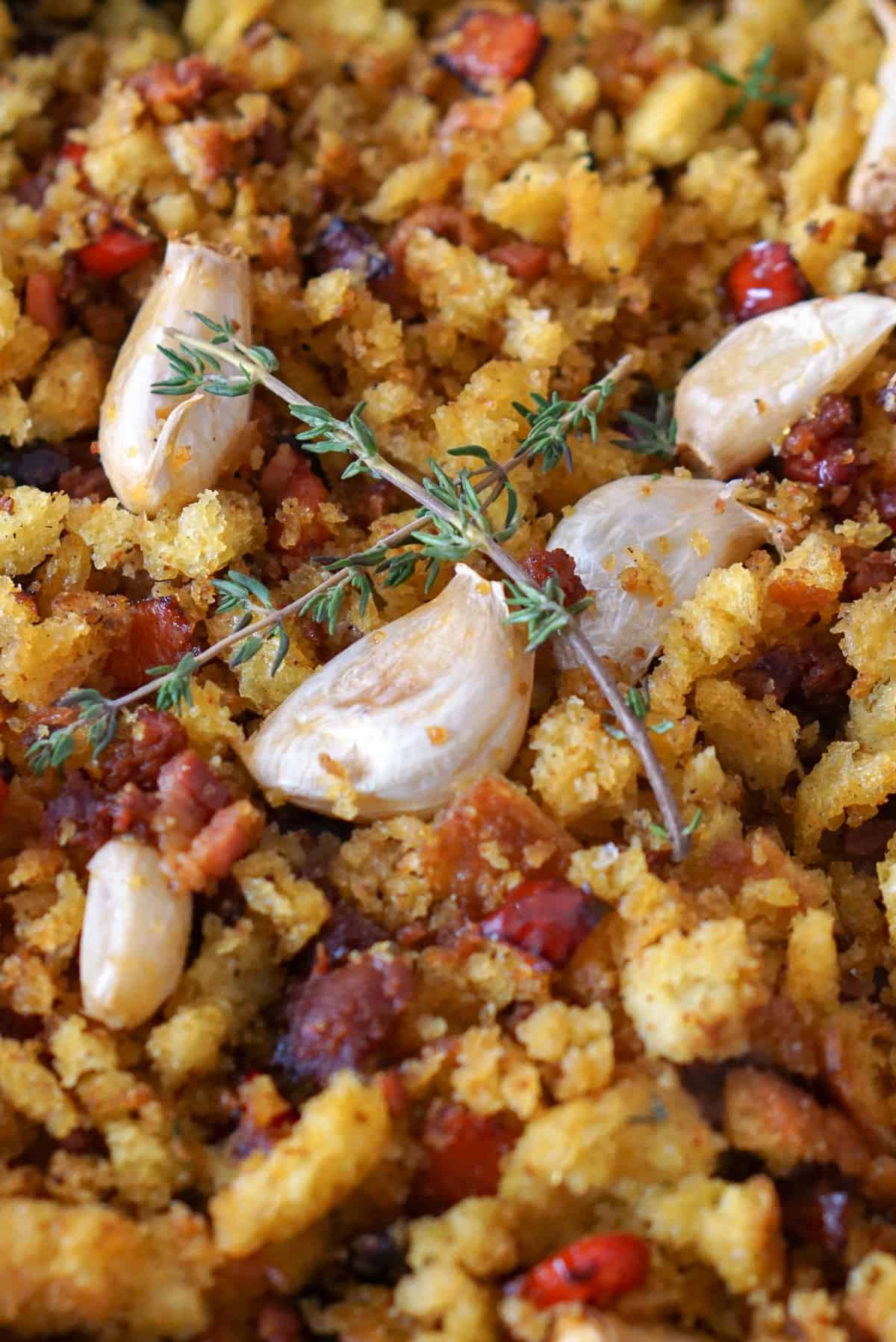 Another delicious comfort food that contains chorizo is migas con chorizo. It is a classic Spanish dish that is enjoyed for lunch.
Not only is it delicious, but it's a recipe that avoids wasting bread, an ingredient that is always on Spaniard's tables.
If you are ready to cook this recipe, you need stale bread, garlic, olive oil, and chorizo.
Although migas don't need any sides, you can add a fried egg too.
The north of Spain knows how to make hearty and comfort food like stews. This kidney bean stew that originated in the Basque Country is a favorite for many locals.
There are even competitions to see who cooks the best alubias rojas de Tolosa.
Tolosa kidney beans, chorizo, black pudding, pork meat, and pickled green chili are the key ingredients to make this stew.
16. Olla podrida – Pork and bean stew (Burgos)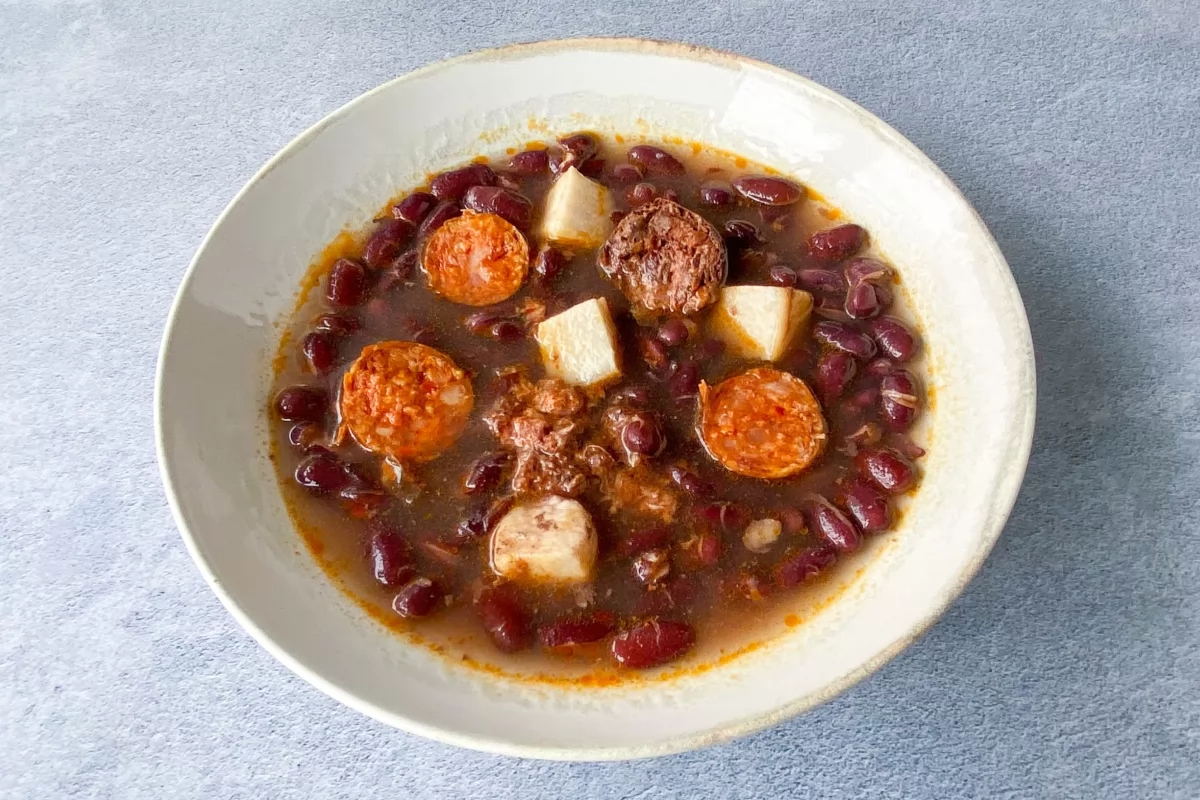 A traditional stew from Burgos is olla podrida. This is a recipe that goes back to Medieval times, and that continues to be a popular winter dish.
This stew consists of kidney beans alongside chorizo, black pudding, pork ribs, eggs, and breadcrumbs, among other ingredients.
It is a very satiating dish that will give you the energy you need in the day.