Catalan food is a synonym of Mediterranean cuisine which has been influenced by other nearby countries like Italy, France, and Greece. This has given Catalan cuisine a complexity that makes its dishes worth trying and adding to your meals.
Something that is also very peculiar in Catalan cuisine is the fact that it has many dishes made with a combination of mountain and sea ingredients by using meat and fish together in many recipes.
If you are ready to try this amazing cuisine, we have compiled a list of 26 authentic Catalan recipes that will open your appetite.
Authentic Catalan Recipes
1. Pa Amb Tomaquet (Pan Con Tomate) – Spanish tomato bread
One of the simplest but delicious Catalan recipes is Pan con tomate, Pa Amb Tomaquet in Catalan.
It consists of crusty white bread that is spread with garlic and tomato and drizzled with a bit of extra virgin olive oil.
It is often eaten for breakfast and served as a tapa, but you can have it at any time of the day. Some people also like to add some Serrano ham to it.
2. Escalivada – Catalan roasted vegetables
Escalivada is a light and quick recipe prepared by roasting aubergines, red peppers, onions, and garlic which are drizzled with a homemade vinaigrette.
It is perfect as a starter or side dish; however, you can use it as a topping for your bread or add other ingredients to make it more filling.
It isn't uncommon to add chorizo to escalivada, but you can be as creative as you wish with it.
The most important thing is to have it when it's room temperature rather than cold.
There is no better summer salad recipe than esqueixada, a traditional Catalonian salad.
This four-ingredient recipe will cool you down on the warmest days!
Salted cod, tomatoes, onions, and a drizzle of olive oil make this salad delicious.
Whether you are visiting Catalonia soon or want a taste of Catalonian cuisine, this salad is a delicacy you must try.
Have it as a side dish, or enjoy it as a tapa before your main course.
Suquet de Peix is a synonym for Catalonia's comfort food. This fish stew is made for a rainy and cold day.
The stew has delicious ingredients like seabass, monkfish, potatoes, tomatoes, and fish broth, and the combination of these is incredible.
It is a hearty main course that you can accompany with a side of empanadas and a glass of white wine.
5. Romesco – Romesco sauce
Romesco sauce is a staple in Catalonian cuisine. This sauce is often prepared for calçots (Catalonia spring onions), but it goes perfectly with many other vegetables and fish.
The sauce is made with ingredients like tomatoes, onions, nuts, garlic, and ñora pepper. This makes it a creamy sauce perfect for dipping vegetables.
6. Crema Catalana – Spanish-style creme brulee
There is no visit to Barcelona without tasting a crema Catalana, a Spanish-style crème Brulee. It is by far one of the best desserts in Catalonia!
Despite crème Brulee and crema Catalana being similar desserts, the differences are that crema Catalana is thickened with egg yolk and cornstarch and slow-cooked over the fire.
This dessert is incredibly delicious by itself, but you can also have it with a few wafer biscuits.
7. Panellets – Catalan almond sweets
Panellets is a traditional Catalan recipe that is especially eaten the day before and on All Saints' Day.
These almond sweets that the consistency of marzipan as their ingredients like almonds, sugar, boiled potatoes, and eggs. These sweets are topped with pine nuts, but you can also use shredded coconut.
If you happen to be in Barcelona during this time of the year, don't miss out on the opportunity to grab some of these delicious almonds sweets from a pastry shop.
A delicious side dish or tapa is espinacas a la catalana. This easy-to-prepare dish only consists of spinach, garlic, pine nuts, raisins, white bread, and olive oil.
Despite how simple this dish is, it won't disappoint you at all.
9. Peus de porc (Manitas de cerdo a la catalana) – Pig trotters
Pig trotters aren't only a common dish in Catalonia but in other provinces too. However, Catalans have their own way of cooking them.
Pig trotters and plenty of herbs like parsley and mint, carrots, onions, and white wine are only a few of the many ingredients for this recipe. The preparation of this dish is easy but slow as the meat needs to be tender.
You can accompany these Catalan pig trotters with a side of chips or a few slices of bread to dip in the sauce.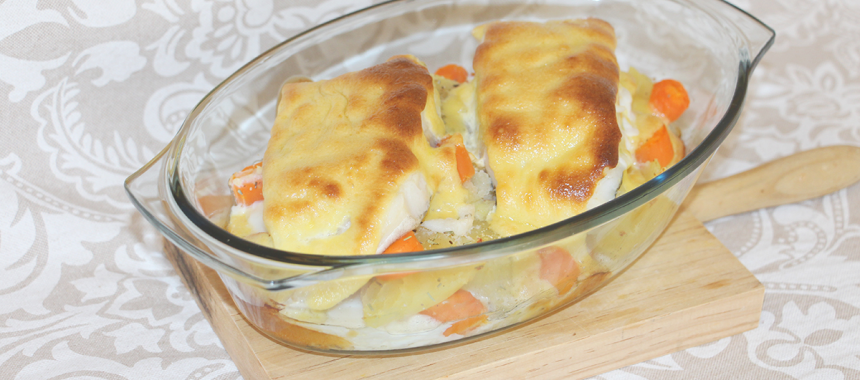 There are many ways you can cook cod, but one of the most delicious cod recipes is this traditional Catalonian recipe.
Bacallà gratinat refers to fresh cod loins that are roasted in the oven alongside carrots, potatoes, and aioli sauce.
It is a tasty main course that you can enjoy any time of the year and make for any occasion.
Escudella i carn d'olla, also known as cocido catalán, is a hearty stew made with different types of meat, chickpeas, and vegetables.
When you visit Catalonia in winter, try this traditional dish to warm you through.
If you want to try this recipe at home, it isn't difficult to make; however, you need to find the right ingredients, as some of them are local ingredients, to cook the best version of this stew.
12. Calçots amb romesco – Grilled onions with romesco sauce
Calçots amb romesco is a dish that originated in Tarragona, Catalonia. The dish is prepared with calçots, a type of spring onion, and romesco sauce.
These are often cooked on the barbecue alongside meat like chorizo, pork chops, and black pudding. This is what Catalans call a calçotada.
Once they are cooked, they are topped with the delicious Catalan romesco sauce.
13. Arròs caldós amb llamàntol (Arroz caldoso con bogavante) – Soupy rice with lobster
One of the tastiest Catalan recipes is arroz caldoso con bogavante, arròs caldós amb llamàntol in Catalan.
The dish consists of a rice soup, very similar to paella, cooked with lobster. It is a regional dish you need to try on your holidays in Catalonia.
However, if you aren't traveling to Catalonia anytime soon, this dish is very easy to make at home, and it is perfect for a family or friend gathering.
Another traditional rice dish in Catalonia is Arròs negre amb allioli, black rice with aioli sauce.
Bomba rice, fish broth, squid ink, and prawns make this dish a delicacy. This is a dish you can enjoy at a restaurant or make at home.
The key to this recipe is to use fresh seafood and make your own aioli sauce rather than buying it. Also, the best way to serve this is by eating it in a big pan (a paellera), just like a paella.
15. Canelons de carn – Cannelloni stuffed with meat
Canelons de carn is one of the most traditional Christmas recipes in Catalonia as it is the dish eaten on San Esteban's Day, which is held on the 26th of December.
This delicious dish consists of cannelloni stuffed with three different types of meat (beef, pork, and chicken), as well as foiegras, a type of pate. The cannelloni is served on a bed of bechamel sauce and cheese.
This is a children and adult-approved recipe that everyone will enjoy.
16. Mongetes amb botifarra (Butifarra con mongetes) – White beans with grilled pork sausages
Mongetes amb botifarra is a very humble dish that is popular in restaurants as well as at home. White beans and grilled pork sausages are the key ingredients for this recipe.
This dish only takes about 30 minutes, and it is very simple to make, so if you are looking for a traditional Catalan dish that you can put together quickly, this is a great option.
17. Mandonguilles amb sípia i pèsols (Albóndigas con sepia y guisantes) – Meatballs with cuttlefish and peas
Traditional meatballs do contain meat; however, it is common to make meatballs with fish and seafood in Spain, and this is the case of mandonguilles amb sípia I pèsols, meatballs with cuttlefish, and peas.
These meatballs aren't only made with beef and pork ground meat but cuttlefish, which give it a taste that combines the mountains and sea.
This dish goes perfectly with a glass of wine and a piece of bread to dip in the sauce.
Cargol a la llauna consists of a simple recipe made by roasting snails in the oven. They are often served with homemade aioli or a vinaigrette.
They are a popular snack or tapa served across restaurants and bars in Catalonia, so if you want to taste snails, this is your chance to do it.
19. Mel i mató – Honey with fresh cheese
Mel I mató is a dessert made from mató – a fresh cheese found in Catalonia made from cow or goat's milk without any added salt and served with a drizzle of honey and walnuts.
Since mató is a regional cheese, it won't be easy to find outside Catalonia, so if you are making this recipe at home, ricotta cheese is a good alternative.
20. Fricandó – Catalan beef stew
Fricandó is a Catalan recipe that is very common during the autumn months.
Beef, mushrooms, vegetable, nuts, and herbs together make this hearty, delicious Catalan beef stew.
The recipe does take more time than other Catalan recipes, but it is worth making on a weekend or a day you have more spare time.
The best way to accompany this dish is with a glass of red wine, a few slices of bread, and maybe some chips.
21. Xató – Fish salad
Xató, also known as xatonada, is a typical dish from Garraf and Penedés in Catalonia.
It is a salad that is made with local ingredients and is dressed with the famous romesco sauce. The key local ingredients to make this salad are unsalted cod, tuna, anchovies, olives, and curly endive.
Xató is a refreshing salad that is great as a starter or main course, as it is very filling and served with a good glass of red wine.
If you like pizza, you must try coca de recapte, a Catalan-style pizza that is perfect for sharing with your friends and family.
The traditional dish is made with a spongy homemade pizza base and topped with vegetables (like the ones used for escalivada), anchovies, and pork sausage.
If you visit Catalonia, you will also find different variations of coca in bakeries and traditional restaurants.
23. Trinxat – Andorran potato, cabbage, and bacon hash
This traditional dish that comes from Cerdaña, Art Urgell, and Andorra in Catalonia is a hearty meal made with an odd combination of ingredients that go perfectly together.
Trinxat consists of a mash made with potatoes, cabbage, bacon, and garlic, and this is topped with extra crunchy bacon. It is easy comfort food, ideal for the coldest months.
Sopa de galets is a Catalonian meal especially served on Christmas Day; however, it is made for other occasions too.
Pasta in the shape of snail shells (galets in Catalan), beef and pork ground meat, and egg and chicken broth are some of the key ingredients that make this delicious soup.
This is a recipe that both adults and children thoroughly enjoy.
When talking about Catalan sweets, we cannot forget Carquiñoles, a hard biscuit that is typical in Catalonia as well as the Balearic Islands and Aragon.
Carquiñoles are made with wheat flour, eggs, almonds, sugar, and yeast. It is very common to have these biscuits during the Christmas holidays, but you can eat them all year round.
Enjoy carquiñoles with a coffee or tea or nougat ice cream during the festive period.