Spain is known for its meaty dishes, but the truth is that the country has many vegetable recipes too.
Whether you are vegetarian or simply looking for Spanish recipes that incorporate vegetables, we have compiled a list of 26 delicious vegetable recipes that you will want to try.
Spanish Vegetable Recipes
1. Berejenas con miel – Aubergine with cane honey (Cordoba)
One of the simplest but delicious Andalusian vegetable recipes is berejenas con miel.
It consists of slices of aubergine that are slightly coated with flour and fried. Once the aubergines are thoroughly fried and crispy, they are topped with cane honey that gives them a sweet and licorice-like flavor.
This is a great starter that you can enjoy with a beer.
2. Piperade – (Basque Country)
Piperade, also known as piperrada, is a traditional dish from Basque Country.
This vegetable dish is made with humble ingredients like red peppers, green peppers, eggs, onions, and garlic. It is a very easy dish to prepare as once you cut all the vegetables; they are slowly cooked along with the egg towards the end of the cooking process.
Piperade is perfect as a starter dish or main dish that you can accompany with a few slices of bread to dip in and even ham to make it more filling.
3. Tombet – (Majorca)
Tombet is a synonym of the Balearic Islands – there isn't a more traditional dish than this one.
This light and delicious dish is made with potatoes, aubergines, courgette, red pepper, homemade tomato sauce, and olive oil.
The vegetables are sliced and fried and then served with the smooth homemade tomato sauce.
It is perfect to have on its own or as a side dish for any fish and meat meal.
If you are looking for an easy vegetable recipe, you will love Padron peppers.
These are green peppers that grow in the region of Galicia, and you can't tell how spicy they are until you try them because not all Padron peppers are spicy.
To make this recipe, you need Padron peppers, a neutral oil like canola or grapeseed, coarse sea salt, and olive oil. The peppers are fried until they are blistered and charred.
Padron peppers are often served as a tapa in bars across Spain.
5. Escalivada – Smoky slow-roasted vegetable salad (Catalonia)
Escalivada is a very traditional dish in Catalonia, Aragon, and Valencia that you want to try on your next trip to Spain.
It consists of a smoky slow-roasted vegetable salad made with ingredients like tomatoes, onions, aubergines, red peppers, garlic, and olive oil.
All the vegetables are roasted in the oven and then peeled, sliced, and seasoned with olive oil and salt.
It can be served hot or cold, and you can eat it as a starter or a side dish with white fish like cod.
One of the most delicious vegetable recipes is Pisto Manchego, a traditional dish from the region of Castile La Mancha. It is the perfect vegetable stew to have on a rainy and cold day.
Made with a good selection of vegetables like peppers, courgette, onions, and tomatoes, this delicious dish will amaze you.
The vegetable stew is topped with a poached or fried egg, and it is served with a few slices of bread to dip in the egg yolk mixed with the tomato sauce.
Some locals also add fried cubed potatoes to pisto to make it even more filling.
7. Samfaina – Catalonian-style ratatouille (Catalonia)
Samfaina is a traditional Catalonian dish that is often compared to the French ratatouille.
It is a dish packed with nutrients and vitamins as it includes tomatoes, aubergines, peppers, courgettes, onions, garlic, and herbs. All the vegetables are slowly cooked and ready in less than an hour.
It is a delicious appetizer or side dish that can be served with any meat or fish.
8. Patatas a lo pobre – Poor's man potatoes (Andalusia)
If you are looking for an easy and inexpensive vegetable recipe to make, patatas a lo pobre, translated as Poor's man potatoes, is the one for you.
This dish consists of finely sliced potatoes that are fried alongside onions and green peppers. Despite how simple it sounds, it is a delicious combination.
Patatas a lo pobre is often served as a side dish with meat or fish, but you can make it a main course by adding a fried egg and serving it with a few slices of bread.
Stuffed aubergines are a perfect recipe to make any day of the week as they won't take a lot of your time, and they are to die for.
Made with aubergines, pork and beef mince, tomato sauce, onions, and cheese, they are full of flavor.
They make a great lunch and don't need any side dishes, but if you wish, you can accompany them with some fries.
A very traditional dish in Andalusia, and more specifically in Seville, is espinacas con garbanzos.
It consists of a stew made with chickpeas, spinach, and a good number of spices like cumin, sweet paprika, pepper, and coriander.
This dish is very easy to put together in 30 minutes and is perfect as a tapa with a few slices of bread and a glass of red wine.
11. Gazpacho – Cold tomato soup (Andalusia)
One of the most refreshing vegetable recipes is gazpacho, a cold tomato soup that is very typical in Southern Spain.
This tomato soup is made with ripe tomatoes, green pepper, cucumber, white bread, onion, garlic, and Jerez vinegar.
It is very easy to make, and it is a great starter to serve your family and friends at a barbeque or food gathering.
The good thing about preparing gazpacho is that you can also keep it in the fridge for a few days.
12. Zarangollo – Scrambled eggs with zucchini (Murcia)
Zarangollo is a traditional regional dish from Murcia in South-eastern Spain, and it's a dish you want to try when you visit Murcia.
This dish is made with humble ingredients like eggs, zucchini, onion, olive oil, chives, and salt and pepper.
All these ingredients are added to a pan to create these delicious scrambled eggs with zucchini that you can have as an appetizer.
Zanahorias aliñadas, also called zanahorias aliñás, is one of the simplest but most delicious side dishes in the region of Cadiz.
This dish consists of sliced carrots that are boiled and then marinated with minced garlic, cumin, oregano, paprika, apple vinegar, water, and salt.
They are perfect as a tapa with a glass of wine or beer but also as a side dish with fish or meat.
It is a dish that you will want to eat more than once.
Salmorejo is a traditional cold soup from Andalusia, and although it is very similar to the popular gazpacho soup, this one is thicker and creamier.
Although you can find salmorejo on menus across Spain, you'll taste the best salmorejo in Southern Spain.
Salmorejo is a soup made with tomatoes, stale bread, sherry vinegar, olive oil, and salt. Then it is topped with hard-boiled eggs and ham.
This is a great recipe to enjoy on a warm summer day, as it is very refreshing and full of nutrients.
One of the most classic Spanish tapas is patatas bravas; crispy fried potatoes served with a spicy sauce.
It is a tapa that you must try during your holidays in Spain, but you don't need to wait to try them until then because they can be easily made at home.
Potato is the key ingredient for this tapa, and then the brava sauce can be as spicy as you want. However, it can be served with mayonnaise or aioli instead of brava sauce if you don't like the spice.
16. Calçots con salsa Romesco – spring onions with Romesco sauce (Catalonia)
Calçots con salsa Romesco is a classic vegetable dish in Catalonia that is made by grilling the calçots, a type of spring onion, and serving them with Romesco, a traditional Catalonian sauce.
The dish is simple but full of flavor coming through the spring onions and the earthy sauce.
They make a great starter for a summer barbeque with friends and family.
Spain's most popular dish, paella, is a dish that has many variations, including a vegetarian one.
Paella de verduras is packed with fresh vegetables like green beans, cauliflower, green and red peppers, artichokes, and onions. 
This is an excellent dish to prepare for big gatherings as it is easy to batch.
There is no better way to serve paella than a few slices of lemon and bread.
Patatas a la importancia is a dish that is worth trying when you visit the region of Aragon.
It looks like a very simple dish, but the process is a bit more difficult than it looks.
The dish is made with potatoes, eggs, onion, garlic, white wine, and parsley, and you get all the different flavors in one bite.
It can be served as a main dish but also as a side dish when done in less quantity.
19. Papas arrugadas – Spanish wrinkled potatoes (Canary Islands)
One of the most emblematic dishes in the Canary Islands is papas arrugadas. A simple recipe that consists of boiling potatoes with water and salt.
However, this is a dish that you may not be able to recreate because it is made with potatoes from the island. A good alternative is to use small baby potatoes.
Papas arrugadas are best when served with a homemade red mojo sauce.
A recipe packed with vegetables is Menestra de verduras, a dish that originated in Palencia, but is well known throughout the whole country.
Menestra de verduras has ingredients like peas, cauliflower, green beans, courgette, artichokes, carrots, and eggs. However, you can also add some pieces of Iberian ham to give it texture.
It is a delicious side dish to accompany fish or meat fish.
21. Trinxat de col – Cabagge and potato mash (Andorra)
If you are looking for a winter vegetable dish, trinxat de col is a synonym for comfort food.
This traditional dish comes from Andorra, and it will certainly warm you up on the coldest days. However, you can enjoy it at other times of the year too.
Trinxat de col is like a mash made of cabbage, potatoes, garlic, olive oil, and salt, which is topped with some crispy bacon which can be substituted with pork chops or other meat to make it heartier.
It doesn't need a side dish as it is a filling dish, but it is best served with a glass of red wine.
Ceuta and Melilla have influences from Moroccan cuisine, and one of the most popular dishes to try in these two cities is vegetable tagine.
This tagine is made with couscous and vegetables like carrots, green beans, and leeks. On top of these, the dish includes delicious nutty flavors from figs and nuts.
It is a very hearty dish full of nutritious ingredients.
23. Porrusalda – Leek, carrot, and potato soup (Basque Country)
Warm, comforting, and delicious, porrusalda is a traditional dish in the Basque Country. This is a soup that is prepared during the winter months, perfect for a rainy day.
Porrusalda is made with leeks, carrots, potatoes, chicken stock, and parsley, and it is the type of soup that will warm you up.
The good thing about making this soup is that you can batch it as it keeps well in the fridge.
24. Pipirrana – Tomato and pepper salad (Jaen)
There is nothing better than eating a refreshing salad on a warm summer day, and if you are looking for one, pipirrana will amaze you.
This traditional salad from Jaen is made with tomatoes, spring onions, green pepper, garlic, hard-boiled egg, and tuna.
The best way to serve pipirrana is cold, so after making it, leave it for a few hours in the fridge, and don't forget to get some homemade bread to dip in the sauce from the salad.
25. Olla gitana – Vegetable stew (Murcia)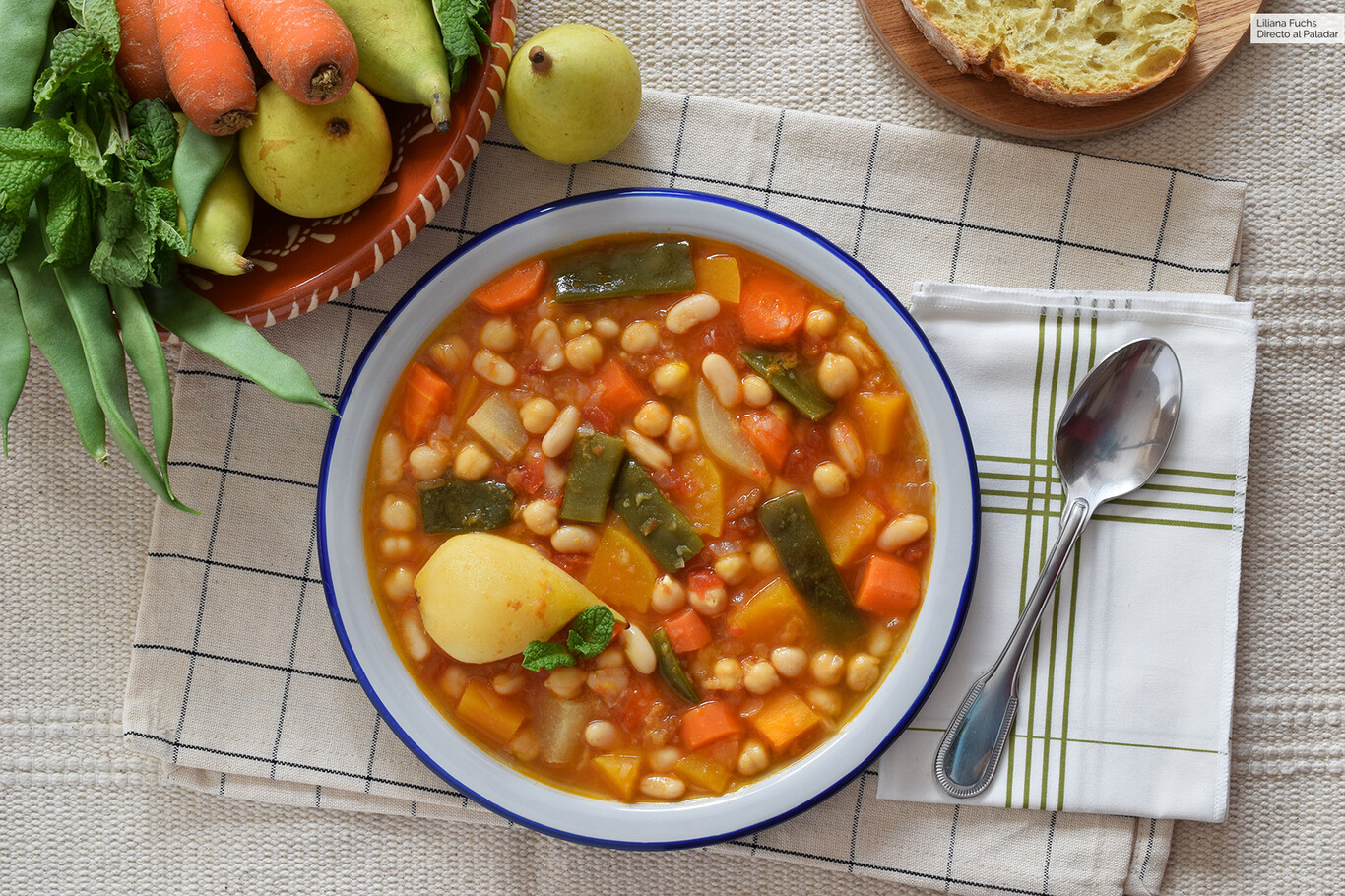 This traditional vegetable stew from Murcia is the perfect cure for a winter day.
Made with white beans, chickpeas, pumpkin, carrots, green beans, and tomatoes, among other delicious ingredients, it is comfort food at its best.
There are different variations of olla gitana in other cities like Almeria and Alicante, but the traditional one is a must-try.
Due to the large number of vegetables and legumes that this dish contains, you don't need anything else with it, but a piece of bread is always a good idea.
Whether you are looking for a quick tapa to assemble in a few minutes or a side dish for your main course, champiñones al ajillo is always a good option.
This light and healthy vegetable recipe consists of sautéed mushrooms with garlic, fresh parsley, and chili pepper.
Although they are at their best straight from the pan, you can also eat them cold.