Are you looking for traditional Spanish Semana Santa food? We've got you covered!
In this blog, you will find authentic Easter recipes from different regions in the country that you will enjoy eating in Spain or making at home.
What's special about Easter and Easter food
Semana Santa is an important and passionate event in Spain. There are many religious traditions, including the famous parades (procesiones) in which floats with Jesus and Mary's Bible scenes are carried by locals across the city centres.
Regarding Spanish Easter food, it is mainly focused on sweets and pastries as this is a time in which many Spaniards decide not to eat meat as per religious traditions. It is that time in which bakers and pastry chefs show off their best but traditional sweet creations.
However, there are also savory Easter dishes in which meat is substituted by fish like cod and sea bass.
If you are a foodie, especially with a sweet tooth, you will love spending Easter in Spain.
Semana Santa Food
Here is a list of 25 incredible Semana Santa foods you will want to try during your holiday in Spain or give them a go at home.
1. Torrijas – Spanish style French toast (Andalusia)
Torrija is the synonym of Easter in Andalusia. This sweet is a combination of French toast and bread pudding. Made with basic ingredients like milk, eggs, and bread, it is irresistible.
Although it's a traditional sweet, there are different types of torrijas – torrijas with honey, wine, honey, sugar, cinnamon, etc. No matter what type of torrija you try, you will love this Semana Santa food.
You can find them in most places during Easter, but they are also easy to make at home.
2. Pestiños – Honey-glazed fritter (Andalusia)
Pestiños are must-try sweets during the Holy Week in Southern Spain. Flour, honey or sugar, aniseed, and cinnamon are some of the main ingredients that altogether make this delicious sweet.
They are very popular in Seville, and you will find the best pestiños in one of the city's convents; however, they are also very easy to make at home.
Chickpeas with spinach is a traditional savory dish in the region of Andalusia, and, more specifically, in Seville.
It is common to enjoy this dish during Lent; however, it is served all year round. It is often served as a tapa, but it can also be a more consistent meal if you add a fried egg on top of it.
Despite being a simple recipe to prepare, it is incredibly delicious.
4. Mona de Pascua – Easter cake (Catalonia, Valencia, and Murcia)
Mona de Pascua is a spongy Easter cake that is traditional in Catalonia, Valencia, and Murcia. This traditional cake is eaten on Easter Sunday or Easter Monday, and you can find different variations of the cake, including a chocolate version.
This cake is enjoyed by everyone, but especially children. It's a tradition that godparents give a mona to their godchild on Easter Sunday.
If you are happened to be in any of these Spanish cities during Easter, you can find the cake in most bakeries and supermarkets.
5. Croquetas de bacalao – Bacalao croquettes (everywhere in Spain)
Fish recipes are very popular during Easter, and of course, these cod croquettes are a must on the table.
They are perfectly served as an appetizer but can also be a light dinner served with a refreshing salad. They are great to eat on their own but also good with a dipping sauce.
This simple and quick recipe will impress you and your loved ones.
6. Sopa de ajo – Spanish garlic soup (Valladolid)
The origins of this dish date back many years ago. It used to be a soup to avoid the waste of simple ingredients like garlic and hard bread. Nowadays, it is a very popular soup served on cold days and Lent.
It is an easy and affordable recipe as you probably already have most of the ingredients at home. The soup is sometimes served with a poached egg on top too.
7. Roscos – Fried donuts (Andalusia)
If you are looking for an Easter treat, you will love roscos, also known as rosquillas de Semana Santa.
The consistency is similar to a donut, but it also has ingredients such as orange juice and aniseed that give them a different taste.
You will find roscos across Andalusia, but you can also find a similar version of roscos in Galicia.
8. Buñuelos de viento – Nun's puffs (everywhere in Spain)
Buñuelos de viento is another version of a donut. These fried dough balls are very traditional everywhere in Spain, although it is believed that they first originated in cities like Granada and Seville during their Moorish times.
Find them at bakeries, supermarkets, and even restaurants that are creative in incorporating buñuelos to make new desserts.
9. Bartolillos – Fried empanada filled with custard (Madrid)
The most representative sweets in Madrid are bartolillos which consist of fried pastries filled with creamy custard and sprinkled with icing sugar.
If you are visiting Madrid during Christmas, Easter, or the San Isidro festival, you must try these mouthwatering pastries, which you will easily find bartolillos in most bakeries.
They aren't as quick and easy to make as they seem, especially if you are also making the custard from scratch, but they are worth the effort.
10. Potaje de Vigilia – Cod, chickpeas, and potato stew (everywhere in Spain)
This delicious stew, made with cod, chickpeas, and potatoes, is one of the most popular stews at Easter. It is a tradition to have this meal on Easter Friday, and it appeared many years ago due to the ban on eating meat during this religious time.
Potaje de Vigilia is the synonym for comfort food in Semana Santa, and don't forget to grab some bread to go with it!
11. Flores fritas – Sweet fritters in the shape of flowers (everywhere in Spain)
Made with milk, eggs, aniseed liqueur, flour, and orange zest, these sweet fritters are to die for. There is no Spanish region that doesn't know about Flores fritas; they are everywhere.
Not only are they delicious, but beautiful to see too as they have the shape of flowers.
Unlike other sweet Easter recipes, this one isn't an easy recipe because of giving the flower shape to the fritters.
Flores fritas are perfect for enjoying with a coffee or tea.
12. Panquemado – "Burnt bread" (Valencia)
One of the most popular Easter sweets in Valencia is panquemado or panquemao, which means burnt bread, despite not being burnt!
This sweet bread is perfect to have for breakfast or merienda (afternoon tea). It is often accompanied by a hot drink like coffee or hot chocolate; however, some locals also have it with savory ingredients like eggs and longaniza (long, spicy pork sausage).
If you visit Valencia during Easter, make sure to taste this delicious sweet bread.
Gañotes de Ubrique comes from Sierra de Grazalema in the region of Cadiz, and they are made during Lent and Easter. These delicious donuts in the shape of spirals have a deliciously sweet flavor that comes from ingredients like orange, lemon, and aniseed.
It is a tradition that families meet up to prepare a good amount of these sweets during the Holy week.
Despite its simple appearance, its aromatic flavor will surprise you!
As its name indicates, this sweet comes from Malaga in Southern Spain. These sweets are especially prepared during Christmas and Easter.
Borrachuelo malagueño consists of fried dough made with olive oil, orange, aniseed, and lots of wine – that is why it is called borrachuelo (which means drunk in English). They are also filled up with pumpkin and syrup and finished off with sugar sprinkled all over the top.
If you visit Malaga during these special times of the year, go to a bakery to taste these delicious sweets.
This sweet bread is a very similar version of Mona de Pascua. The bread is made with key ingredients such as flour, eggs, olive oil, and aniseed.
It is decorated with an egg which you can paint too; however, you can also prepare this sweet bread without the egg, and in this case, it is known as ochio instead of hornazo in Jaen.
16. Panades – Meat pie (Majorca)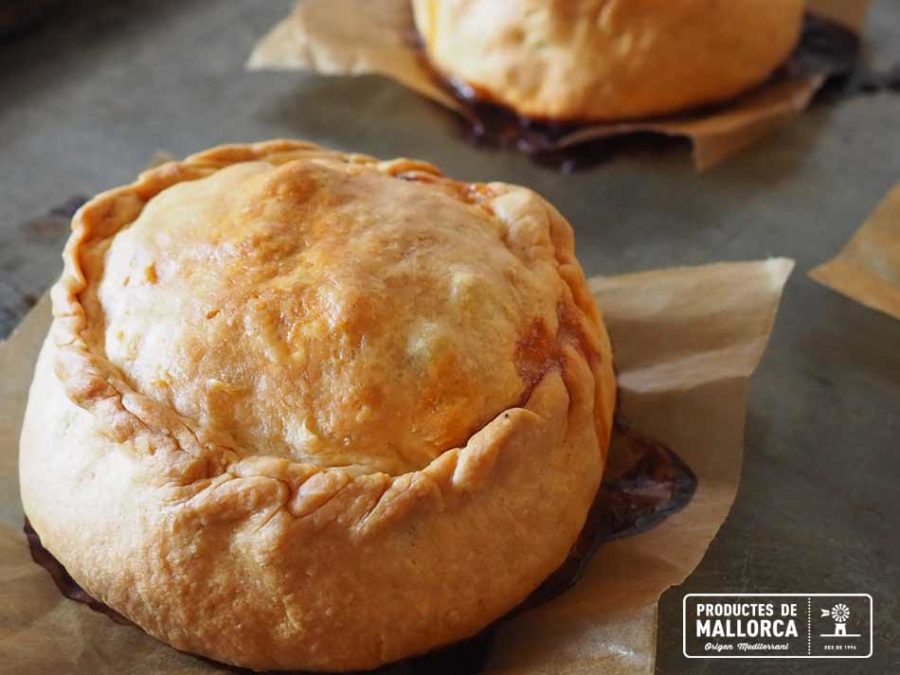 Majorca star dish is panades which consist of an empanada, a pie made with different types of meat (lamb and pork) and peas, although many families have their way of making panades.
It is a tradition to eat them on Easter Friday as this is the day when religious people start eating meat again.
Making panades take a bit of time, but if you decide to make one, you will certainly enjoy this delicious pie with your friends and family.
17. Robiols – Sweet pastry (Majorca and Menorca)
A traditional Easter sweet in Majorca is robiol; a pastry filled up with jam or Cabello de angel (pumpkin with syrup compote).
Robiols are also typical in Menorca; however, they have a savoury filling like meat with spinach, cheese, etc. They are easy to make and delicious.
18. Crespells – Easter cookies (Majorca)
Crespells are cookies that are very popular in Majorca during Semana Santa. These cookies are often made with the leftovers of the pastry prepared for robiols. However, you don't need to make robiols to make crespells.
This is an easy recipe that is prepared when people gather with friends and family during Easter. It's also the perfect recipe to get children involved as they are fun and simple to make.
19. Sancocho Canario – Salted fish with potatoes (Canary Island)
Sancocho Canario is one of the most traditional fish dishes in the Canary Islands. This recipe's main ingredient is cherne salado (a popular fish on the island); however, it can be also made by combining corvina and sea bass.
It is served with mojo rojo or mojo verde, Canarian red or green sauce, and pella de gofio, another delicacy from the Canary Islands.
20. Tollos en salsa – Canarian tollos (Canary Islands)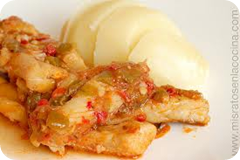 A must-try recipe from the Canary Islands is Tollos en salsa. Tollo or cazon is a commonly used fish in the region, and this is the main ingredient of this recipe.
The fish is boiled and then cooked with vegetables like peppers, onions, and tomatoes. The combination of these ingredients is incredible, and it is a dish you will want to eat again and again.
21. Bacalao Ajoarriero – Cod with peppers (Northern Spain)
Bacalao Ajoarriero or ajoarriero de bacalao is a traditional Easter dish in Northern Spain. It is made with unsalted cod, ripe tomatoes, peppers, spring onions, and garlic.
This dish is often served with potatoes which are added to the pan you are cooking the fish. However, you can also serve it with white rice or a healthy fresh salad. This is an easy recipe that anyone can make at home.
22. Hojuelas – (Valladolid)
A less known but delicious Easter dessert is Hojuela, a fried pastry that is very similar to the Andalusian pestiños.
These fried pastries are made with ingredients like flour, eggs, aniseed liqueur, and salt and then are sprinkled with icing sugar or honey.
They are very simple to make and can be served as a dessert or afternoon snack with a hot coffee or tea.
23. Leche frita – "Fried milk" dessert (Northern Spain)
Leche frita is a typical dessert for Carnival, Lent, and Easter, and although it is very popular in Northern and central Spain, it is widely found.
It is an easy recipe with simple ingredients such as milk, sugar, cornflour, egg, and cinnamon.
Despite being a traditional dessert, you can find many variations of it (leche frita with lemon, chocolate, caramel sauce, etc.)
24. Arroz con leche – Spanish rice pudding (everywhere in Spain)
This Spanish rice pudding is eaten all year round, and you can find it anywhere in Spain, but it is also cooked during Semana Santa week.
The ingredients of this recipe are simple: rice, whole milk, lemon, and cinnamon but all delicious.
It is easy to buy this rice pudding in any Spanish supermarket, but the best rice puddings are homemade.
25. Porrusalda – Vegetable soup (Basque Country)
Made with leeks, potatoes, carrots, chicken stock, and fresh parsley, Porrusalda is the perfect soup for Easter.
This hot soup is traditionally made across the Basque Country, and it is served as a main course accompanied by bread to dip in the soup.
It's an easy soup that is thoroughly enjoyed in winter, but it's also served at Easter.