Salads are very popular starters and side dishes in Spain, and you will be surprised by the diversity of traditional salads you can find in Spain – from potato salad and green salad to peppers and bean salad.
Keep reading to discover the most delicious and easy Spanish salad recipes.
Spain Salad Recipes
If you are looking for a refreshing salad, you will love pipirrana. This salad is very popular in Andalusia, although it is said that this dish originated in Jaen.
Made with simple ingredients like fresh tomatoes, peppers, spring onions, hard-boiled eggs, tuna, garlic, and olive oil, you will have this salad ready in no time.
The best way to enjoy this salad is cold, so put it in the fridge for a few hours or even a day to let it cool. You can have it as a starter or a light dinner, but don't forget to get some bread to dip in the juicy sauce.
Ensaladilla rusa is a very popular potato salad in Spain; however, as its name suggests, this dish originated in Russia, where it is often eaten on New Year's Eve and big celebrations.
However, Spaniards adapted this recipe and made it theirs. The main ingredients of this potato salad are potatoes, carrots, boiled eggs, cooked peas, tuna, olives, roasted peppers, and mayonnaise.
Nevertheless, you can find slight variations in the salad. For example, there are some people who add cooked prawns to this potato salad.
Although it does take a bit of time to make, it is worth cooking this salad because it is tasty and can last for days if it is preserved well in the fridge.
This Spanish potato salad is perfect for a snack or appetizer alongside breadsticks.
No matter what restaurant you visit during your stay in Spain, you will find Ensalada mixta (mixed green salad) on any menu.
It is a very simple and light salad that you can easily tweak by adding the toppings you want.
However, if you want a traditional Spanish mixed green salad, the key ingredients you need to use are lettuce, tomatoes, grated carrot, hard-boiled egg, tuna, sweetcorn, onion, and olives.
This mixed green salad it's perfect as a starter or side dish.
When you think about Valencia, paella is the first dish that comes to your mind; however, there are other delicious traditional dishes in this region, and one of them is esgarraet.
Esgarraet consists of a salad made with roasted red peppers, shredded salted cod, garlic, and extra virgin olive oil.
It is a very easy and quick salad to prepare as long as you buy the roasted red peppers.
Enjoy esgarraet as a side dish or starter.
5. Trampó – (Majorca)
Trampó is a traditional salad in Majorca that is popular during the summer months due to its refreshing ingredients.
Similar to the Andalusian pipirrana but slightly different, this salad is made with regional and seasonal products like green pepper, white onion, tomatoes, olive oil, and salt.
This is a great vegetarian salad to enjoy any time of the day on a warm day. If you want to make the salad more filling, you can add some tuna.
Remojón granadino is a salad that originated in Granada, but with an Arabic influence, and it is very popular in other Andalusian cities like Jaen and Almeria.
The salad is prepared with fresh oranges, shredded salted cod, hard-boiled eggs, onion, black olives, olive oil, salt, and pepper.
Despite the weird ingredient combination, you will be surprised how well all of them go together.
This salad won't take you much time, and it will impress your loved ones too.
7. Empedrat – Bean salad (Catalonia)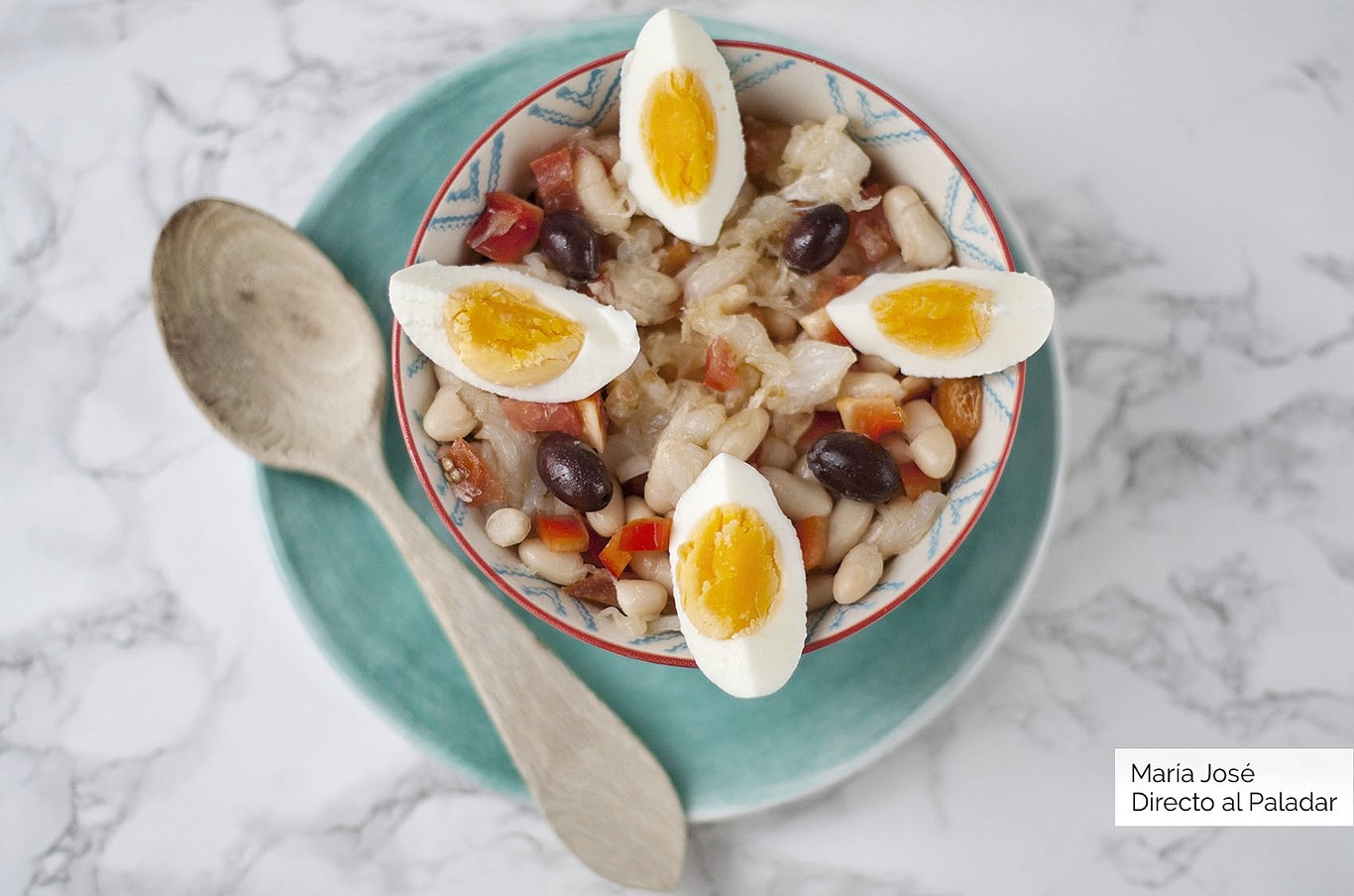 Empedrat consists of a bean salad that is very popular in the region of Catalonia. The name of this recipe comes from its appearance of small stones.
This traditional Catalonian salad has white beans, shredded salted cod, tomatoes, onions, red peppers, hard-boiled eggs, black olives, olive oil, and salt.
Some parts of Catalonia substitute the white beans with chickpeas or boiled potatoes cut into dice.
This salad goes perfectly with homemade romesco sauce.
8. Xató – (Catalonia)
This salad, also known as Xatonada, is a traditional dish in Catalonia that can be served as a starter or light main dish. It is made with curly endive, cod, anchovies, tuna, olives, and romesco sauce.
If you are looking for a salad packed with protein but healthy at the same time, Xató salad is perfect for you.
It doesn't take long to prepare, especially if you don't make romesco sauce from scratch.
Malaga salad is very similar to remojón granadino from Granada, but the recipe changes slightly.
The salad consists of potatoes, fresh oranges, shredded salted cod, spring onions, olives, olive oil, salt, and pepper.
It is the perfect starter on a warm sunny day in Malaga, but it can be prepared at any time of the year as this salad is packed with rich nutrients and vitamins.
Esqueixada de bacalao, esqueixada de bacallà in Catalan, is one of the most popular salads in Catalonia.
It is a refreshing summer salad that is served as a sharing starter in many bars and restaurants across Catalonia.
The salad has ingredients like fresh tomatoes, shredded salted cod, spring onions, black olives, olive oil, and black pepper.
The key to preparing a good esqueixada is to buy high-quality products and fresh ripe tomatoes.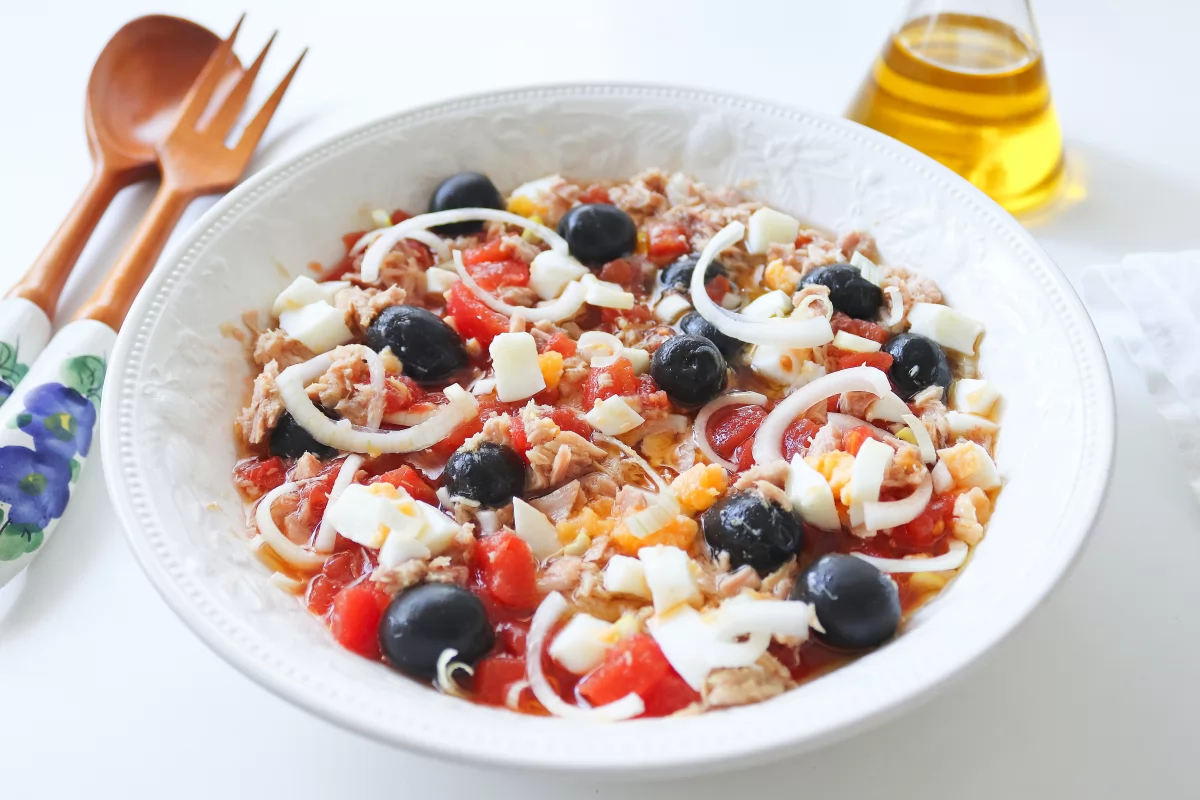 This salad from the Spanish region of Murcia brings you the freshness and taste of the Mediterranean in one dish.
Ensalada murciana is also known as moje or mojete murciano, and it is prepared with key ingredients such as plum tomatoes, onion, hard-boiled egg, tuna, olives, olive oil, and salt.
Not only is this salad very easy to make, but delicious and refreshing too.
12. Piriñaca – Potato salad (Cantabria)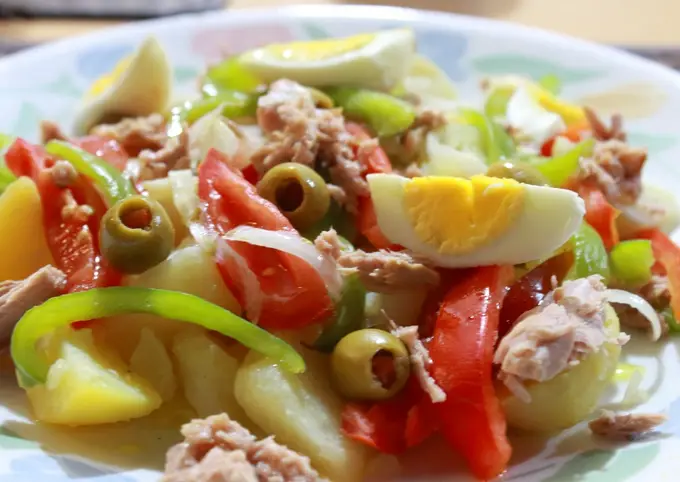 Another delicious potato-based salad is piriñaca, very popular in the Northern region of Cantabria.
Potatoes, peppers, tomatoes, tuna, and mustard are some of the ingredients you will need for this easy-to-make salad.
It is a great side dish or starter before tucking into your main course.
A salad that is perfect all year round is this roasted pepper salad. Although it does take a bit of time to prepare, the process is quite simple.
To make this salad, you only need red peppers, onions, tomatoes, olive oil, vinegar, oregano, and salt, and the combination of these ingredients is incredibly delicious.
This roasted pepper salad is best served cool and with a slice of bread to dip in the sauce.
Zorongollo extremeño is a roasted pepper salad from the region of Extremadura. What makes this salad different from the regular roasted pepper salad is the addition of hard-boiled egg.
This salad goes perfectly as a side for a fish or meat dish, but it is also a delicious appetizer on its own.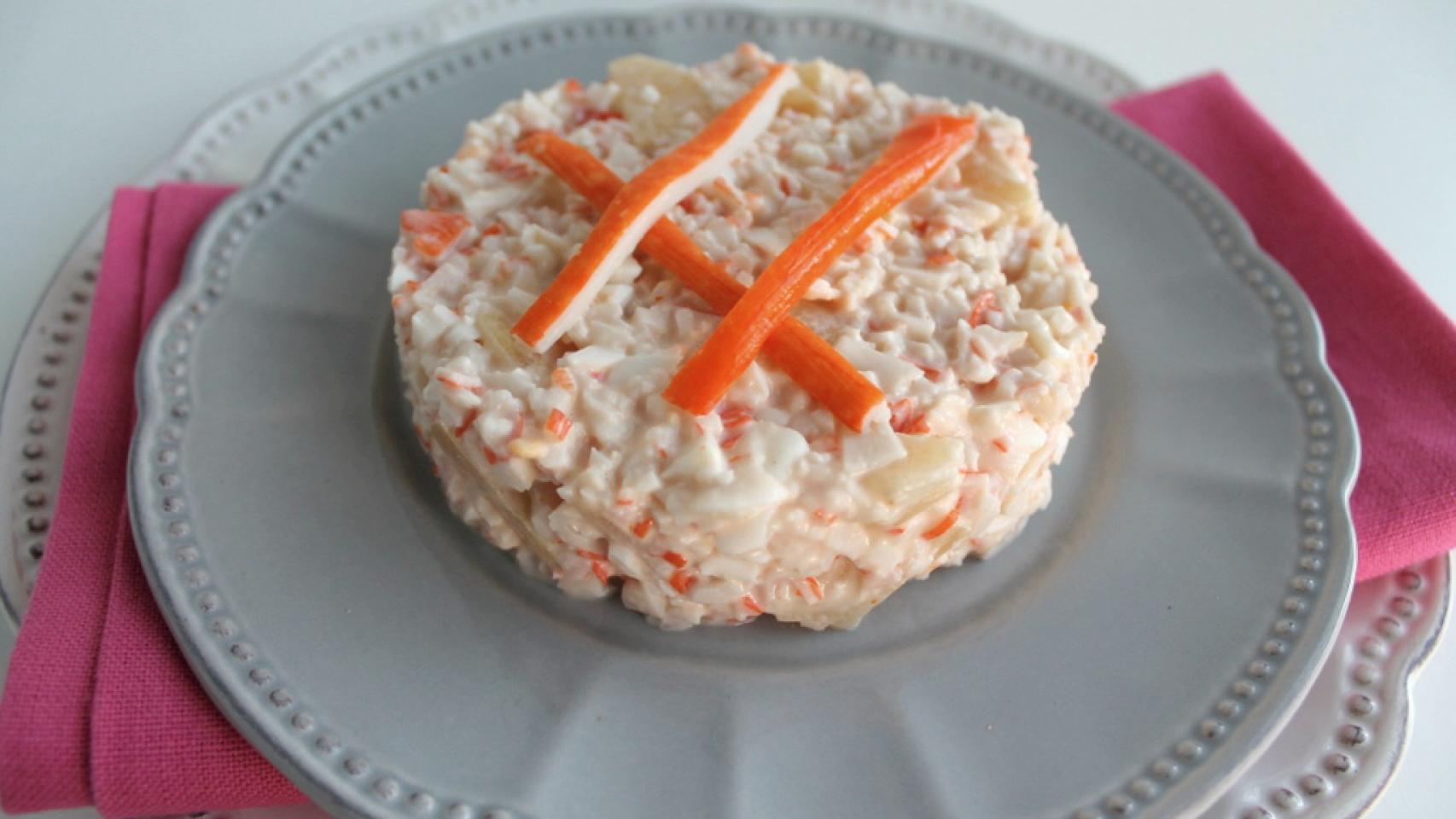 Spaniards love seafood, and this is where this crab salad comes into place. Crab sticks are the king ingredient of this salad, so it is essential to buy good quality crab sticks.
The combination of crab sticks, hard-boiled eggs, pineapple, ketchup, and mayonnaise makes this salad delicious.
This salad isn't only traditional in Formentera but in all the Balearic Islands. It is a popular salad choice on summer days.
Made with regional ingredients like peix sec (dried fish) and bescuit (dried bread) as well as other ingredients like boiled potatoes, peppers, tomatoes, and hard-boiled egg, this salad will leave you satisfied.
Ensalada payesa is a must-try salad during your holidays in Formentera.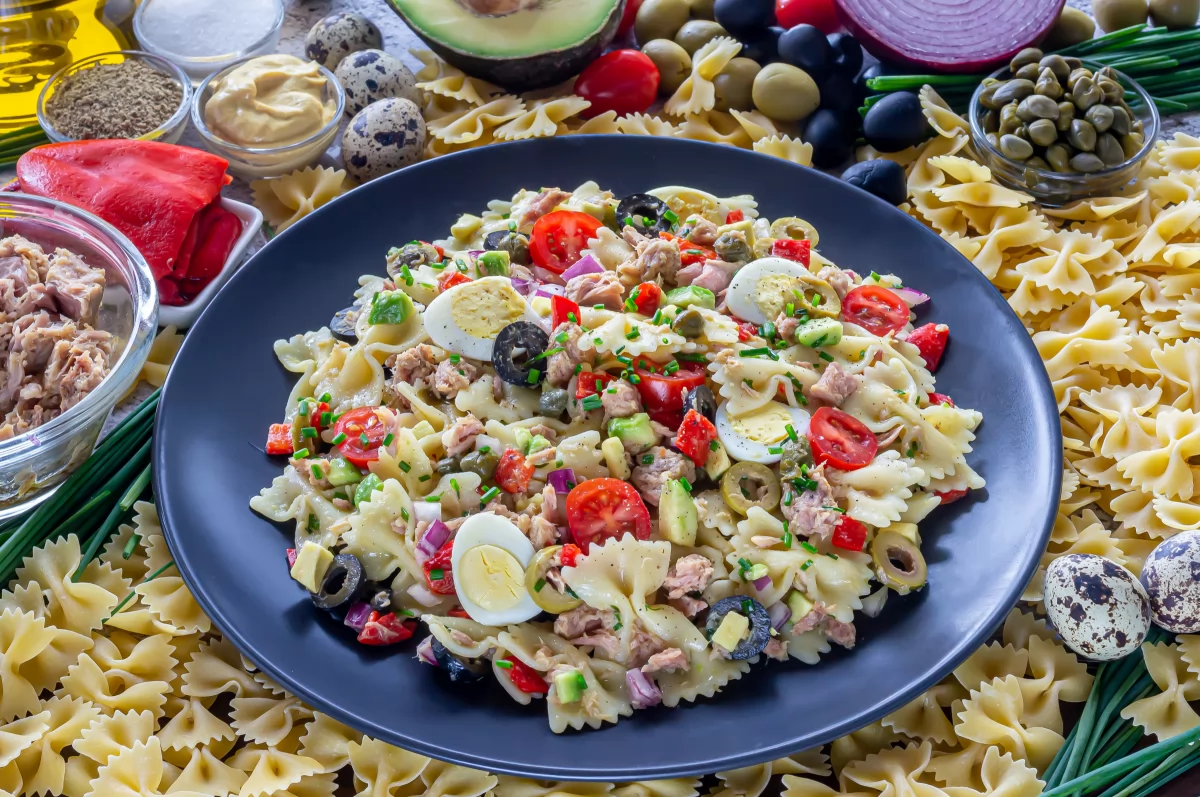 Although pasta salad is cooked worldwide, Spaniards love pasta salad when the summer days are getting closer and closer.
Despite being a very simple dish, the toppings for this salad are endless, so if there is an ingredient that you don't like, you can easily change it.
Pasta salads are often served as a main dish or sharing starter at parties like birthdays.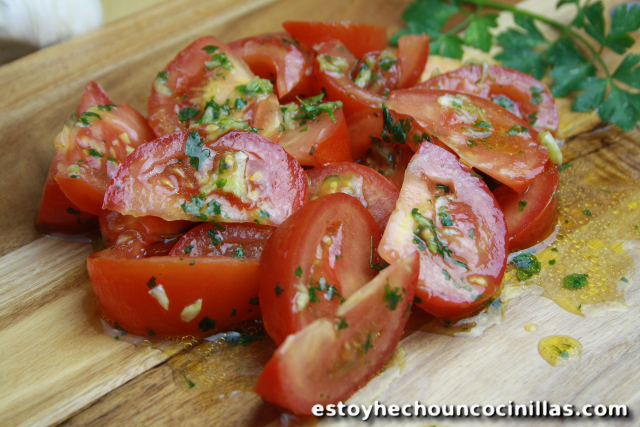 If you are looking for a quick and easy salad, this salad ticks all the boxes. Made with common ingredients like tomatoes, garlic, olive oil, vinegar, parsley, and salt, there is no reason not to try it.
This tomato salad is ideal as a light starter or dinner, and you can add some tuna to make it more filling or grab some bread to go with it.
This traditional potato salad in the Canary Islands is the perfect solution for a warm day.
Prepared with papas negras (a variety of potatoes from the Canary Islands), red pepper, red onion, olives, canned sardines, and hard-boiled eggs, is a delicious healthy salad packed with nutrients and doesn't take much of your time.
It is difficult to find these types of potatoes outside the Canary Islands, but you can substitute them with normal potatoes.
If you ever visit the Canary Islands, make sure to try this refreshing salad.