Tortilla de patatas is Spain's most popular potato dish, but what about if we tell you that there are many other Spanish potato recipes to try? You can have anything from Poor Man's Potatoes and Broken Eggs to La Rioja-Style Potato Stew.
We have compiled over 15 delicious potato dishes for you.
Spanish Potato Recipes
Tortilla de patatas is the most famous Spanish potato recipe, and it is so popular that restaurants compete with each other to have the best tortilla, and there are even competitions.
The ingredients are simple, but the flavors of this Spanish Potato Omelette are delicious. It is made with potatoes, eggs, olive oil, and salt. However, don't be surprised if some Spaniards add onion to this omelet.
Enjoy a piece of this potato omelet with a piece of bread, and if you love sauces, it goes perfectly with mayonnaise.
This dish didn't originate in Spain but in Russia, as its name suggests. However, it was brought to Spain, and the Spaniards made their version of the Russian Salad. Nowadays, it is a classic Spanish tapa you can find nationwide.
This Spanish Russian Salad is made with main ingredients like potatoes, carrots, peas, tuna, hard-boiled eggs, and mayonnaise.
There are different variations of ensaladilla rusa. Some people love adding other toppings, such as piquillo peppers, olives, or prawns.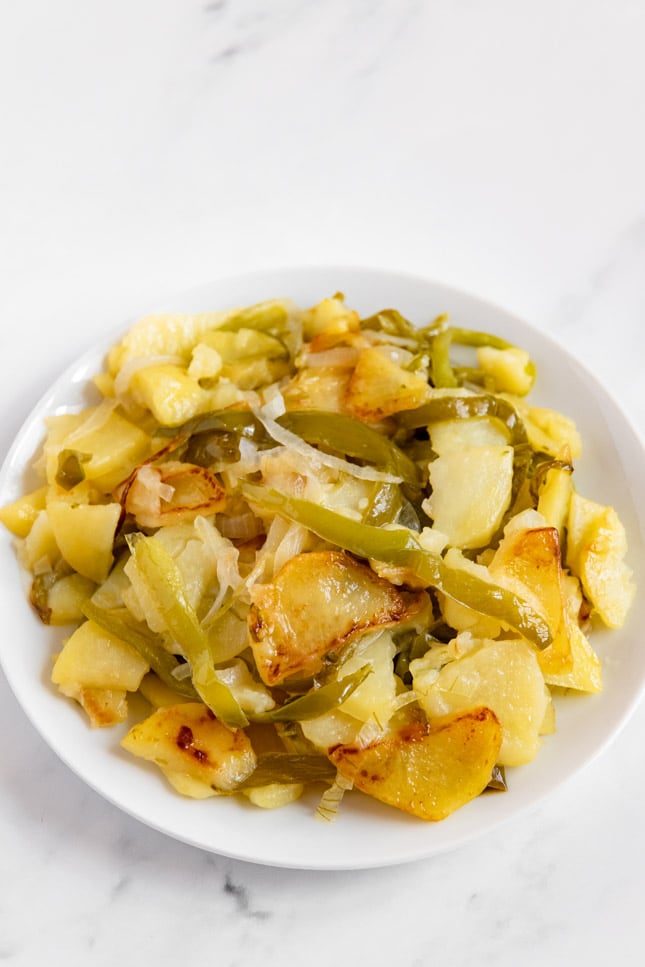 Poor Man's Potatoes is a humble recipe that is delicious and won't take much of your time. Also, it is a budget-friendly dish, and you will likely have many of these ingredients at home.
Potatoes, green peppers, onions, garlic, olive oil, and salt are the only ingredients needed to make patatas a lo pobre.
They are usually served as a side dish, which pairs perfectly with fish or meat.
Patatas alioli is a traditional potato dish that is in every tapa bar and restaurant. It is easy to make and delicious.
The key to having the best Aioli Potatoes is the aioli sauce, although the potatoes make a difference too. Using new potatoes is much better than other types of potatoes.
It is often served as a tapa, but you can have it as a side dish alongside fish or meat.
If you are looking for must-try tapas in Spain, patatas bravas is one you don't want to miss out on.
These potatoes are deep-fried and then accompanied by a delicious salsa called salsa brava, which contains paprika, onion, flour, chicken stock, garlic, olive oil, and salt.
Season the fried potatoes with salt and dip in the creamy, smoky, delicious sauce.
One of the easiest Spanish potato recipes is huevos rotos, translated as Broken Eggs.
You don't need many ingredients but high-quality ones to make the most of the flavors of this dish.
Broken Eggs is made with eggs, potatoes, Iberian ham, olive oil, and salt. Fry the potatoes and eggs and assemble the dish by putting the fried potatoes, Iberian ham, and finally the fried eggs.
The best way to eat this dish is by breaking the eggs and mixing them with the other ingredients. Don't forget a few slices of bread to dip in the yolk! It is delicious and filling, too.
7. Ensalada campera – Spanish Country-Style Salad
Ensalada campera consists of a potato salad, which you can have all year round, but it is very popular during summer as it is light and refreshing.
This potato salad has plum tomatoes, peppers, spring onions, eggs, tuna, olives, Sherry vinegar, lemon juice, olive oil, salt and pepper. If you like parsley, you can also add it.
Have it for lunch or dinner and put it in the fridge for a few hours to enjoy it cold. It is perfect for hot summer days.
Patatas a la importancia is a traditional potato recipe that originated in Castile and Leon. It is straightforward to prepare, and you will love its flavors.
Potatoes, eggs, onions, white wine, flour, chicken stock, saffron, garlic, and parsley are the main ingredients for this potato recipe.
You can have it as a tapa or alongside a main course.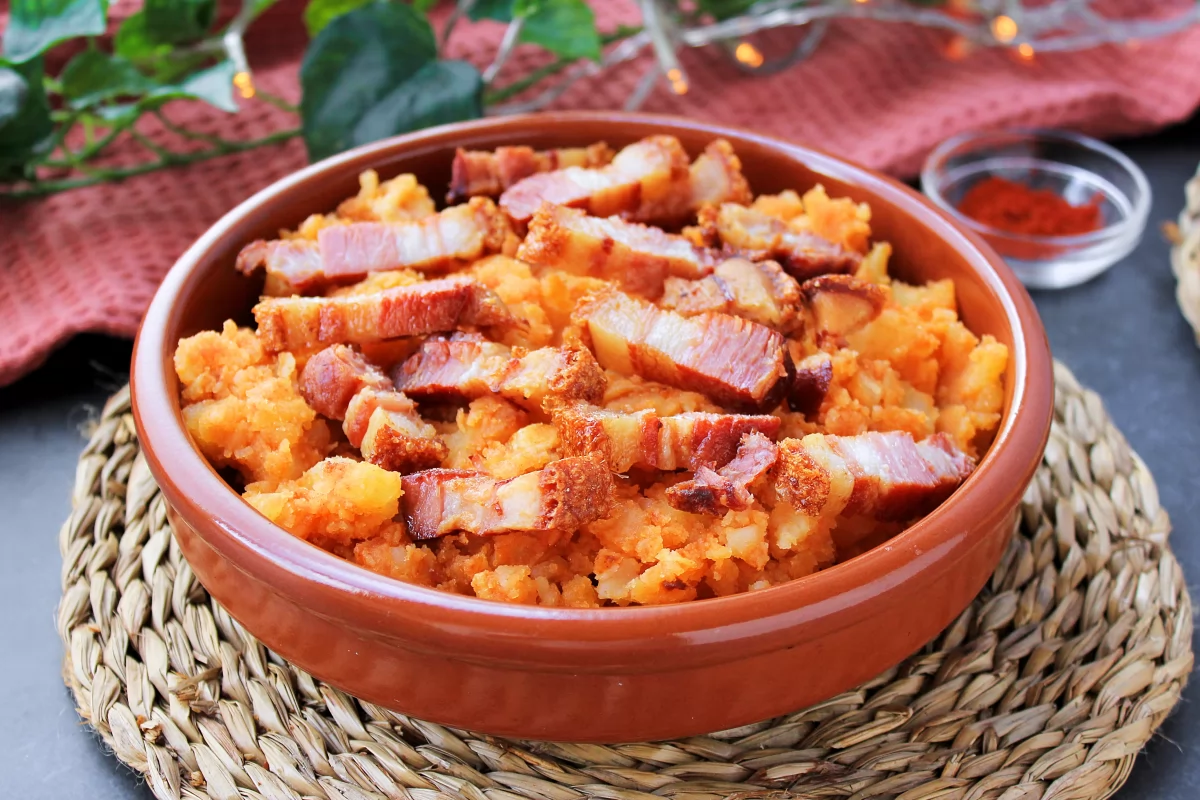 Packed with flavors and incredibly delicious, patatas revolconas, also called patatas meneás or machaconas, is one of the most popular tapas in places like Ávila and Salamanca.
It is a potato recipe that dates back many years, and it is believed that peasants created it.
The ingredients to make this dish are pancetta, potatoes, sweet and spicy paprika, bay, garlic, olive oil, sunflower oil, and salt.
When you don't feel like having fried food but still want a potato recipe, a classic mashed potato is the answer. It pairs perfectly with any main course, especially with red meat.
Are you ready to make this delicious mashed potato recipe? Then, you will only need potatoes, milk, olive oil and salt.
11. Patatas aliñás – Marinated Potatoes (Cadiz)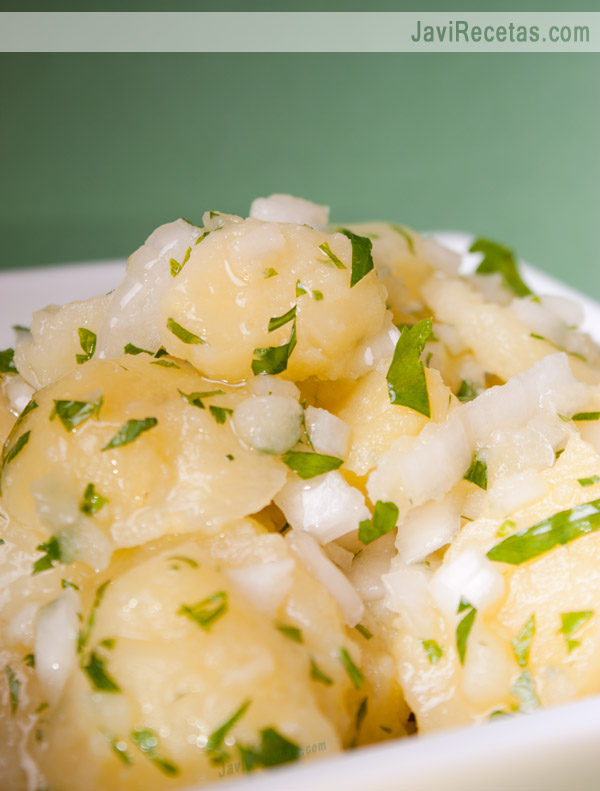 Patatas aliñás is a typical potato recipe from Cadiz, Southern Spain. It consists of a potato salad with simple ingredients.
It is made with potatoes, spring onions, fresh parsley, Sherry vinegar, olive oil, and salt. However, if you want to make it more filling, add hard-boiled egg, tuna, and olives.
It is a fantastic potato recipe to enjoy in the summer months. It is light and so refreshing.
12. Patatas a la riojana – Rioja-Style Potato Stew (La Rioja)
If you love stews, patatas a la riojana needs to make it to your meal plan. It is a recipe that originated in the beautiful region of La Rioja.
It is a synonym for comfort food and ideal for those cold winter days. Plus, it contains budget-friendly ingredients.
To make this stew, you will need potatoes, fresh chorizo, peppers, choricero pepper, onion, paprika, olive oil and salt.
13. Ensalada malagueña – Malaga-Style Potato Salad (Malaga)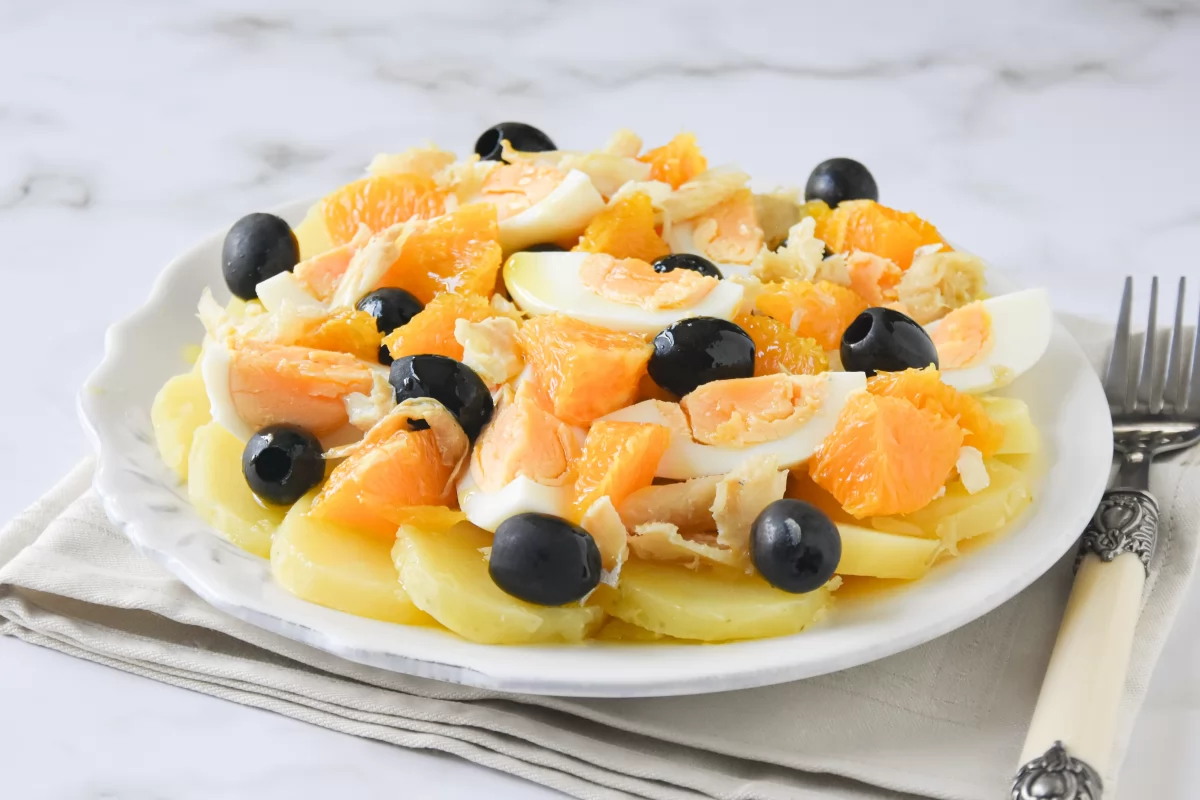 Ensalada malagueña is a typical dish of the city of Malaga. It is a fantastic recipe for those who love the combination of potatoes and fish.
This potato salad is made with cod, oranges, hard-boiled eggs, and black olives.
It is very easy to make, and the orange gives a refreshing touch to this potato salad.
Spanish cod and potatoes are a delicious and comforting dish that is sure to impress your dinner guests while also providing a nutritious, well-rounded meal.
This savory combination of flavors boasts the tenderness of flaky cod and the heartiness of potatoes, all brought together by the enticing aromas of Spanish spices.
An ideal meal for both weeknights and special occasions, you'll find this traditional recipe to offer a rich culinary experience while remaining relatively simple to prepare.
If you are looking for the easiest Spanish potato recipe, patatas panaderas is the one.
It simply consists of potatoes that are roasted alongside onions, garlic and fresh herbs, such as thyme, rosemary or parsley.
It is a great addition to any main course.
16. Papas arrugadas – Wrinkled Potatoes (Canary Islands)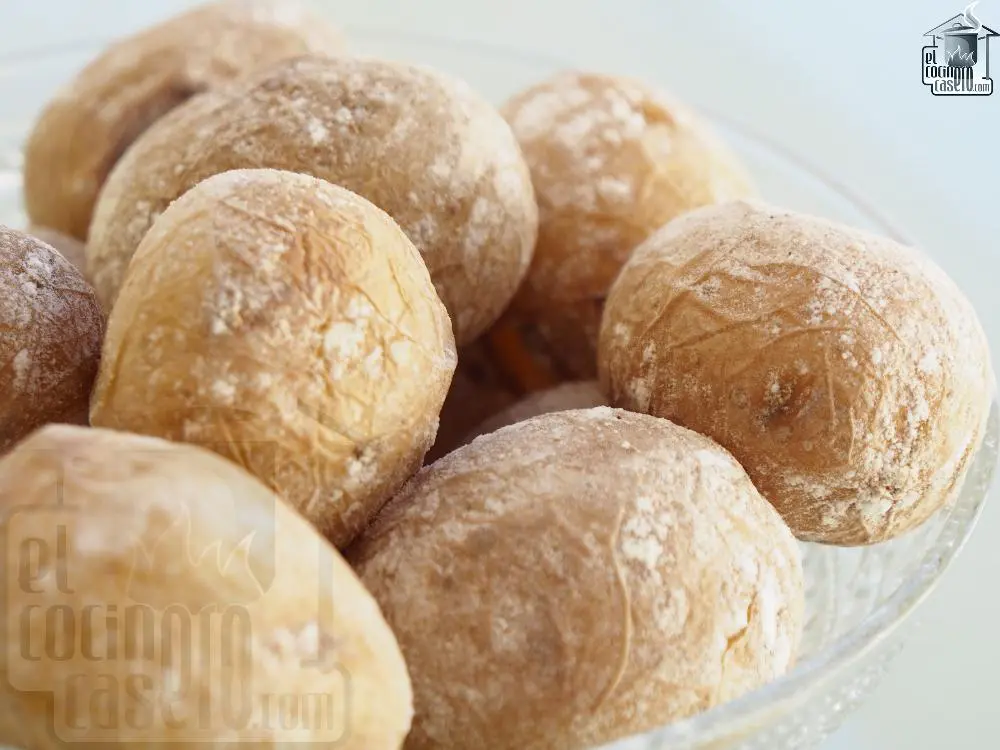 A trip to the Canary Islands isn't the same without trying one of its most popular dishes: papas arrugadas, translated as wrinkled potatoes.
To make this potato recipe, you need new potatoes, although the ones grown in the Canary Islands are definitely the best.
Making Wrinkled Potatoes is straightforward; you only need to boil the potatoes with plenty of salt until they wrinkle.
Locals have these potatoes with the island's top sauces: mojo verde (green mojo) and mojo rojo (red mojo), both made with spices and herbs.