If you are looking for different ways to add octopus to your dishes, we have compiled 15 delicious Spanish octopus recipes that will inspire you to use this amazing ingredient.
Spanish Octopus Recipes
1. Pulpo a la gallega – Galician-style octopus (Galicia)
One of the most classic Spanish octopus recipes is pulpo a la gallega, a Galician-style octopus.
Although the recipe looks easy, it does take a bit of time and work. First, you need to boil the octopus and then the diced potatoes. Cut the octopus and serve with the potatoes. Add paprika and a bit of salt, and it is ready to eat.
This dish goes perfectly with a bread roll and a good glass of red wine.
An easy and delicious recipe is pulpo al horno con patatas asadas, a twist on pulpo a la gallega.
This roasted octopus with potatoes is often served as tapa in many areas of Murcia as well as the north of Spain. However, it can also be enjoyed as a main course in a restaurant or at home.
The octopus is boiled and then roasted with onions, tomatoes, and leeks in the oven. The recipe is straightforward but takes some time, so it is a dish to make on the weekend.
Pulpo con gambas al ajillo is a delicious appetizer that you can serve your guests on a birthday or any special occasion.
It comes together in an hour when you buy fresh octopus as you need to boil it. However, if you can get cooked octopus, it will take you even less time to prepare.
The cooked octopus is served with prawns in olive oil and garlic sauce. This is a recipe that everyone who loves seafood will be amazed by.
This traditional octopus recipe takes you to the county of Asturias since beans "fabas" are a staple in Asturian cuisine.
This dish is the synonym with comfort food, and it is the perfect stew to enjoy on winter and rainy days.
The two key ingredients of this stew are octopus and navy beans, but it also has langoustines, red pepper, onion, leek, and sweet paprika.
Serve this hearty stew with a good few slices of bread and your favorite drink.
Who doesn't love croquetas? They are so easy to make and delicious to eat, and you can find them filled with many different ingredients like ham, chicken, cod, and octopus too.
If you decide to make them at home, it is a good idea to buy cooked octopus, if available, as this will speed up the process of making these croquettes.
These croquettes have key ingredients such as octopus, onion, fish stock, milk, and flour, and you need to prepare them in advance as you need to store the filling in the fridge for a few hours.
If you are looking for a traditional but tasty octopus recipe from the region of Galicia, pulpo a lo sochantre is an excellent option.
If you make it with fresh octopus, the octopus is first boiled and then cooked with peppers, onions, tomatoes, and garlic. Alternatively, you can buy a cooked octopus and add it to the pot with all the vegetables.
This recipe is full of flavors and perfectly accompanies a warm baguette to dip in the sauce.
Salpicón de marisco is a refreshing appetizer that is often served before a big meal or as a tapa in many bars.
This salad is made with cooked octopus, spring onions, green and red peppers, garlic, and fresh parsley, and it is seasoned with sweet paprika, olive oil, vinegar, and salt.
It is healthy, fresh, and full of flavors, so this Spanish octopus recipe won't disappoint you.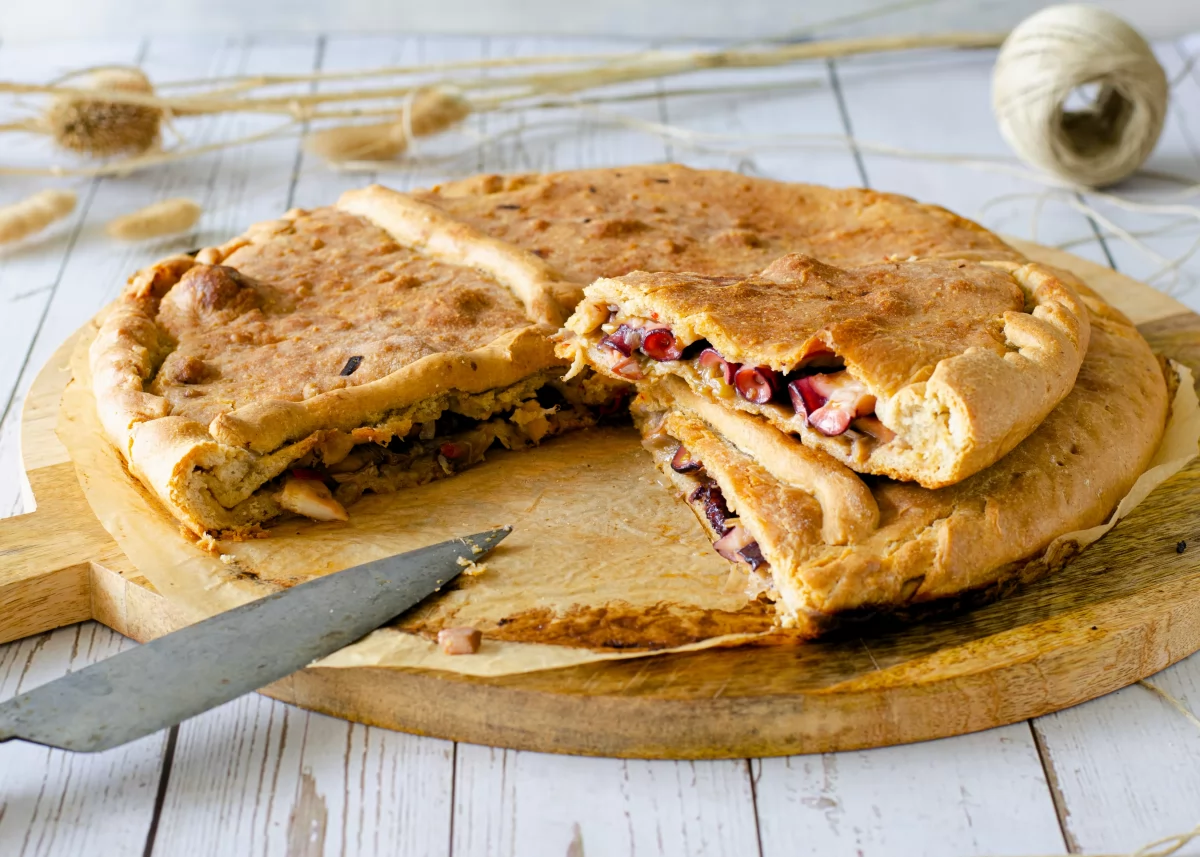 You have probably heard of or eaten an empanada before. The most popular ones are empanada gallega, which includes tuna and vegetables, and empanada de pollo, which includes chicken and sometimes mushrooms.
However, a less common but fantastic empanada for anyone that loves octopus dishes is empanada de pulpo.
This Spanish-style pie is prepared as you would prepare any empanada; however, you will add a filling made with octopus and vegetables like peppers and onions.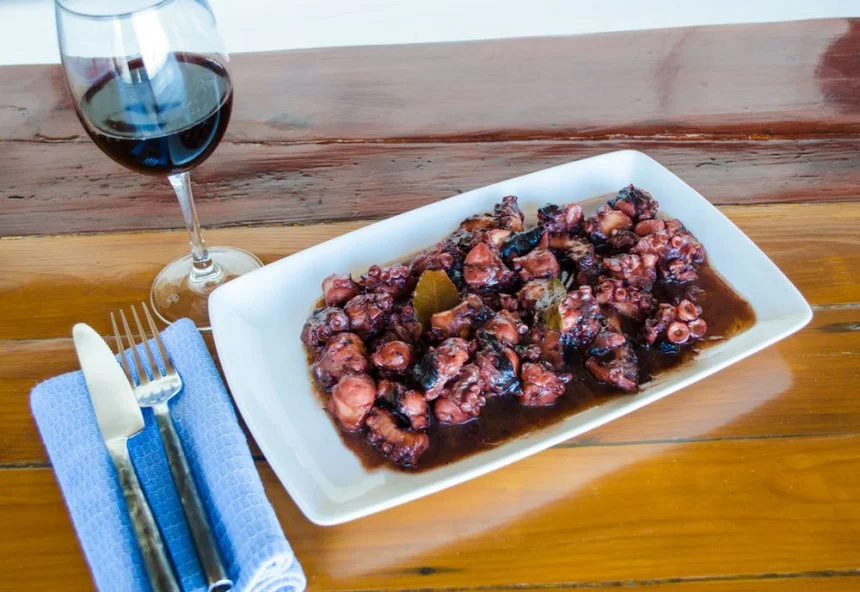 Do you love red wine and octopus? Then you will love this recipe that consists of octopus that is braised with red wine.
In addition to these two key ingredients, the dish also has ingredients that you probably have at home – onions, oregano, parsley, and garlic.
Although the combination may sound odd, these ingredients really complement each other.
If you book a trip to Ibiza, you need to try frita de pulpo a la ibicenca, a traditional octopus dish on the island. It is so popular that you will easily find it on many restaurant menus.
However, if you want to make this recipe at home, you will need cooked octopus, onions, green peppers, potatoes, garlic, and sweet paprika.
All the ingredients are put together in a pan and then seasoned with salt and pepper.
The best way to eat this delicious dish is with a good piece of bread and a glass of red wine.
Are you looking for appetizer ideas to serve at your next party? This octopus with cheese and pumpkin sauce is perfect for any occasion.
In less than an hour, you can have this appetizer ready and impress your guests.
To speed up the process, you can opt to buy cooked octopus, so you only need to prepare the roasted pumpkin sauce.
12. Pulpo frito – Fried octopus (Andalusia)
Pulpo frito is a typical recipe from the town of Adra in Almeria. As the name of this recipe suggests, the dish consists of octopus that is fried in olive oil.
It is a simple dish, but the most important thing about making it is that you get fresh octopus from your local supermarket or fishmonger. This way, you ensure maximum flavor and tenderness.
13. Arroz con pulpo – Octopus paella (Valencia)
Rice is a staple in any kitchen, and it is in Valencian cuisine. There are many variations of paellas and soupy rice.
Arroz con pulpo is an octopus with rice that is cooked very similarly to a traditional paella but the protein is substituted by the octopus.
This is the perfect octopus dish to prepare for big family and friends gatherings.
If you fancy a light and refreshing recipe made with octopus, this octopus salad is delightful and perfect if you are in a rush.
For this recipe, you only need cooked octopus, tomatoes, and parsley alongside condiments like olive oil, vinegar, and soy sauce (optional).
The preparation is straightforward, cut all the ingredients, put them in a bowl, and season.
Pulpo a la Mugardesa is a classic octopus recipe from the town of Mugardos in Galicia.
This dish consists of a stew made with octopus, potatoes, peppers, onions, garlic, and white wine. The octopus flavor really comes through, and it is a comfort dish that will definitely impress you.
Don't forget a few slices of bread to dip in the rich sauce.
If you liked this article about Spanish Octopus Recipes, consider checking out these other round-up recipes below —