Navarran cuisine is diverse and full of flavor. You can find anything from hearty meat and fish dishes like cordero al chilindrón and bacalao ajoarriero to classic vegetable recipes like menestra de verduras, which use high-quality, locally sourced vegetables.
It might not be the most popular cuisine in Spain, but it is full of surprising flavors.
In this article, you will find some of the best Navarran recipes.
Navarran Recipes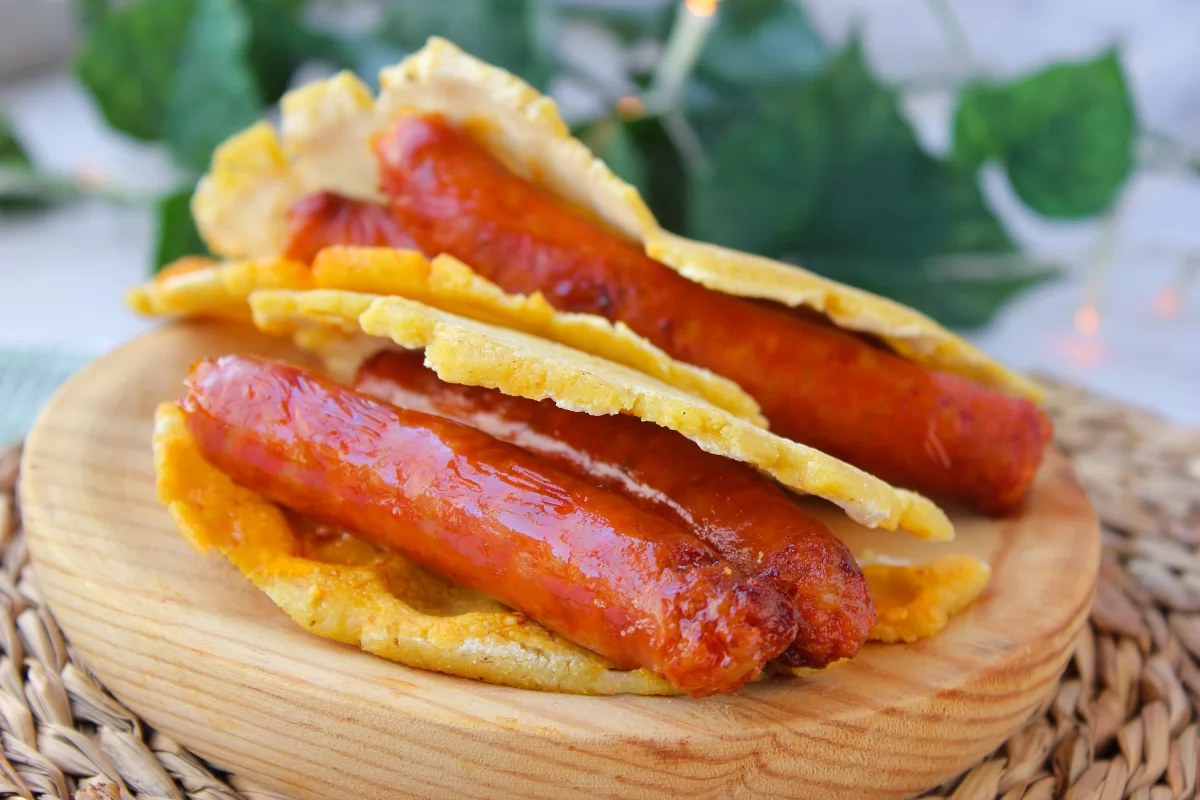 Talos con chistorra is a traditional dish in Navarra and the Basque Country. This bite-size starter is full of flavor.
It consists of a corn tortilla made with corn flour, olive oil, water, and salt. The tortilla is filled with chistorra, a sausage similar to chorizo.
Enjoy with a cider or glass of your favorite wine.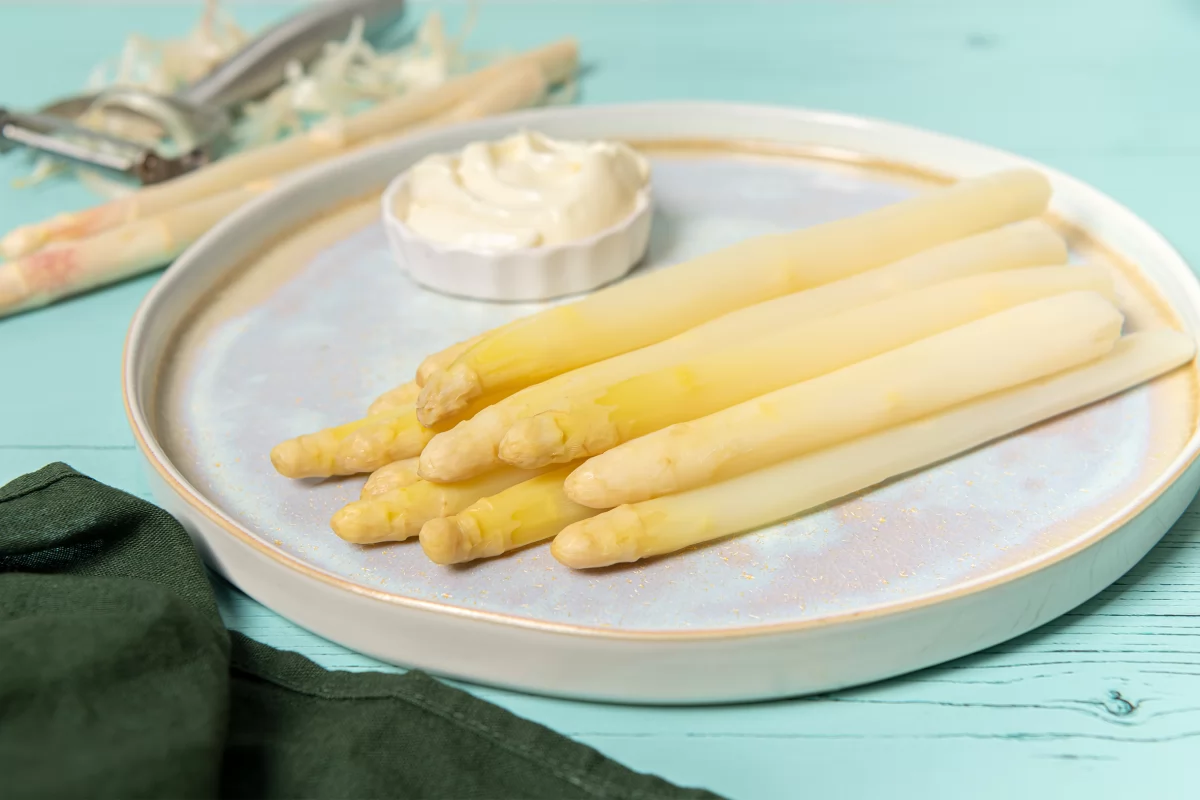 If you plan to visit Navarra, you can't leave the region without trying espárragos blancos cocidos. They are one of the best vegetables grown in the area. They are like no other asparagus, and you will probably find them in several dishes.
The white asparagus is trimmed, peeled, and boiled with salt and sugar. Once cooked, rest the asparagus in a clean cloth to absorb excess water. Serve cold with homemade mayonnaise.
They are a light and delicious starter.
The north of Spain has many delicious stews, and pochas frescas a la Navarra is one of them. This typical stew in Navarra contains humble ingredients without compromising flavor.
White beans, green pepper, tomato, onion, choricero pepper, and garlic are the only ingredients to prepare this Navarra stew.
It is very straightforward to make, healthy and vegetarian too.
Have you ever heard of a recipe that uses thistle? If not, this is the one. Cardo isn't a very common ingredient, except in Navarra and Northern Spain.
Cardo a la Navarra is a classic dish locals usually enjoy between autumn and spring.
It is made with the stems of the thistle, Iberian ham, flour, onion, garlic, chicken or vegetable stock, olive oil, salt, and pepper.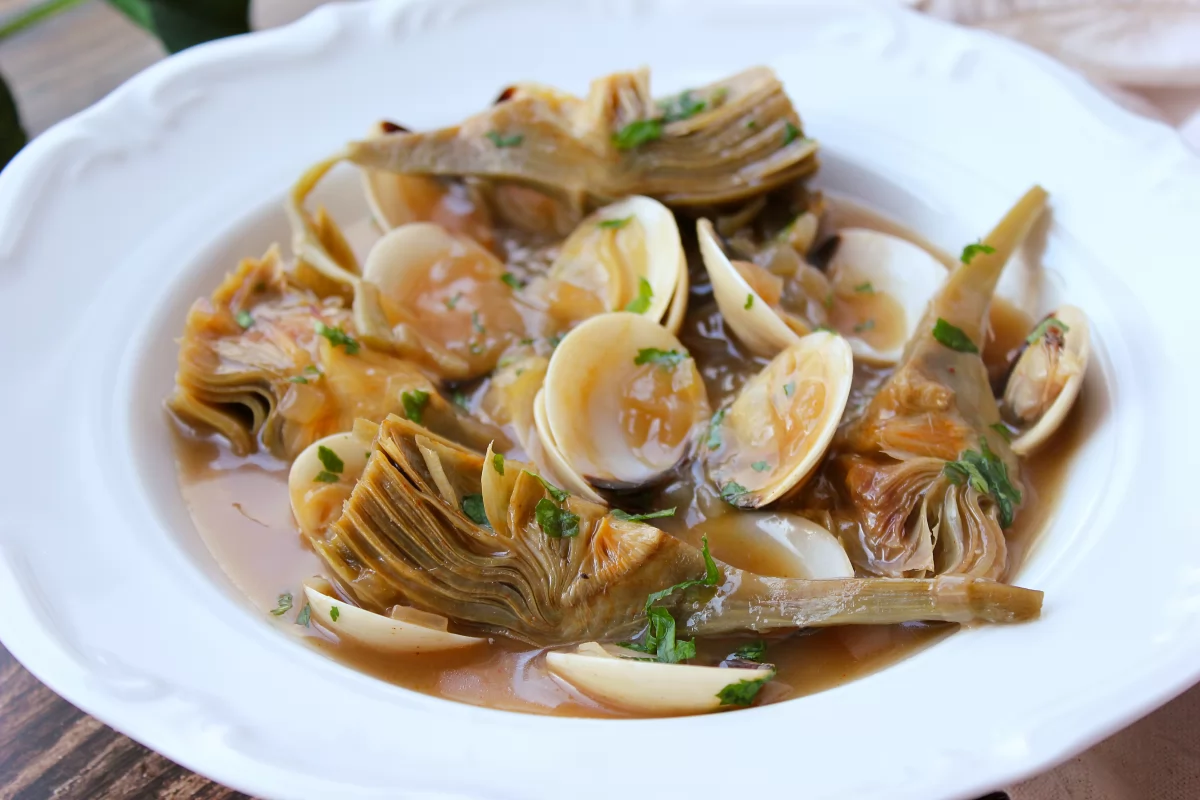 Seafood lovers must try alcachofas con almejas. This Navarran recipe combines different flavors and textures.
The two main ingredients for this dish are artichokes and clams. However, you will also need white wine, cornflour, onion, garlic, sweet paprika, cayenne pepper, fish stock, parsley, and salt.
Serve with chopped parsley and a few slices of bread to dip in the slightly spicy sauce.
Cordero al chilindrón is a popular recipe in Navarra. You can find this dish in many restaurants across the region.
It is an easy recipe that is packed with flavor. It is made with lamb, choricero peppers, red onion, flour, garlic, white wine, lemon juice, parsley, salt, and pepper.
It is the perfect recipe for those who love the combination of lamb and spices.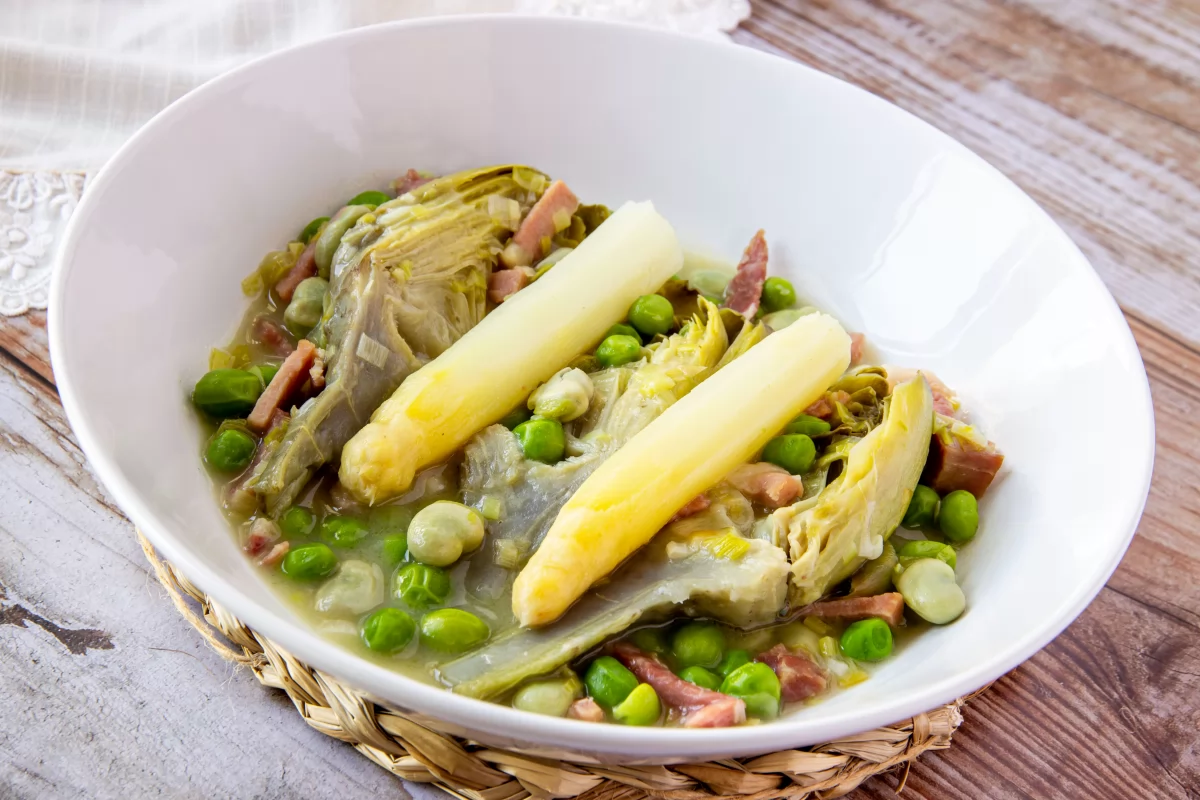 If you are looking for a recipe packed with vegetables, Tudela-style vegetables are an excellent option.
This dish showcases the best vegetables in Navarra: artichokes, white asparagus, broad beans, and peas.
All the vegetables are boiled separately since they all have different cooking times. Once cooked, they are fried with onion, garlic, and ham (optional). Then, they are cooked with the asparagus in boiling water and thickened with a spoon of flour.
The result is incredibly delicious!
When Easter is around the corner, these stuffed piquillo peppers are always a hit. It isn't the easiest recipe, but it is worth the effort.
Piquillo peppers are stuffed with unsalted cod and cooked in a delicious sauce prepared with white wine, milk, butter, and nutmeg.
It is a delicious lunch to enjoy for a special occasion.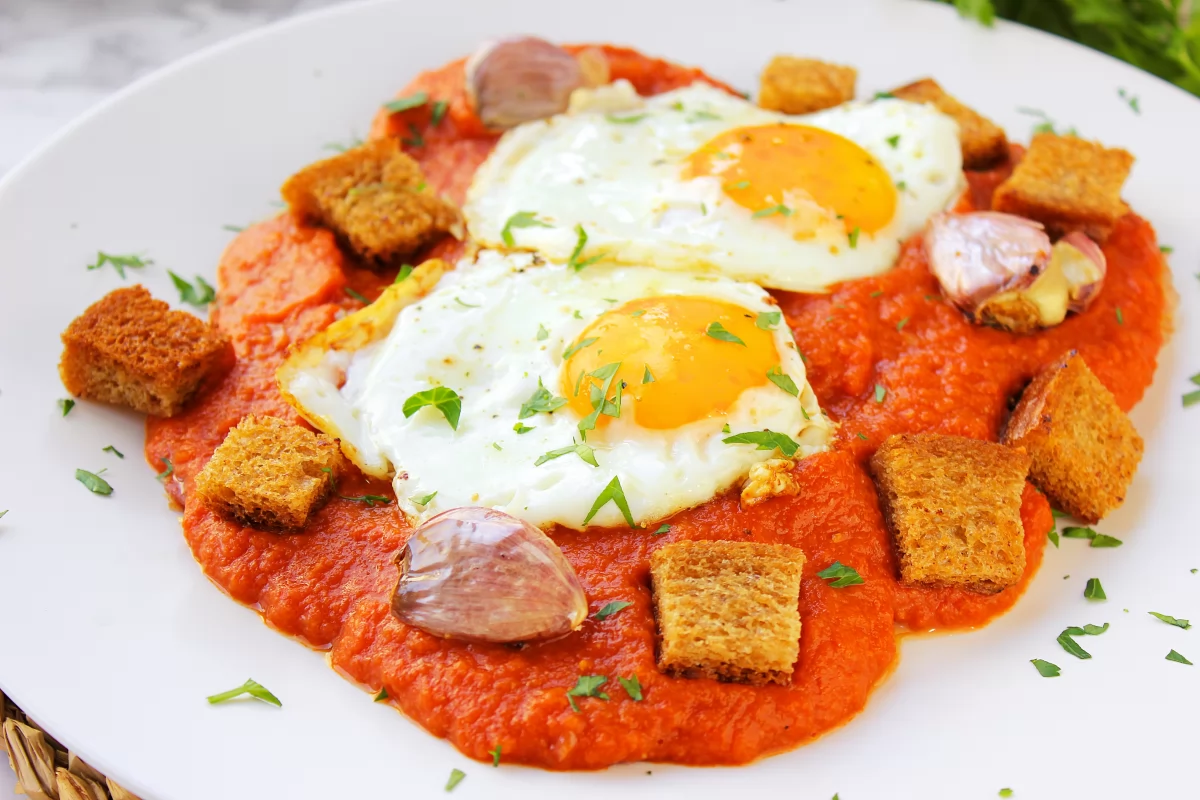 Magras con tomate y huevo is a traditional recipe in Navarra and Aragon. Adults and children love this tasty dish.
It is made with Serrano ham, eggs, tomato sauce, bread, onion, garlic, olive oil, salt, and pepper. The fried Serrano ham is topped with tomato sauce, fried eggs, croutons, and parsley (optional).
This Navarran recipe is ideal for those days you crave comfort food.
Budget-friendly, easy and delicious is the three words that describe Ajoarriero de Navarra. This Navarra-style cod fish is worth trying on your trip to the region, but you can also make it at home as it doesn't contain any unusual ingredients.
You will need unsalted cod, potatoes, green peppers, onions, tomato sauce, cayenne, olive oil, and salt.
Enjoy this tasty Navarran dish with a few slices of bread and a glass of red wine.
Chicharro al horno is the perfect recipe for those who love fish dishes. It is a simple, delicious, and healthy main course.
You will need horse mackerel, potatoes, tomatoes, onions, garlic, white wine, lemon juice, fish broth, paprika, and parsley.
The fish is beautifully roasted in the oven and served with vegetables.
12. Revuelto de setas – Scrambled eggs with mushrooms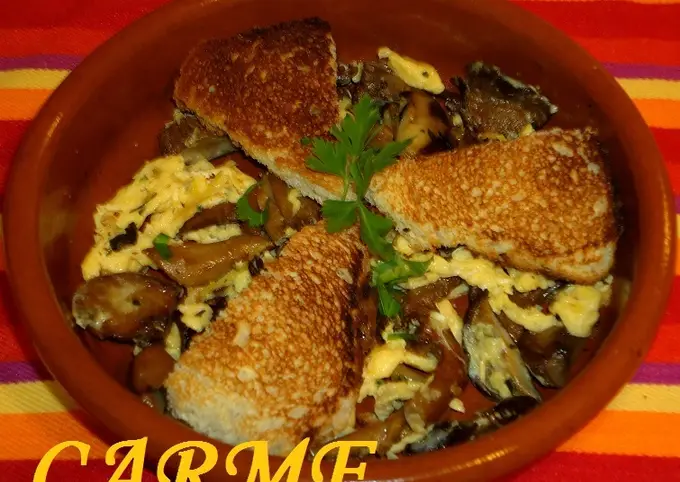 If you are looking for a vegetarian Navarran recipe, revuelto de setas is for you.
It doesn't contain many ingredients, so quality is essential. If you are ready to prepare this easy and yummy dish, you only need mixed mushrooms, eggs, garlic, olive oil, salt, and pepper.
These scrambled eggs with mushrooms are perfect for a light dinner. You can serve it by itself or with a few slices of bread.
Muxu goxo, also called beso dulce, is a typical Navarran dessert that consists of a thick custard. Although you can enjoy it all year round, locals usually have it during winter.
It is made with budget-friendly ingredients you probably have at home: eggs, milk, butter, sugar, and vanilla.
Who doesn't love a batch of good biscuits? Txantxigorri are traditional biscuits in Navarra. They were usually made in autumn during the slaughtering season to make the most of the lard.
The main ingredients to make these biscuits are flour, eggs, lard, sugar, and cinnamon.
Enjoy these crumbly biscuits with your favorite hot drink or glass of wine.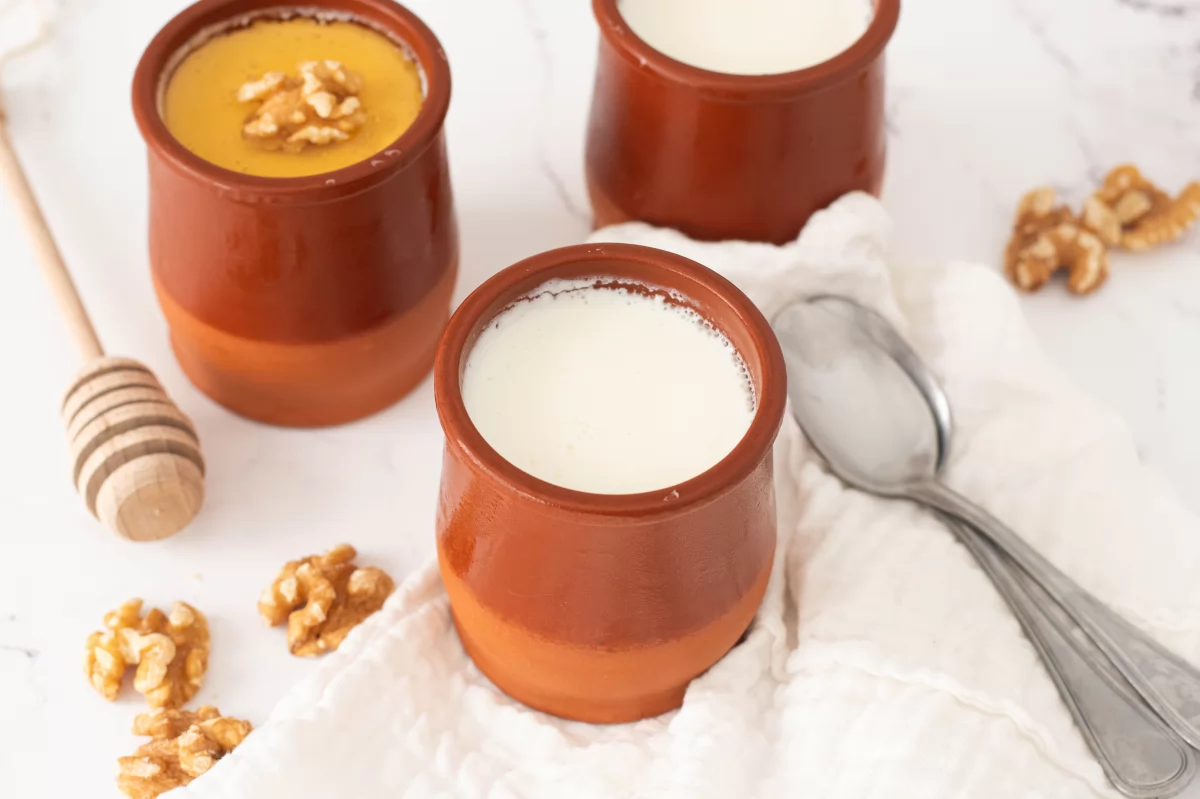 Cuajada is another classic Navarran dessert, although you will find it in other parts of Spain. For example, it is very famous in the Basque Country.
This dessert is made with fresh whole milk, rennet, powdered milk (optional), and salt.
Cuajada is often accompanied by honey and nuts.
If you love pastries, then you must try these Navarran pastries. They are incredibly delicious and sweet.
The homemade pastry is made with flour, butter, eggs, white wine, sugar, dried yeast, and lemon zest. Once they are rolled and fried, they are filled with pastry cream.
However, if you aren't a big fan of pastry cream, you can use a different filling, like whipped cream or chocolate.
Costrada de Aoiz is one of the most famous cakes in Navarra. Therefore, if you plan a trip to Navarra, this is a must-try for anyone with a sweet tooth.
This traditional cake consists of a sponge cake filled with pastry cream. To make it a home, you only need flour, eggs, butter, sugar, dried yeast, cinnamon, and pastry cream.
Enjoy with your favorite hot drink.