Madrid is a foodie destination. Whether you love tapas or comfort food, you will find it all.
The cuisine of Madrid is mainly characterized by comfort food – from delicious stews and hearty meat dishes to amazing sandwiches and popular sweets like churros con chocolate.
If you are ready to dig into delicious dishes, we have compiled 15 Madrid recipes you and your loved ones will love.
Madrid Recipes
Cocido madrileño is a classic recipe that is a synonym for comfort food. This delicious stew is ideal for winter or whenever you want a complete dish.
Madrid-style stew is made with chicken, beef, chorizo, black pudding, chickpeas, potatoes, carrots, cabbage, onions, and garlic.
It is a recipe that takes some time to prepare, but you will be amazed by the flavors coming through the broth of this nutritious stew.
2. Patates braves (Patatas bravas) – Spanish fried potatoes
One of Spain's signature dishes involves potatoes, just like other countries have their own version of cooking potatoes. Patatas bravas is a favorite in Spanish cuisine; who doesn't love some crispy fried potatoes?
They are super easy to make, but don't underestimate their flavor. Patatas bravas are always served with bravas sauce, a sauce tha
If you are looking for a typical Madrid starter, don't look any further; Orejas de cerdo a la Plancha is the one.
It is a simple dish that makes the most of an uncommon part of the pig, and in this case, the star ingredient is pig ears.
The ingredients for this recipe are pig ears, garlic, sweet paprika, bay, olive oil, and salt. The pig ears are boiled, marinated, and fried.
Serve with a splash of lemon juice.
Another popular stew in Madrid is callos a la madrileña. You will love this traditional recipe if you are a fan of hearty stews.
This Madrid-style tripe stew is made with a cow (beef) stomach, chorizo, black pudding, pancetta, tomato sauce, bay, chili pepper, and garlic.
The best way to enjoy this stew is with a few slices of bread to dip in the flavourful sauce.
Bocadillo de calamares consists of a fried squid sandwich. As odd as it sounds, it is a true delicacy in Madrid. Bars compete with each other to make the best-fried squid sandwich in the capital.
This simple recipe is made with only four key ingredients: fresh squid, flour, a small baguette, and olive oil.
It is very often to serve this sandwich with mayonnaise, and you can also add a splash of lemon if you like.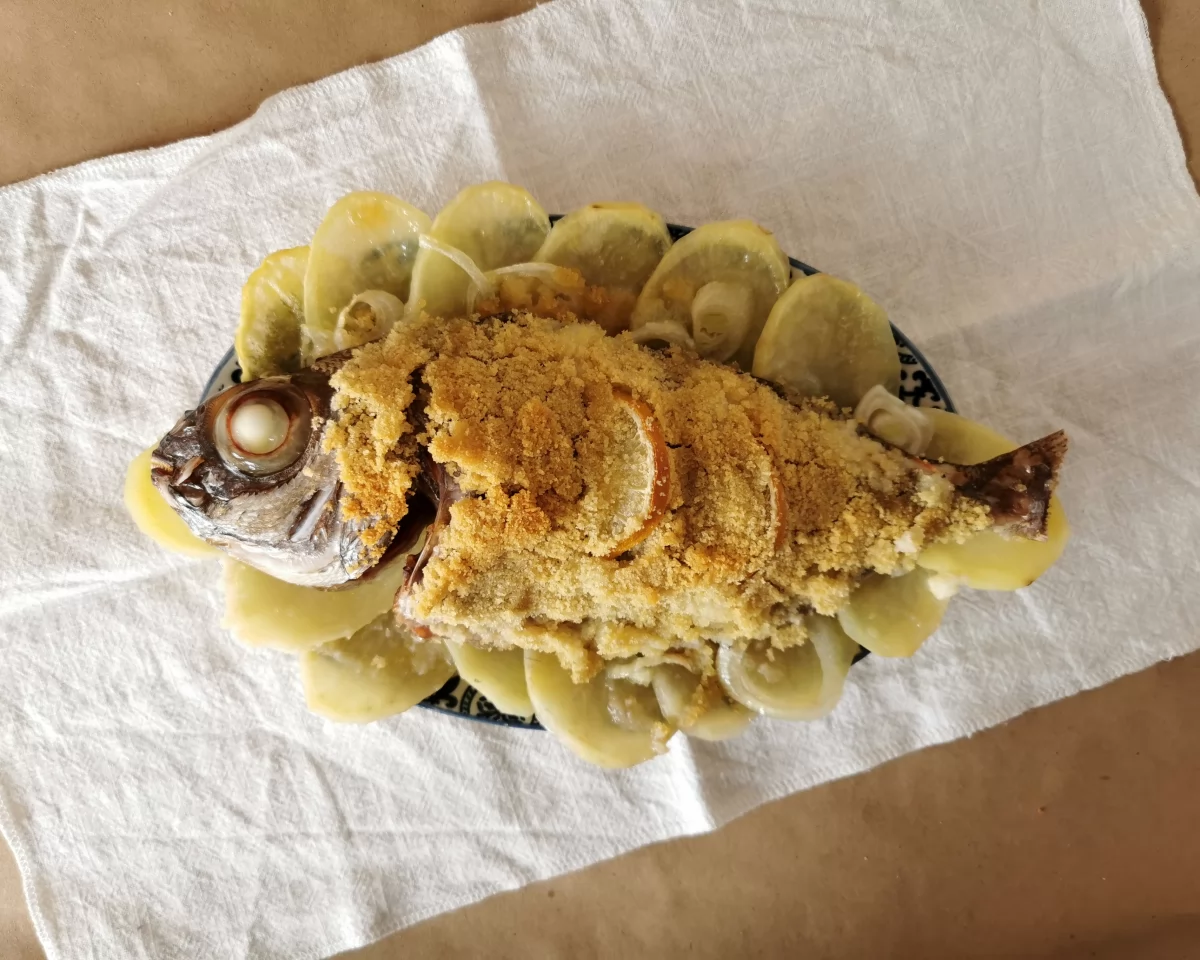 If you love fish, you will want to try besugo a la madrileña. This fish dish is very popular at Christmas and other traditional Madrid events.
You will need fresh seabream, breadcrumbs, white wine, onion, lemon, olive oil, and salt.
The fish goes into the oven stuffed with lemon and topped with breadcrumbs. Then it is served with onions and potatoes.
Agujas de ternera is a recipe popular in Madrid but also prepared in other places in Spain.
The beef pasty is made with puff pastry, ground beef, tomato sauce, onion, flour, milk, butter, egg, and olive oil. It is straightforward to prepare and irresistible.
These small pastries are flavourful and perfect as an appetizer or light dinner with a side of salad.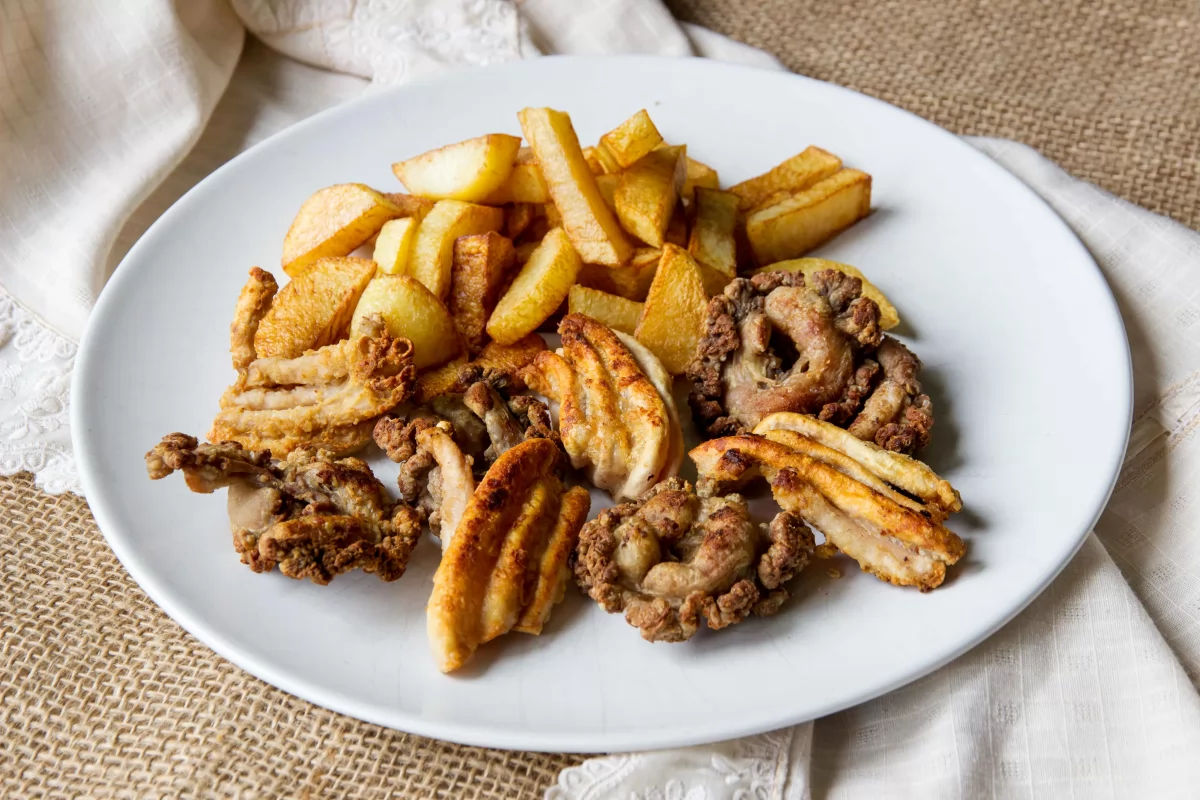 If you are looking for a unique Madrid recipe, you might want to try Gallinejas y entresijos. This classic dish is often served at traditional events across Madrid and nearby towns, but other than that, it isn't a dish you will find everywhere.
This recipe makes the most of the parts of the lamb that tend to be wasted. You will need the small intestines of a lamb and its mesentery or abdominal wall.
They are deep-fried and served with homemade chips.
Caracoles a la madrileña is a dish that you either love or hate. Overall, if you love snails, there is no reason why you won't love these Madrid-style snails.
The ingredients for this recipe are snails, fresh chorizo, black pudding, Serrano ham, tomato sauce, flour, cayenne pepper, sweet paprika, parsley, and olive oil.
They are full of flavor and pair perfectly with a glass of wine or beer.
Anyone that loves cod must try soldaditos de Pavía. This appetizer is delicious and very easy to make.
It is a popular recipe for Easter as well as Potaje de vigilia and Pil Pil cod, but you can cook them any time of the year.
You will need unsalted cod, flour, egg, garlic, parsley, dry yeast, saffron, and salt. You can also add red pepper if you wish.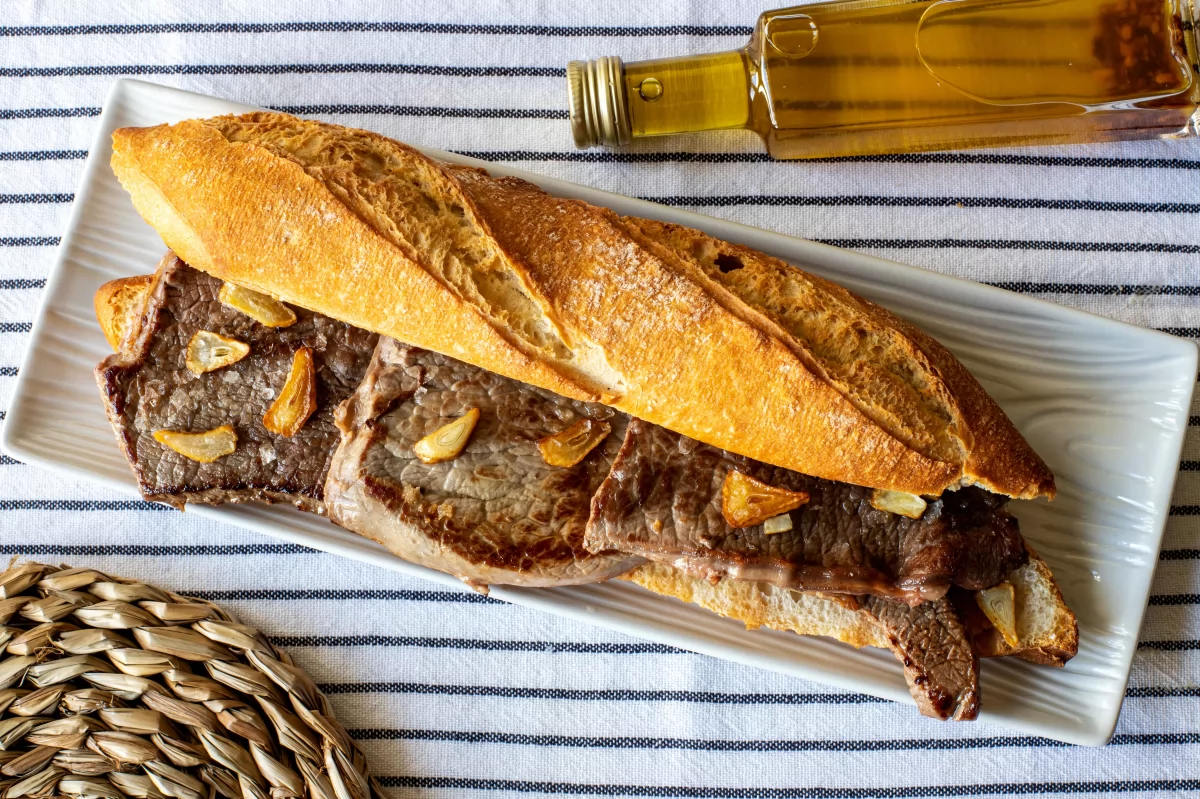 Who doesn't love a good sandwich? Bocadillo de pepito de ternera is a famous sandwich in Madrid.
The truth is that it won't take you much time to make it, and you won't be hungry after eating this beef sandwich.
The key ingredients to make this sandwich are high-quality beef steaks, garlic, bread, olive oil and sea salt.
Enjoy this dish with a glass of red wine or a cold beer.
12. Huevos Estrellados – Fried eggs with potatoes and Serrano ham
Huevos Estrellados / Huevos rotos con jamón is one of those dishes that you can put together in a short time. Simple, filling, and flavourful, this Madrid recipe is perfect for lunch.
This dish consists of fried sliced potatoes topped with fried eggs and onions, roasted red peppers, Serrano ham, and fresh parsley.
Who hasn't heard of churros? They are one of the most popular sweets in Spanish cuisine. You can find them anywhere in the country; however, you will have the best churros in Madrid.
If you want to make them at home, you only need four ingredients: flour, olive oil, water, and salt.
The best way to enjoy churros is to dip them in a delicious cup of Spanish hot chocolate. However, you can also have them with sprinkled sugar instead.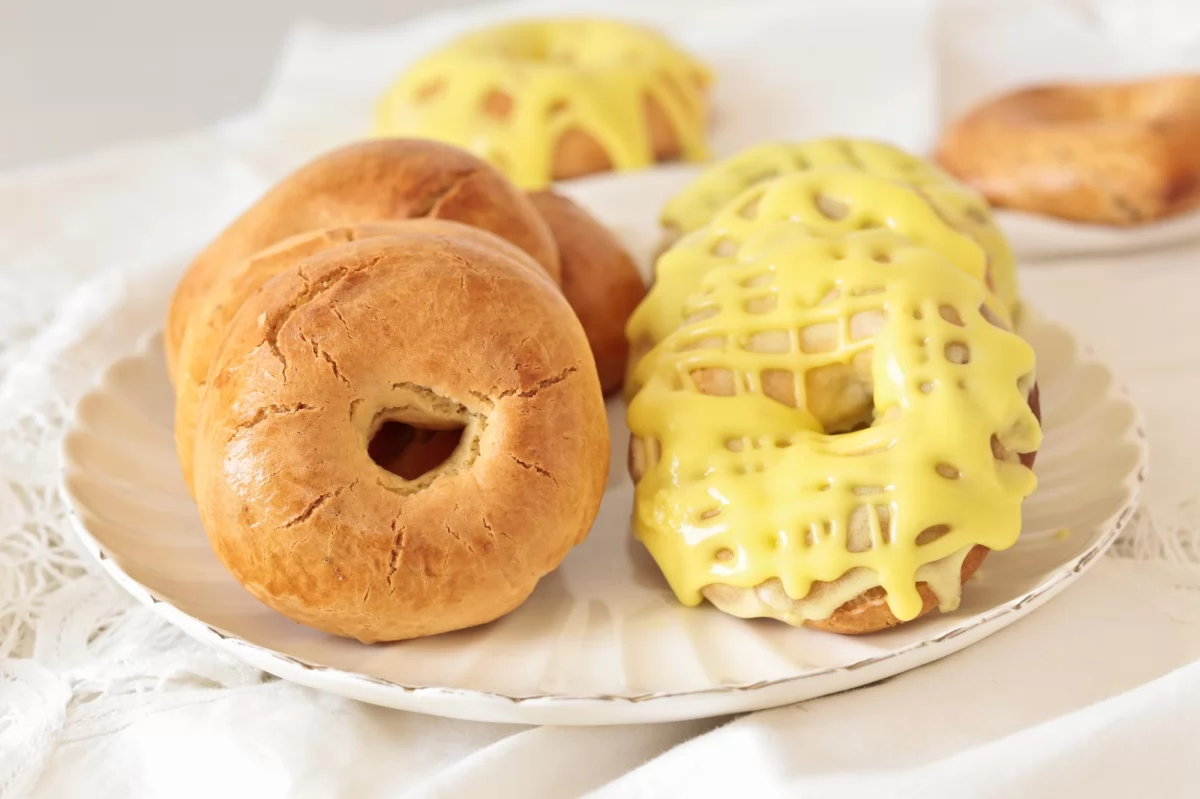 Rosquillas de San Isidro is a donut prepared during the patron of Madrid in May. They are known as tontas y listas. Both donuts are the same, but the difference is that one is glazed and the other isn't.
These delicious donuts are made with flour, eggs, sugar, aniseed, anisette, and sunflower oil. In addition, you will need egg whites, lemon juice, icing sugar, and an anisette for the glazed.
Traditionally, these donuts are enjoyed with white wine, but you can also have it with your favorite hot drink.
15. Rosquillas Galos – Donuts filled with pastry cream
Another type of donut is rosquillas Galos. These donuts are delicious; you can find them in any pastry shop year-round.
They are filled with smooth homemade pastry cream.
Bartolillos madrileños is one of the oldest sweets in Madrid. They are delicious and a must-see try for anyone with a sweet tooth.
They consist of pastries filled with pastry cream and sprinkled with icing sugar. Easy to make and perfect for having with your cup of coffee or tea.
If you visit Madrid at Christmas, Easter, or San Isidro, you will find these sweet delicacies in most pastry shops.