Spanish gastronomy is very diverse, and since part of the country is surrounded by sea, it is very clear that fish is a key ingredient in this Mediterranean cuisine – you can find anything from fish stews to fish croquettes.
If you are looking for authentic traditional fish recipes, we have compiled 30+ delicious recipes that you will love.
Spanish Fish Recipes
One of the most popular dishes in the Basque Country is Basque-style cod.
This recipe consists of unsalted cod that is cooked with Vizcaina sauce, a sauce that is also traditional in the region. The sauce is made with ingredients like peppers, garlic, onion, parsley, and tomato sauce.
If you happen to travel to Bilbao or anywhere in the Basque Country, you need to try this delicious fish recipe.
This traditional dish from La Rioja is a delicious fish recipe that anyone will love.
The recipe has simple ingredients – hake, onions, peppers, chopped tomatoes, garlic, and sweet paprika, but it is delicious and can be made in less than 1 hour.
You can serve this main dish with some roasted potatoes, boiled white rice, or a few slices of bread to dip in the sauce.
Another popular hake dish is Merluza con almejas a la sidra, in this case, the origin of this dish comes from Oviedo.
Cider is a common ingredient used in Northern Spain cuisine due to its quality, and it's one of the key ingredients of this fish recipe.
This dish is perfect for a family lunch and Christmas meal, but you can make it any time of the year. Whenever you make it, it's crucial that you get fresh ingredients, if possible, to enjoy the fish and seafood taste coming from this meal.
There are many starfish recipes in Valencian cuisine, and fideuá is another dish you need to try when visiting Valencia or nearby cities.
Fideuá consists of small noodles with fish, often monkfish, and langoustines cooked in a vegetable sauce.
This is the perfect lunch meal to enjoy with friends and a glass of red wine.
Despite the fact that this is a dish you can easily find anywhere in Spain, the origin of this recipe is Galicia, in Northern Spain.
Empanada Gallega is a pastry that is filled with bonito or tuna, peppers, hard-boiled eggs, onions, and tomato sauce.
If you are looking for a straightforward Spanish fish recipe to make for a birthday or special occasion, this one is for you.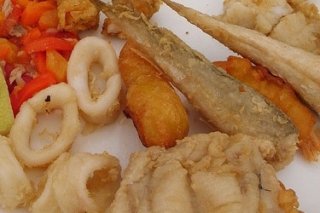 Malaga fried fish is a dish that any fish and seafood lover must try during their visit to this beautiful Southern Spain city.
The dish consists of a different range of fish that is fried. You will often find fried anchovies, squid, and cazon fish, but the type of fish can vary from restaurant to restaurant.
It is often served as a main course along a side of Spanish mixed salad and aioli sauce or mayonnaise.
7. Potaje de vigilia – Spinach, chickpeas, and cod stew
This chickpea, spinach, and cod stew is a star dish at Easter. As its name suggests, vigilia refers to the religious tradition that involved the ban of meat during the Easter period.
The stew is made with unsalted cod, chickpeas, spinach, onions, sweet paprika, and bay and topped with a hard-boiled egg.
This hearty dish is perfect on a cold or rainy winter day.
8. Gazpachuelo – White fish soup (Malaga)
A very popular fish soup in Malaga is gazpachuelo. This unique soup is made with homemade fish broth, which is diluted with mayonnaise and topped with white fish, prawns, and boiled potatoes.
If you decide to make this recipe, it's important to take your time to avoid splitting the soup when mixing the broth with the mayonnaise.
Also, a good homemade mayonnaise will give it the right consistency and smoothness.
Sopa de marisco is a traditional Christmas Spanish recipe prepared on Christmas Eve and New Year's Eve in many Spaniard's houses.
This seafood soup is packed with plenty of fish and seafood – from hake and monkfish to prawns, clams, and mussels.
Although it isn't difficult to make, it does take some time to cook, so it is better if you prepare it early in the morning or the day before.
Pescado a la Mallorquina, known as peix a la llauna in Catalan, is a healthy and delicious fish recipe that is a traditional dish in the Balearic Islands and, more specifically, Majorca.
This dish consists of white fish (typically sea bream) that is cooked along with potatoes, swiss chard, onions, tomatoes, garlic, parsley, sweet paprika, pine nuts, and raisins.
This is a must-try dish when you visit Majorca. You will want to eat it again and again.
If you are looking for a light fish recipe, this Cadiz-style fish is an excellent option for you.
Not only is it healthy, but quick to make too! Made with whiting and a variety of vegetables like tomatoes, peppers, and onions, there is nothing not to love this recipe.
Cadiz-style fish goes perfectly with a side of boiled baby potatoes, boiled white rice, or a refreshing light mixed salad.
Sardine skewers are a synonym of Malaga cuisine. You will find this dish in what's called chiringuitos, beach bars/restaurants.
Sardines are put in skewers and sprinkled with a pinch of salt, and then are placed on a small barbeque made in a little boat – just designed for roasting sardines and other fish and seafood.
13. Trucha escabechada – Marinated trout with vegetables
Marinated fish dishes are common across Spain and are full of flavor, like this marinated trout with vegetables.
You can make this dish with any other white fish, but the trout has a soft and delicate flavor that matches perfectly with this wine base sauce.
Accompany this dish with some sliced roasted potatoes and a good piece of bread to enjoy the sauce.
Catalan-style fish is a delicious fish recipe that you must try during your trip to Barcelona or any other Catalonian town.
The dish is made in only 45 minutes and includes ingredients like hake or halibut, peppers, tomatoes, onions, and garlic.
It is an easy recipe that will surprise your family or guests when hosting a lunch at home.
If you love fish and seafood, you need to try this traditional dish from Basque Country.
It is one of the most delicious fish dishes in Spain, and it is made with a few ingredients – hake, white wine, onion, and parsley, but it is even better when you add clams and prawns to this dish.
It is a very filling main course, but you can also accompany this dish with a side of salad or roasted potatoes.
16. Pulpo a la Gallega – Galician style octopus (Galicia)
Another well-known Galician dish is Pulpo a la Gallega, a Galician-style octopus.
Made with octopus, Galician potatoes, sweet paprika, extra virgin olive oil, and salt, this 5-ingredient recipe seems easy to prepare, but it takes a bit of patience as the octopus needs to be perfectly cooked.
However, if you do have the time and would love to try this recipe, it is worth the effort.
There is nothing better than a stew on a cloudy and cold day, and if you feel like having a hearty dish, you will love marmitako de bonito.
This is a traditional dish in Northern Spain and consists of a fish stew with bonito fish, potatoes, peppers, onions, and wine.
If you happen to visit the north of Spain, make sure to head to a restaurant and order this delicious fish stew.
Raors fregits is a traditional fish recipe in the Balearic Islands. What makes this dish unique is the type of fish used, as this one is one of the most expensive fish in Spain and one that you won't be able to find everywhere.
Raors fish is deep-fried and served with a side of fried potatoes with peppers and onions and a glass of wine.
Atun con tomate is a classic fish recipe that is full of flavor, and it is the perfect lunch served with salad and a glass of wine.
The tuna is pan-fried and then added to the tomato-based homemade sauce.
If you are after an easy fish recipe, you won't go wrong with this tuna with tomato sauce recipe.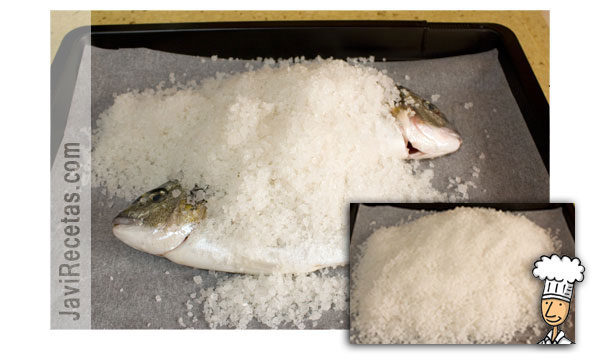 The easiest but most delicious fish recipe is Dorada a la sal. This dish consists of covering the entire seabass in sea salt and letting it cook in the oven for about 40 minutes.
Each fish is a portion, so it is a very generous recipe; however, you can also serve halves instead of a fish per person.
No matter how you split this dish, serve it with a delicious side of sliced roasted potatoes, onions, and peppers.
21. Salmonete con patatas – Red mullet with sliced potatoes (Cadiz)
Whenever you visit Cadiz, located in the south of Spain, head to a fish restaurant, and try salmonete con patatas.
Made with fried red mullet fish and potatoes, this recipe is incredibly delicious! And if you decide to cook it at home, you will find it easy to prepare too.
This red mullet dish matches perfectly with a traditional Cadiz sherry wine.
22. Bacalao al Pil Pil – Spanish cod in pil pil sauce (Basque Country)
Bacalao al Pil Pil is the most emblematic dish in the Basque Country cuisine. This traditional dish is a must-try for any fish lover.
The cod fillets are beautifully fried and marinated in garlic, dried guindilla chili, and olive oil sauce. Serve straight away with a few slices of bread.
23. Gilda – (Basque Country)
In Basque Country, people don't eat tapas, but pintxos, and these are small bites like tapas. Gilda is a popular pintxo that you can find in any bar across the Basque Country.
This recipe will take you less than 5 minutes, and you will either love it or hate it.
The pintxo consists of a small skewer with green chili pepper, salted anchovies, and deboned green olives.
A light and refreshing salad with fish is esqueixada de bacalao. This is a popular dish in Catalonia, and it is perfect for those warm summer days.
This 10-minute salad is prepared by chopping peppers and spring onions and adding unsalted cod and black olives.
You can enjoy this dish as a starter or a light dinner.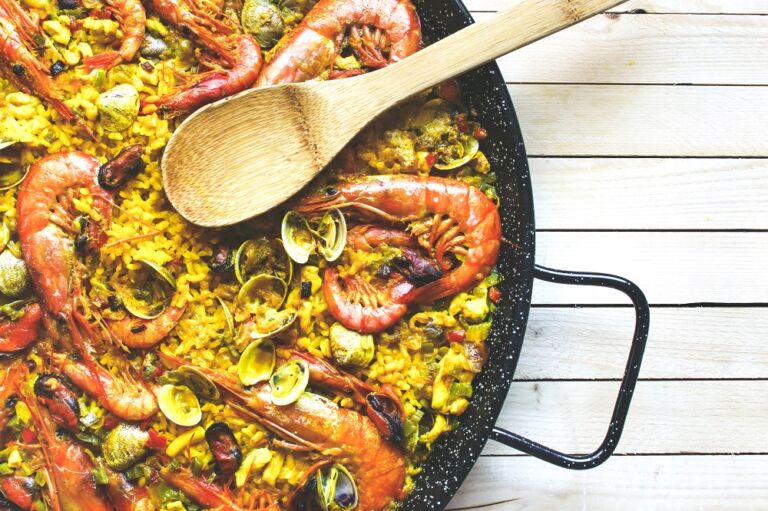 Spain's most famous dish comes from the region of Valencia, and despite many people believing there is only one type of paella, there are plenty of variations, and one of them is fish paella.
Fish paella is made with white fish like monkfish, prawns, mussels, fish stock, tomato, saffron, and of course, rice but not any rice! It is very important you use paella rice to get the best results.
26. Sancocho – (Canary Islands)
Sancocho is a typical dish in the Canary Islands during the Easter period like many other fish dishes.
This is a difficult recipe to make at home if you live outside the Canary Islands because of the type of fish used, so this is a good reason to try this traditional dish on holiday there.
The dish consists of boiled Cherne fish served alongside a cake made of potatoes and sweet potatoes and mojo rojo sauce.
One of the most enjoyed dishes in Andalusia in summer is boquerones fritos, fried anchovies.
They are very easy to prepare and can be served with a side of light mixed salad and homemade mayonnaise or aioli sauce.
They are a popular option in tapas, bars, and restaurants, and people love having this delicious fried fish with a half-pint of beer or a glass of wine.
Ham or chicken croquettes are the most common types of croquettes you will find across Spain; however, if you haven't tried cod croquettes, then you are missing out.
They are prepared in a very similar way to normal croquettes, but cod is the substitute for ham or chicken.
Cod croquettes are perfect for any occasion served as a snack.
29. Mojama – Filleted salt-cured tuna (Huelva and Cadiz)
Mojama is a type of tuna that is filleted and salt-cured in the Andalusian provinces of Huelva and Cadiz.
It is difficult to prepare mojama; however, you can buy mojama and use it to make easy snacks and dishes or simply fillet it and eat it as you eat a slice of ham. It is often served in crackers.
One of the most classic fish tapas boquerones en vinagre, anchovies marinated in vinegar. They are widely served in bars and restaurants and enjoyed with sliced bread or crisps as well as cold beer.
The ingredients of this dish are very simple – anchovies, garlic, vinegar, parsley, olive oil, and salt. However, it requires a bit of patience as you will need to clean the anchovies and leave them to marinate overnight.
If you love cod, you need to try buñuelos de bacalao. Children and adults love these delicious cod fritters. They are made with unsalted flaked cod, parsley, eggs, and flour, and they aren't difficult to prepare.
Cod fritters are at their best when they are freshly made, although you can eat them the next day. It's one of those appetizers that always disappear soon at a party or family gathering.
32. Tortillas de camarón – Spanish shrimp fritters (Southern Spain)
One of the best dishes to enjoy on a summer day is Spanish shrimp fritters. These are very popular in Southern Spain, especially in the region of Cadiz.
These crispy and delicious shrimp fritters are made with key ingredients like camarones, baby shrimps, flour, and parsley.
Accompany these shrimp fritters with a Sherry wine.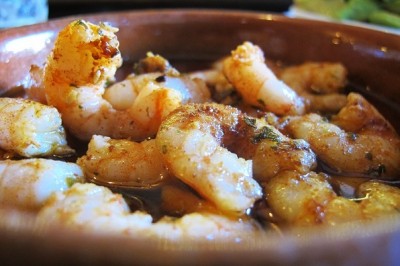 If you are looking for a delicious tapa, Pil Pil Prawns are to die for!
The best way to prepare this dish is by using a cazuela; however, you can also use a small pan. Add olive oil, garlic, cayenne chili, and peeled prawns (without head) to the pan and cook them until they are piping hot.
This tapa goes perfectly with a few slices of bread to dip in the sauce.
Although meatballs are often prepared with meat, there are some exceptions like this one.
This delicious fish recipe consists of meatballs made with hake, which are cooked in a delicious white wine sauce. If hake isn't available where you are, you can also use cod.
If you love parsley, you won't want to stop dipping bread in the sauce!