Extremadura gastronomy is simple but uses high-quality ingredients that make humble dishes shine for themselves, from delicious salads and stews to meat dishes full of flavors.
Whether you plan a trip to Extremadura or you want to make unique recipes at home, we have compiled 15 authentic Extremadura recipes.
Extremadura Recipes
Migas is a dish you will find in Extremadura and other parts of Spain too. However, migas extremeñas are one of the most popular.
This recipe is often prepared in winter when family and friends gather on the weekend.
It is a traditional and budget-friendly dish to prepare. You will only need breadcrumbs, bacon, peppers, garlic, sweet paprika, olive oil, and salt.
2. Cojondongo – Breadcrumbs and egg salad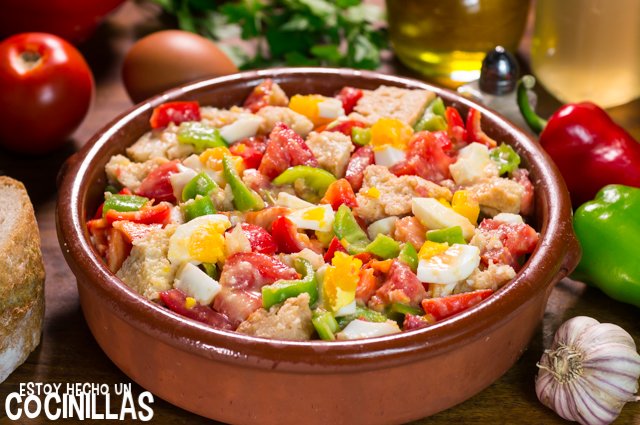 Cojondongo is one of the oldest recipes in Extremadura, and locals believe that it is a former version of gazpacho.
This traditional dish has humble ingredients: ripe tomatoes, red and green peppers, stale bread, hard-boiled eggs, wine vinegar, and olive oil. You can also add cucumber and spring onions if you like.
It is a recipe full of flavor and perfect for hot summer days.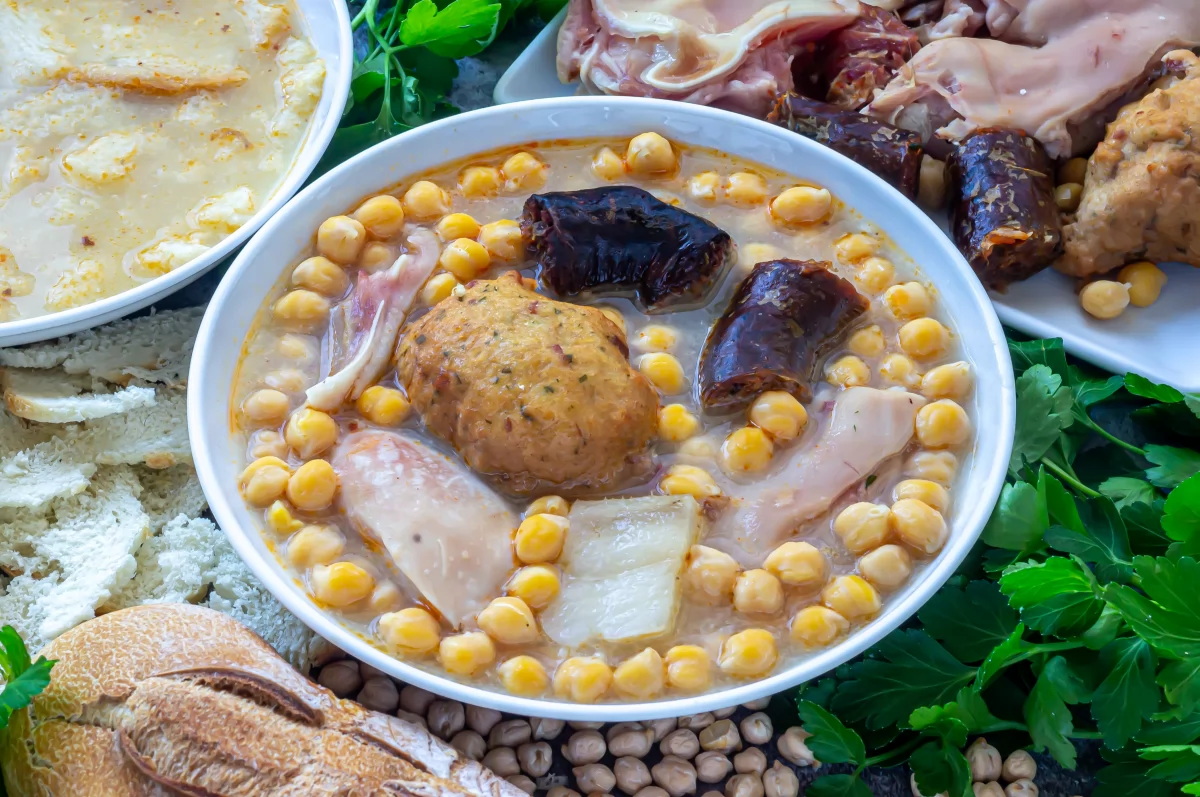 If you love stews, you will want to try this Extremadura-style stew, known as cocido extremeño in Spanish.
Every household has its recipe, but all the recipes use the same essential ingredients such as chickpeas, different parts from the pig such as ears and trotters, chicken, and black pudding.
What makes cocido extremeño different from other Spanish stews is that it has pelluelas, fritters made of eggs, breadcrumbs, and ham.
It is a complete dish that won't leave you hungry.
One of the most famous dishes in Extremadura is perdices en escabeche, which can be translated to pickled partridge.
They are made with partridges, carrots, onions, white wine, garlic, pepper, salt, and olive oil.
Preparing this recipe in advance would be best because the partridges need to marinate with the other ingredients to get the flavors.
They are often enjoyed with a few slices of bread, but you can also prepare a salad.
5. Zorongollo – Extremadura tomato and pepper salad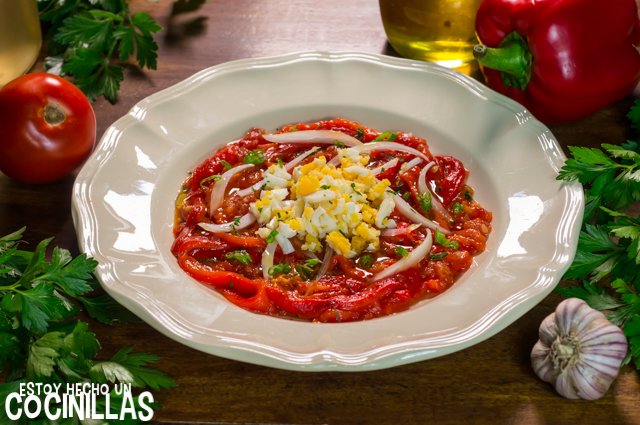 Zorongollo is a recipe that originated in La Vera, and like many other Extremadura recipes, it has an interesting recipe name.
It is easy to make and a perfect starter, a side dish for summer, or even a light dinner.
Zorongollo is made with roasted red peppers, tomatoes, parsley, spring onions, wine vinegar, and olive oil. Once this pepper salad is prepared, it is topped with a hard-boiled egg, tuna, and salted cod.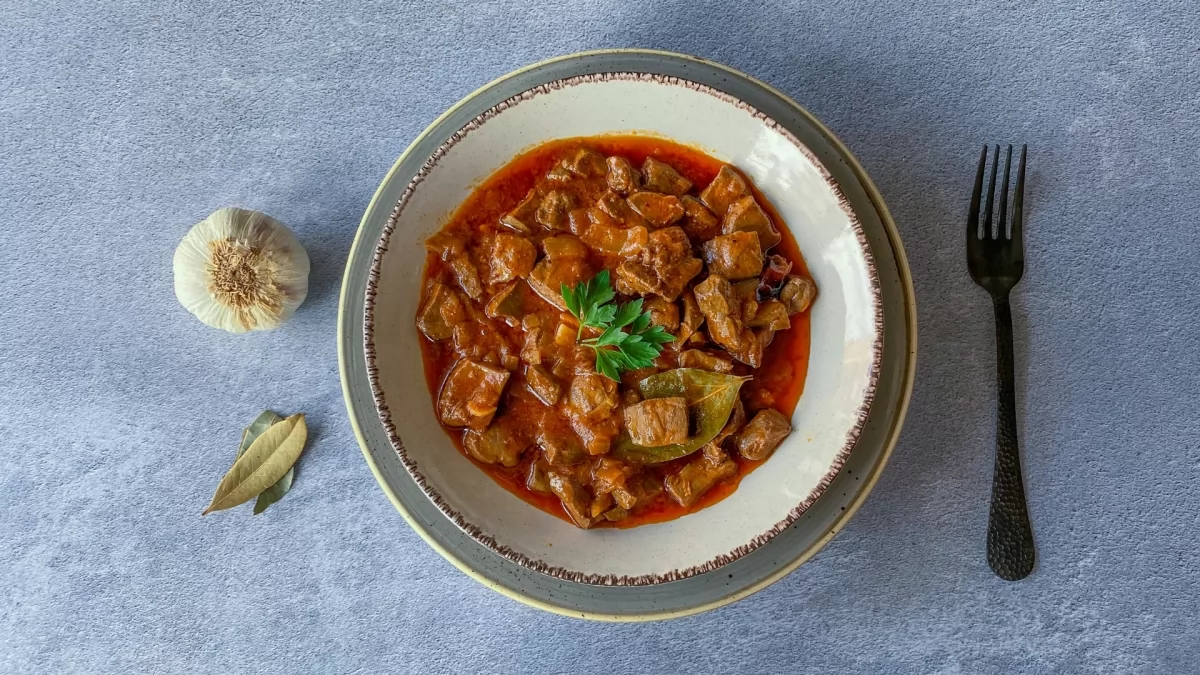 Meat lovers need to try chanfaina extremeña, a stew whose star ingredient is lamb.
It also contains plum tomatoes, onions, garlic, ñora paste, chili pepper, sweet paprika, white wine, parsley, and salt and pepper.
This hearty dish goes perfectly with a few slices of bread and a glass of red wine.
Acelgas a la extremeña is a typical vegetarian dish of Extremadura.
It is an easy recipe; you only need Swiss chard, potatoes, onions, garlic, sweet paprika, olive oil, and salt. You can also add an egg to make it more filling.
It is a budget-friendly recipe that is packed with flavors.
Enjoy acelgas a la extremeña as a starter or main dish.
Salmorejo de cerezas del Jerte is a take on the traditional tomato cold soup. The difference is that this cold soup is made with Jerte cherries.
It is a refreshing dish to have on a hot summer day, but you can make it all year round.
You will need cherries, stale bread, balsamic vinegar, goat cheese, breadcrumbs, thyme, olive oil, and salt.
Ajo de calabaza is a recipe that originated in Don Benito, a city in Extremadura where you can find some of the best vegetable gardens in Spain.
The star ingredient for this recipe is pumpkin which is boiled alongside breadcrumbs, garlic, olive oil, and vinegar. You can add red chili pepper to make it a bit spicy.
It is a simple recipe full of flavor and a fantastic dish for vegetarians and vegans.
One of the few traditional Extremadura recipes made with fish is trucha al estilo extremeño.
The ingredients for this dish are trout, Iberian ham, pine nuts, flour, garlic, lemon, parsley, and sweet paprika.
It is a fantastic recipe to enjoy for a special occasion. The flavors coming through the fish, ham, and spices are delightful.
11. Jerimoje – Extremadura summer salad with meat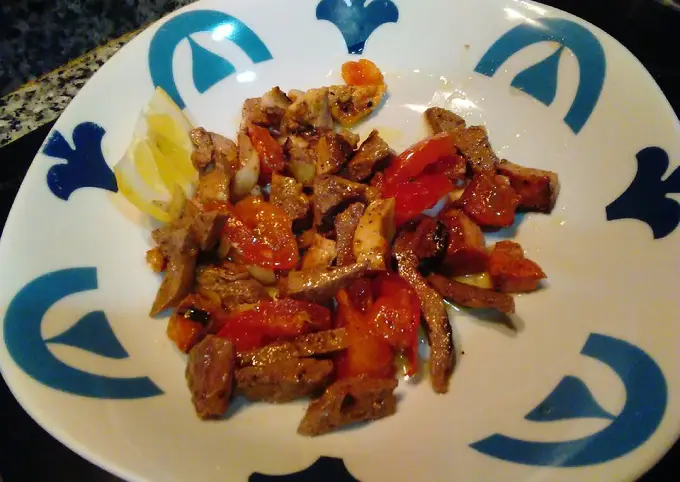 Jerimoje is a type of salad, but not just any salad, as this includes barbecued meat. This salad is often prepared the day after a BBQ, using the meat leftovers.
You can prepare it with any meat, but if you want a dish similar to this traditional recipe, you will use pork chops, lamb ribs, liver, pancetta, and sausages.
Add tomatoes, peppers, spring onions, olive oil, vinegar, salt, and pepper to make the salad.
When you hear the word flan, you think about dessert straightaway. However, despite its name, this is a savory recipe.
The ingredients for this Extremadura recipe are goat cheese, fresh pancetta, prawns, eggs, milk, double cream, tomato sauce, onion, garlic, tabasco, nutmeg, salt, and pepper.
It is a great recipe to impress your friends and family.
13. Repápalos – Sweet croquettes in milk
Repápalos extremeños is a humble recipe that has been made for years.
This dish uses bread leftovers from the day before and eggs, milk, sugar, cinnamon, and olive oil.
These sweet croquettes in milk are delicious and perfect as a dessert.
It is also important to know that you can make savory repápalos too. They are often served as a second course alongside a salad.
Huesillos extremeños is one of the most traditional desserts in Extremadura. They are often prepared on All Saints Day, Carnival, and Easter, but the truth is that you can have them all year round.
If you would love to prepare these at home, you will need flour, eggs, milk, sugar, lemon zest, aniseed, dry yeast, and aniseed.
They are crunchy and soft at the same time, and they go perfectly with coffee or hot chocolate.
Who doesn't like cookies? That is what perrunillas extremeñas are. These soft and delicious cookies are very easy to make and irresistible.
Lard, flour, eggs, lemon zest, sugar, cinnamon and salt are the only ingredients to make perrunillas extremeñas.
Enjoy them in the afternoon with your favourite hot drink or whenever you need something sweet.