If you love Spanish food, you have probably heard of empanadas before, but if you haven't or you aren't sure about what they are, empanadas are stuffed bread or pastries that are baked or fried and filled with meat, fish, or vegetables.
The most popular empanada is the one from Galicia, called empanada gallega, but there are many variations of empanadas across Spain, including sweet empanadas.
We have compiled 18 Spanish empanada recipes for you to prepare at home or add to your food list when visiting Spain.
Spanish Empanada Recipes
1. Empanada Gallega – Galician-style empanada (Galicia)
Empanada Gallega is one of the most classic dishes in Galicia. This delicious and filling dish has been around for many years, and there is no doubt why it continues to be Spain's favorite empanada.
Its filling is made with bonito tuna, hard-boiled eggs, red peppers, and onions which makes this empanada so delicious.
It is easy to make, but it does take some time; however, all the effort is rewarding.
2. Hornazo – Salamanca-style empanada (Salamanca)
Hornazo is a type of empanada that is typical in Salamanca. This is a meat-based empanada with lots of flavors and is a must-try if you love Spanish charcuterie.
The filling for hornazo is made with chorizo, Serrano ham, cured pork loin, and sweet paprika.
If you are visiting Salamanca, you can easily find this empanada in most bakeries, and although it is eaten all year round, it is more common during Easter.
3. Empanada Berciana – Chorizo and pork empanada (Leon)
Empanada Berciana, also known as Empanada de Batallón, comes from the region of Castile and Leon, and it is a popular dish prepared for parties, gatherings, or any occasion.
The pastry is crusty, and the filling is prepared with a combination of vegetables and meat. More specifically, the pastry is filled with chard, potatoes, chorizo, marinated pork, onion, paprika, and olive oil.
It is a recipe that you want to add to your cooking notebook.
4. Formatjades – Menorca-style empanada (Menorca)
If you are looking for delicious but lesser-known sweet empanadas in Spain, this one is for you. Formatjades de brossat is an empanada traditionally made in Menorca during the Holy Week.
In the beginning, this empanada was only made with cheese; however, you can find different variations now.
Following the traditional recipe, you must prepare a filling with cottage cheese, eggs, cinnamon, lemon zest, and sugar.
Formatjades de brossat are the perfect sweet treat for breakfast or Spanish merienda!
Empanada de Pollo is one of the most typical empanadas in the whole country. Not only do adults love it, but children too.
The pastry is made the same way you would do any traditional empanada; however, the filling is made with chicken, red pepper, hard-boiled eggs, onion, and tomato sauce.
It is perfect for birthday parties, gatherings, and any occasion. Your guests will love the flavors and won't be able to resist them.
This meaty empanada is the perfect pastry you need on a cold winter day. Empanada de Carne is a synonym for comfort food.
It is very easy to make at home since you just need to prepare your puff pastry and then fill it with a sauce made with ground beef, onions, and tomato.
The flavors of the filling, which are very similar to a Bolognese sauce, are delightful and make it a popular empanada.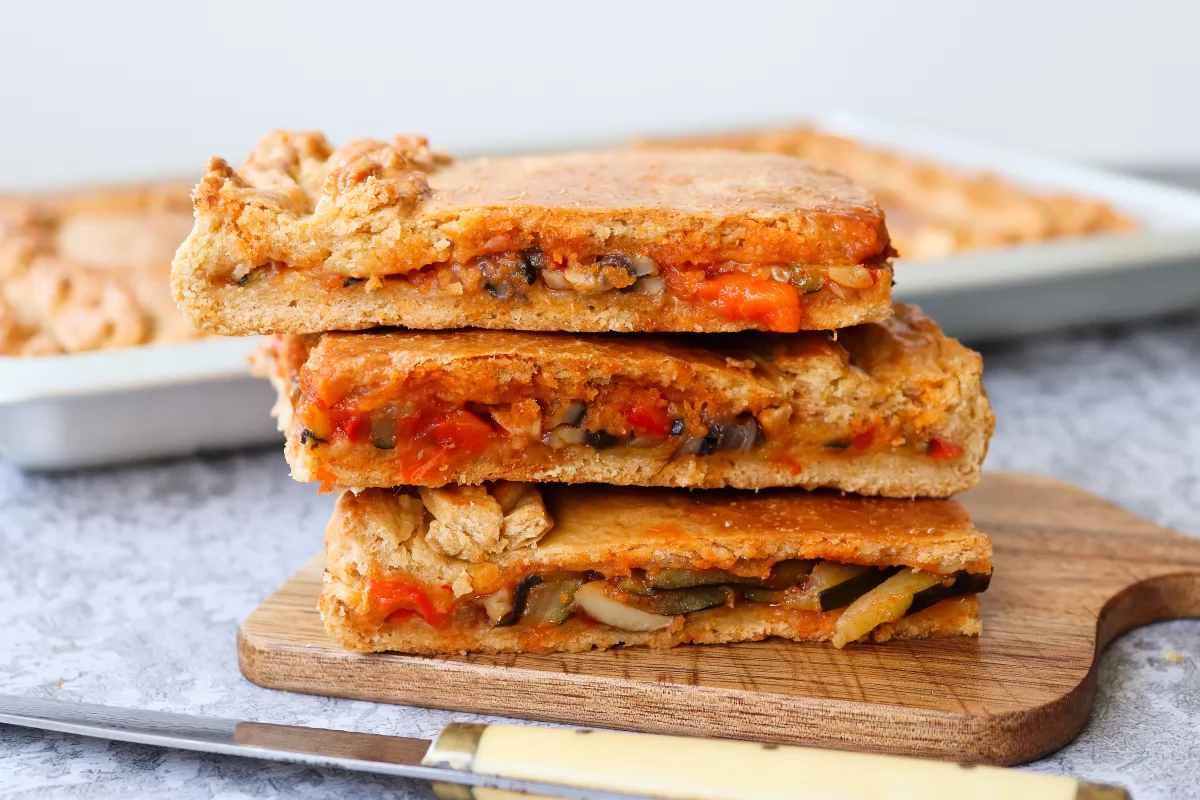 If you are looking for a vegetarian empanada, empanada de verduras is delicious and completely meat-free.
It is a light but full of flavor empanada in which you can use any vegetables you want for the filling, from peppers and courgettes to mushrooms and aubergine. The options are endless.
In case you aren't sure about which combination of vegetables to use for your empanada filling, peppers, courgette, mushrooms, onions, and tomato sauce come together very well.
If you are looking for an empanada to please everyone, empanadas de jamón y queso are often a hit in any gathering.
The pastry is similar to any other empanada pastry, but instead of making a big empanada, you can do small ones (often referred to as empanadillas in Spanish).
For this recipe, you don't need many ingredients – just ham, cheese, and the pastry base, which you can make at home or buy at the supermarket.
These empanadas are perfect for serving as a snack at a house party.
Although most empanada recipes include savoury ingredients, you can prepare sweet empanadas too.
If you have a sweet tooth, you will love these easy empanadillas de Manzana y Canela, which are delicious treats. Made with green apples, cinnamon, sugar, and puff pastry, there is nothing not to like about these delicious pastries.
You can enjoy them with a cup of coffee or tea, and children will love them with a milkshake or hot chocolate.
Empanada de morcilla is a hearty empanada for those who love strong meat flavors. The filling of this pastry consists of black pudding, onions, plum tomatoes, eggs, and pine nuts.
This empanada recipe is easy; however, you want to make it on a weekend or free day as it does take some time to cook.
It is definitely a tasty empanada that you want to try at home or on your next holiday in Spain.
Empanada gallega isn't the only empanada you can find in Galicia. There are so many types of empanadas that you may want to try during your trip to this part of Spain.
Another traditional empanada that is worth trying is empanada de bacalao con pasas. Although the combination of cod and raisins may sound a bit odd to you, the sweetness of the raisins and the salt of cod complement each other very well.
The key to this recipe is that you get high-quality ingredients so you can thoroughly enjoy the flavors coming through the empanada.
A twist on the traditional empanada gallega is empanada gallega de mejillones. The main ingredient of this dish is mussels.
The filling of the pastry is made with mussels and ingredients like plum tomatoes, basil, white wine, and chili pepper that give it a kick of spice.
It is a must-try recipe for anyone who loves seafood and a bit of spice.
Delicate, soft, and full of flavor, these empanadas de espinaca y queso are perfect for vegetarians, and a good idea to give vegetables to fussy eaters.
There are different variations and ways to make this empanada, but the key ingredients are spinach and cheese. To these ingredients, you can add peppers, onions, garlic, and even hard-boiled eggs.
Not only are they delicious, but they are quick to make too.
Empanadas mallorquinas de carne, also popular known as panades mallorquines, is a typical recipe from the island of Majorca.
The pastry used for this empanada is made with lard as this is the traditional way to make it, and the filling is prepared with meat like lamb, pork, or chicken, Majorcan sausage, bacon, and peas.
They are very popular during Easter; however, you can find them all year round in any bakery.
If you are traveling to Andalusia, especially to Seville, and you would love to try a traditional empanada from this region, you need to look for empanadillas de cabello de ángel in the bakery shop.
These sweet empanadillas are filled with a pumpkin jam (called Cabello de ángel in Spanish), cinnamon, white wine, and aniseed, and their flavor resembles other traditional Andalusian sweets like rosquillas (Andalusian-style donuts).
They are absolutely delicious and can be enjoyed with a hot drink or glass of wine.
16. Truchas canarias – Sweet potato empanadas (Canary Islands)
Truchas Canarias are small empanadas that originated in the Canary Islands and are very popular during Christmas. You can easily find them in any bakery from November to the end of the festive season.
These sweet empanadas are made with sweet potatoes, almonds, lemon zest, lard, cinnamon, and salt and are sprinkled with icing sugar. The flavor of these ingredients really comes together and will surprise you.
You can't miss out on the opportunity to try these sweet pastries when visiting the Canary Islands at Christmas.
Empanada murciana is a juicy and flavourful empanada from the region of Murcia in Easter, Spain.
The pastry is flaky and crunchy and is filled with a filling made of red pepper, onions, plum tomatoes, tuna, and hard-boiled eggs.
It is an empanada that you can eat at any time and serve on any occasion.
Coca de guisantes is another empanada to add to your recipe book. It is a traditional empanada in Alicante.
The empanada's pastry is made the same way you would make any other empanada; however, the filling has key ingredients like peas, morcilla (black pudding), and onion.
It is an easy and delicious recipe.