Spanish croquettes are one of the most popular tapas in the country. They are crispy but creamy and rich in flavors.
Although Ham Croquettes and Chicken Croquettes are the most popular recipes, many more Spanish croquette recipes are worth trying, from vegetarian options like Mushroom Croquettes to Cod Croquettes.
In this blog, we share some of the best Spanish croquette recipes.
Spanish Croquette Recipes
If you love cod, croquetas de bacalao is a must-try. This traditional appetizer is crispy but creamy inside, and it is salty as it is made with Spanish salted cod, a staple among those who love fish.
These bite-sized croquettes are made with flour, breadcrumbs, eggs, milk, and olive oil, which are easy to find in any supermarket. Plus, the croquette mixture is elevated with salted cod.
Enjoy these cod croquettes with a homemade aioli sauce and a glass of wine at lunch or dinner.
Croquetas de jamón are the most popular Spanish Croquettes. You will find them in any tapa bar and restaurant. The combination of crispy and creamy textures and the flavors coming through the bechamel sauce and Spanish ham is delightful.
These appetizers are prepared with ingredients such as Spanish ham in cubes, flour, breadcrumbs, eggs, milk, and parsley.
You can eat Serrano ham croquettes independently, but they are also perfect as a main course with a side of salad or vegetables or alongside other popular tapas, such as patatas bravas.
The second favorite croquette is croquetas de pollo; they are a classic in restaurants but also in households. Many locals debate about who prepares the best chicken croquettes. It is a recipe that is passed to other generations.
They are made with roasted or boiled chicken, flour, breadcrumbs, eggs, butter, nutmeg, and olive oil.
Adults and kids love these croquetas de pollo, and they are perfect for dipping in sauces like ketchup.
Are you looking for vegetarian croquettes? Croquetas de setas are the ones for you.
They are crispy on the outside, creamy on the inside, and have an earthy flavor coming through the mushrooms. They are simply delicious.
These croquettes follow the same cooking method as any other croquettes; however, the meat or fish is substituted with mushrooms.
Serve this delicious appetizer with a salad and your favorite wine or beer.
If you want a twist on traditional Spanish croquettes, you must try croquetas de rabo de toro.
They are creamy and soft, and rich in flavor. The star ingredient for this appetizer is oxtail, so it is very important to cook this meat to perfection to get the best result.
Although it isn't the easiest croquette recipe, you will be amazed by this unique recipe.
Unlike other croquettes, oxtail croquettes are better without a sauce, so you can enjoy the flavors coming through the meat. Serve with a side of salad.
Croquetas de cocido madrileño are incredibly delicious, plus they are a fantastic way to make the most of previously cooked dishes.
To make this appetizer, you should have cooked a Madrid Stew before. The remaining meat from the stew is used in the croquette filling. Then they are washed in eggs and coated in breadcrumbs like any other croquette.
These croquettes don't need dipping sauce and pair perfectly with a glass of wine. Enjoy them as a tapa or a main course with a refreshing salad.
If you want to try a different croquette, croquetas de morcilla is the go-to option. They aren't very popular, but you will probably love this appetizer if you like black pudding.
It is made with black pudding pate, homemade bechamel sauce, breadcrumbs, and eggs. It is creamy and melts in your mouth.
Black pudding croquettes are ideally enjoyed without any sauce.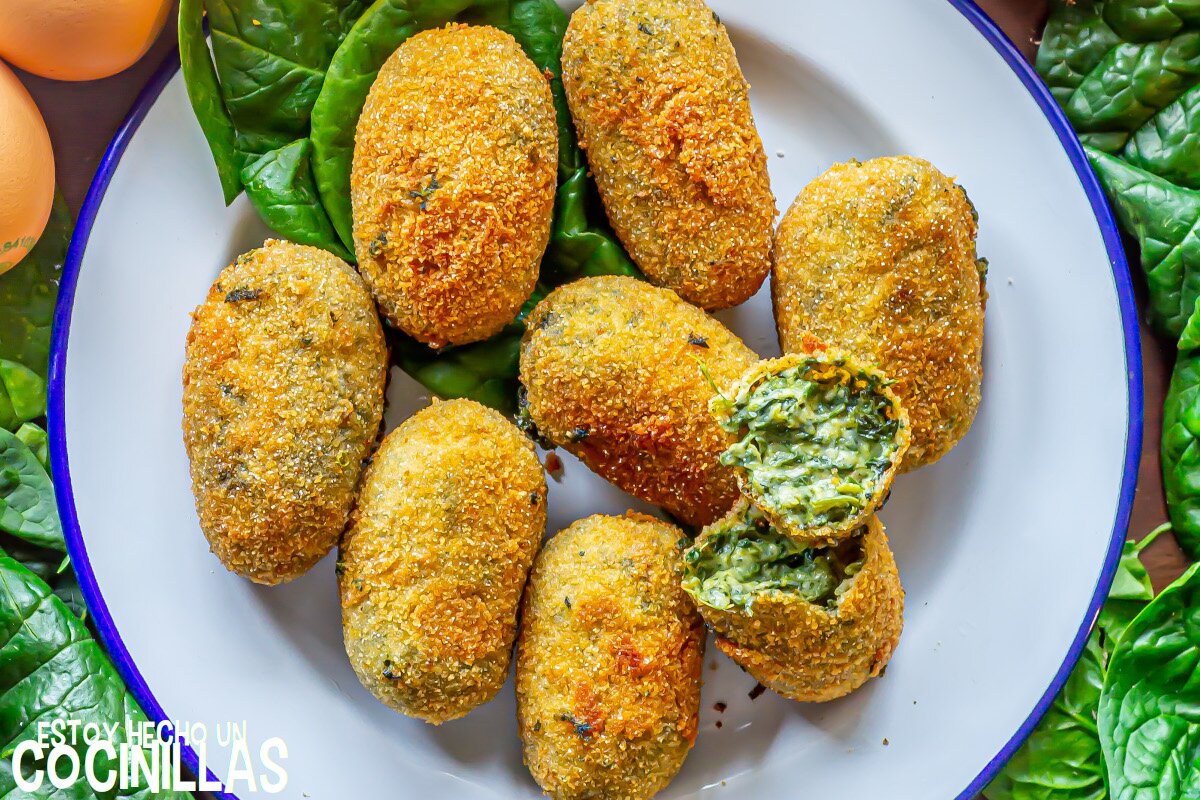 Another vegetarian Spanish croquette is croqueta de espinaca. They are crunchy, creamy, and very easy to cook.
If you are ready to try these delicious croquettes, you need spinach, flour, eggs, butter, milk, breadcrumbs, onions, nutmeg, and olive oil.
Have these spinach croquettes as an appetizer, a tapa spread, or a main course alongside a salad or homemade chips.
Croquetas de carabineros is a delicacy for those who love seafood. These scarlet shrimp croquettes are rich in flavor and so delicious that you will want more and more.
To make these croquettes, you will need scarlet shrimp, seafood broth, flour, eggs, breadcrumbs, butter, milk, cream cheese, fennel, and olive oil.
Eat these croquettes at lunch or dinner with a side of salad or homemade chips.
Are you a cheese lover? You must try croquetas de queso. They are crunchy on the outside but creamy on the inside, and they literally melt in your mouth.
There isn't a classic recipe for this, as everyone adds different types of cheese according to their taste. However, it is very common to find a combination of cheeses in the filling, for example, blue cheese, parmesan cheese, and cow cheese.
These croquettes don't go well with sauces; however, you can sometimes find them topped with chutney.
If you travel to Asturias, you can try a typical croquette called croquetas de cabrales. They are creamy and rich in flavors.
They are made with Cabrales cheese, a traditional blue cheese in Asturias and its surroundings.
It is the perfect croquette for anyone who loves the flavors of pungent cheeses.
Croquetas de chorizo is another fantastic Spanish croquette appetizer. They are flavourful and so delicious that you and your loved ones will want to eat them again and again.
They are made with high-quality chorizo, flour, breadcrumbs, eggs, butter, onion, nutmeg, and olive oil.
These golden and crispy croquettes filled with chorizo are best freshly made.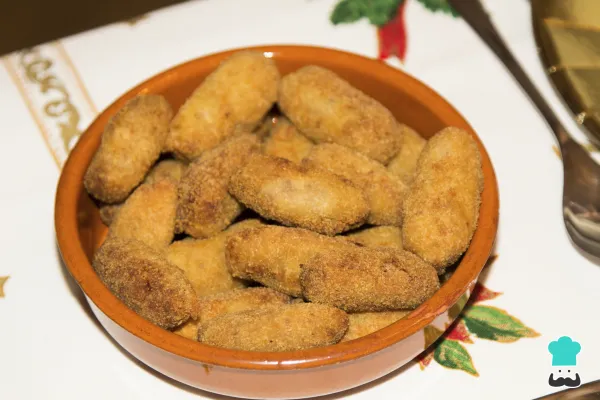 If you are looking for a twist on the traditional Serrano Ham Croquettes, this recipe is worth trying.
The cooking method is very similar to the one you would follow to make the ham croquettes; however, you need to boil eggs and add these hard-boiled eggs to the croquette mixture.
The egg gives more texture to the croquettes, and the combination is delicious too.
Croquetas de foie is an elevated twist on the classic croquettes. These gourmet croquettes are perfect for special occasions and parties and will surely impress your guests.
Foie gras, flour, milk, breadcrumbs, eggs, milk, cream, nutmeg, olive oil, salt, and pepper are the key ingredients to prepare these pate croquettes.
Serve them with a rocket salad and a glass of red wine.
Our last Spanish croquette recipe is also unique and not a popular option. The star ingredient of these croquettes is Cecina meat, a type of meat that has been salted and dried and originated in Leon.
Cecina meat, mushrooms, and the classic ingredients to prepare regular croquettes make a great combination.
They are a delicious appetizer and main course to add to your recipe book.