If you are wondering what boozy drinks people drink in Spain, we have compiled 15 recipes that include drinks from the traditional sangria to lesser-known drinks that are popular in specific regions of Spain.
In this list, you will also find drinks that may not be for you if you love a good cocktail or you appreciate a good glass of wine or beer. However, some of these drinks are common among young people, and you may feel want to try them too.
Spanish Cocktail Recipes
One of the most well-known Spanish cocktail recipes is sangria. You will find it in most restaurants and bars across Spain.
It is a fruity cocktail made with red wine, club soda, brandy, peaches, apples, oranges, lemons, cinnamon and sugar.
Sangria is very easy to prepare and batch too, which makes it an excellent drink to serve at house parties and BBQs.
There are also a few variations of sangria like white sangria, but if you are looking for the traditional one, it is made with red wine.
When the heat hits Spain, there is no better alcoholic drink than tinto de verano. You will often see many locals enjoy this drink with a few tapas on an outdoor terrace in the summer months.
This cocktail recipe couldn't be easier. You just need red wine, sprite, a few slices of lemon or orange to garnish and ice.
It is a cocktail that you can make in a few minutes and your guests will love it.
Agua de Valencia is a cocktail that originated in the beautiful city of Valencia. Interestingly, this drink was created by a bar owner that was challenged to serve a different cocktail and came up with this refreshing alcoholic drink.
Valencia is known for its high-quality oranges, and this is the main ingredient to make this recipe. In addition to freshly squeezed orange juice, you will also need champagne or cava (Spanish sparkling wine), gin, vodka, orange slices and ice.
It is a delicious and excellent drink to serve in a jar on birthdays or any other occasion.
4. Rebujito – (Andalusia)
Rebujito is an Andalusian cocktail that is very popular during traditional events like Feria de Abril, Seville's Fair that takes place in April.
If you are ready to try this bubbly drink, you will need Manzanilla white wine, 7Up or Sprite, fresh mint and ice. The preparation is straightforward too. Add all the ingredients to a jar and mix well.
The best way to enjoy this drink is very cold and freshly made.
Another Andalusian cocktail is Flor de Jerez which is typical in Jerez in Cadiz. This is a tart and delicious drink that is simple to make but its complex flavour will amaze you.
The ingredients to make Flor de Jerez are dark rum, amontillado sherry, apricot liqueur, lemon juice, cane sugar syrup and ice.
The cocktail is made in only a few minutes. Add all the ingredients into a shaker, shake and strain the cocktail into a coupe glass.
Leche de pantera is a cocktail that originated from a legend that tells that this drink was given to the injured soldiers of the Spanish army in the 40s.
The key ingredients for this alcoholic drink are gin, milk, condensed milk, cinnamon, cinnamon sticks, and ice, and to make this cocktail recipe you just need to add the ingredients into a shaker, shake it and serve it in a glass. Then sprinkle some cinnamon.
This is the perfect drink for anyone who loves very sweet cocktails.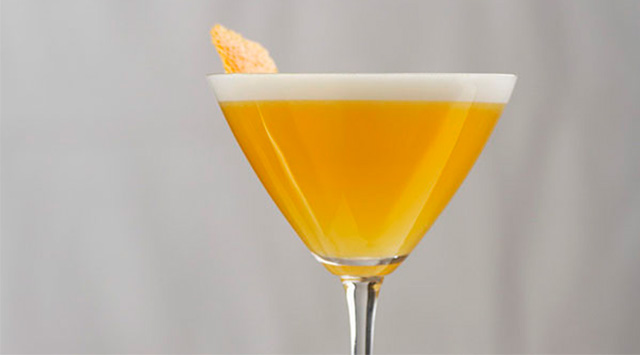 If you are looking for a refreshing cocktail, you will love Agua de Sevilla, a delicious and fruity cocktail that originated in Seville and you can find in many clubs around the city.
This drink is made with pineapple juice, champagne, Cointreau, whiskey, whipped cream, cinnamon, sugar and ice. The key to making a good Agua de Sevilla cocktail is balancing the flavours as it can turn out a very sweet cocktail.
It is an easy cocktail that you can put together in less than 15 minutes.
Sol y Sombra is a traditional Spanish cocktail that is often enjoyed after a meal, but also at any time. The name of this cocktail comes from the tone of its colours.
Anisette, brandy and ice are the 3 ingredients you need to make this classic drink. The method is very simple, add anisette and brandy in equal parts into a glass and gently mix it. You can also add ice, but it's optional.
There are many traditional foods and sweets at Easter, but there is also a classic cocktail called Zurracapote. This is a drink you will find in Northern Spain, in places like La Rioja, Soria and the Basque Country.
Red wine is the key ingredient to make this cocktail, but you will also need lemons, a cinnamon stick and sugar.
First, add wine to a pot and boil for about 30 minutes. Once it is cold, add lemons, cinnamon and sugar and let it rest for a good couple of hours or even days. Serve very cold!
Queimada Gallega is a cocktail that originated in Galicia, and it is very different from other Spanish alcoholic drinks because of its mysterious legends about a spell you need to cast while preparing the drink.
This cocktail is very popular on Noche de San Juan (Saint John's Eve) which takes place on the 23rd of June.
The drink consists of brandy, sugar, lemon and orange peels and coffee beans.
One of the most popular cocktails in Majorca is Cóctel Mallorca, an award-winning cocktail that has become a hit.
Rum, Scottish whiskey, orange liqueur, and vermouth wine are the essential ingredients to make this delicious cocktail. However, you can also add ice and orange peel for garnish.
Add all the ingredients into a shaker, shake and pour it using a strainer in a cold coupe glass. Decorate with orange peel.
It is a fancy cocktail that you can make to impress others.
Pomada de Menorca is a typical cocktail drink served across the island of Menorca, in the Balearic Islands. If you are after a summer drink, this cocktail is perfect for you.
Its ingredients are Xoriguer gin (a local gin), homemade lemonade, lemon slices, fresh mint and ice.
It is a light and easy cocktail that you can prepare at any time and for any occasion.
13. Kalimotxo – (Basque Country)
There are many discussions on whether kalimotxo, also written calimocho, should be considered a cocktail or not. Some Spaniards love this drink whereas others hate it.
This drink originated in the Basque Country when someone decided to mix red wine and coke. Since then, it became popular but as we said before it isn't a favourite for everyone.
If you want to try this drink, you will only need to add coke and red wine in the same proportions. However, you must use regular coke rather than the zero and light versions.
This "beer cocktail", which is referred to as clara de limón or shandy, is a drink for those who prefer a lighter taste of beer. It is a refreshing drink that becomes very popular in the summer months.
Beer and lemonade or lemon fanta are the only ingredients you will need to make clara de limón.
Enjoy this drink with a few tapas and friends.
Clara con casera is a variation of clara de limón, beer and club soda are put together instead of beer and lemon fanta.
If you liked this article about Spanish cocktail recipes, consider checking out the other articles below —