La Mancha cuisine is characterized by humble and flavourful dishes made with different types of meat, such as chicken, rabbit, partridge, bread, and local vegetables.
Whether you are curious about Castile La Mancha gastronomy or heading there soon, we have compiled 17 traditional recipes for you.
Castilian Recipes (La Mancha)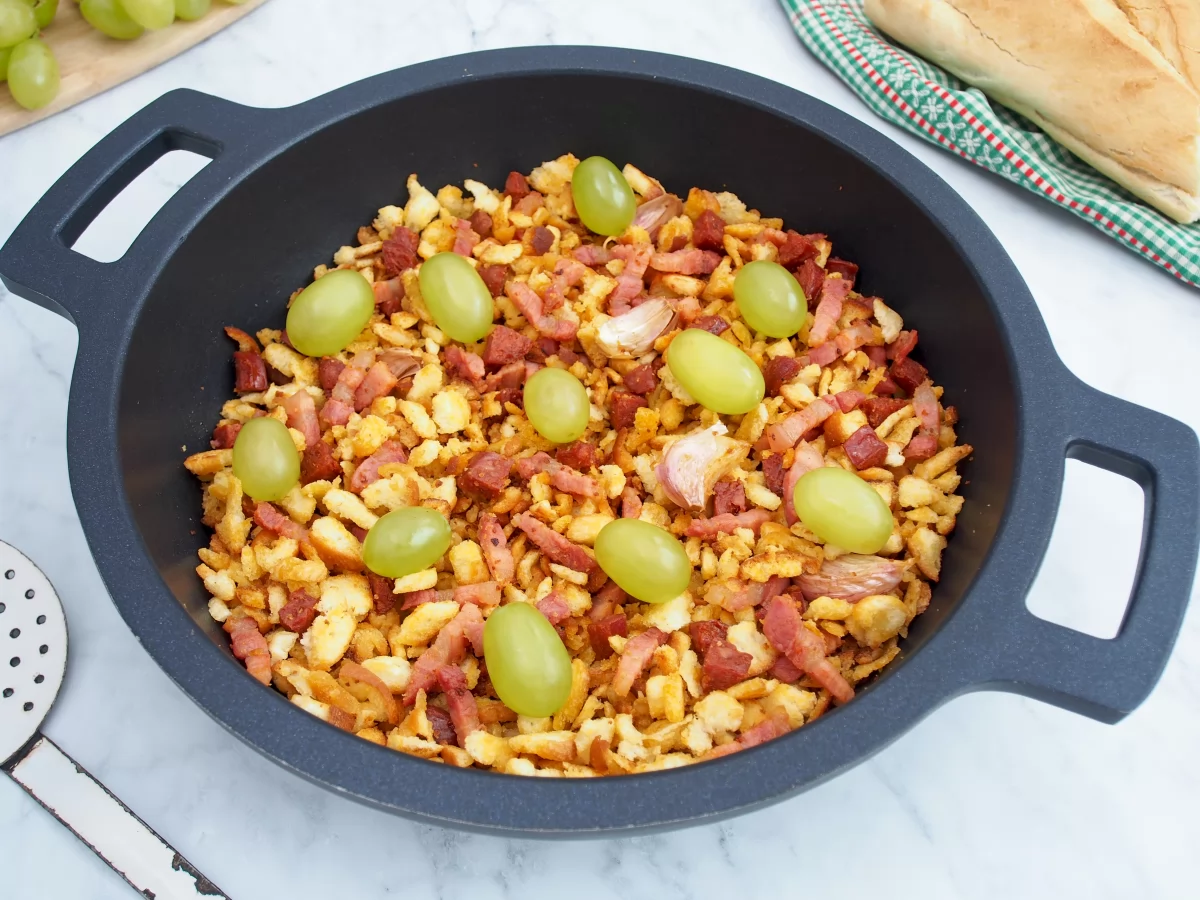 Migas is a classic dish in Spain in La Mancha and other regions such as Extremadura, Murcia, and Andalusia. However, Castile La Mancha has its version of migas, called migas manchegas.
These migas are made with stale bread, pancetta, fresh chorizo, choricero pepper, garlic, grapes, and water.
It is a simple dish but rich in flavors.
If you are looking for a vegetarian recipe, you will love pisto manchego, similar to the French Ratatouille dish.
You will need peppers, courgettes, onions, chopped tomatoes, garlic, black pepper, cumin, sugar, and salt.
The dish is packed with vegetables, and you can serve it with a few slices of bread or fried egg on top if you want to make it more filling.
When winter approaches, there is nothing better than comfort food, and sopas de ajo, also called sopa castellana, is what you need, a warm and delicious soup.
This soup contains garlic, eggs, stale bread, serrano ham, chicken or beef stock, sweet paprika, olive oil, salt, and black pepper.
It is a fantastic soup to enjoy at lunch or dinner.
Tonjuto Manchego, also called tocrúo, is a hearty stew whose recipe varies from family to family; however, you will always find the same key ingredients: meat, vegetables, and potatoes.
It is a dish thoroughly enjoyed in La Mancha but also very typical of Ciudad Real.
The main ingredients for this dish are two types of meat (chicken, rabbit, lamb, or beef), peppers, potatoes, onion, garlic, white wine, saffron, and cloves. 
This meat stew is perfect for lunch and always accompanied by bread.
If you have ever heard of gazpacho, you probably think of the Andalusian cold tomato soup, which is correct. However, gazpacho Manchego is a typical dish of La Mancha and isn't related to gazpacho andaluz.
This La Mancha traditional recipe consists of a stew made of partridge, quail, rabbit, and vegetables like peppers, tomatoes, and onions.
The dish is often served with tortas cenceñas, a sort of flatbread added to gazpacho.
6. Asadillo manchego – Roasted red pepper and tomato salad
Humble, simple, and refreshing are the adjectives that describe this traditional recipe.
Asadillo Manchego is easy to make and is often served as a tapa or a side dish.
It consists of a salad made of roasted red peppers, ripe tomatoes, garlic, cumin, vinegar, olive oil, and salt. You can also add a hard-boiled egg.
One of the delicacies of Toledo is carcamusas toledanas. You can try this star dish in any bar or restaurant across the city.
It is a meat dish full of flavors and a little spicy. To make this recipe, you will need pork tenderloin, fresh chorizo, ham, onion, chilies, peas, tomato sauce, white wine, garlic, and olive oil.
The dish doesn't need any side dishes, but you can serve it with a few slices of bread or homemade chips.
8. Ajo mulero – Potato and garlic omelette
Ajo mulero is a unique recipe. This Castile La Mancha dish is a type of omelette but without eggs.
As its name suggests, garlic is the key ingredient in making this non-egg omelette, but it also contains potatoes, bread, tomato, garlic, saffron, olive oil, and salt.
It is a perfect dish to serve as a starter or main dish accompanied by salad.
If you love lamb, you must try caldereta de cordero, a very traditional recipe in La Mancha, especially in Extremadura.
This lamb stew has few ingredients but is flavorsome, and all the ingredients make a great combination.
Lamb, tomatoes, peppers, onions, mixed herbs, chicken stock, white wine, sweet paprika, and olive oil are some ingredients to prepare this delicious stew.
The best way to enjoy caldereta de cordero is with a glass of red wine and a few slices of bread.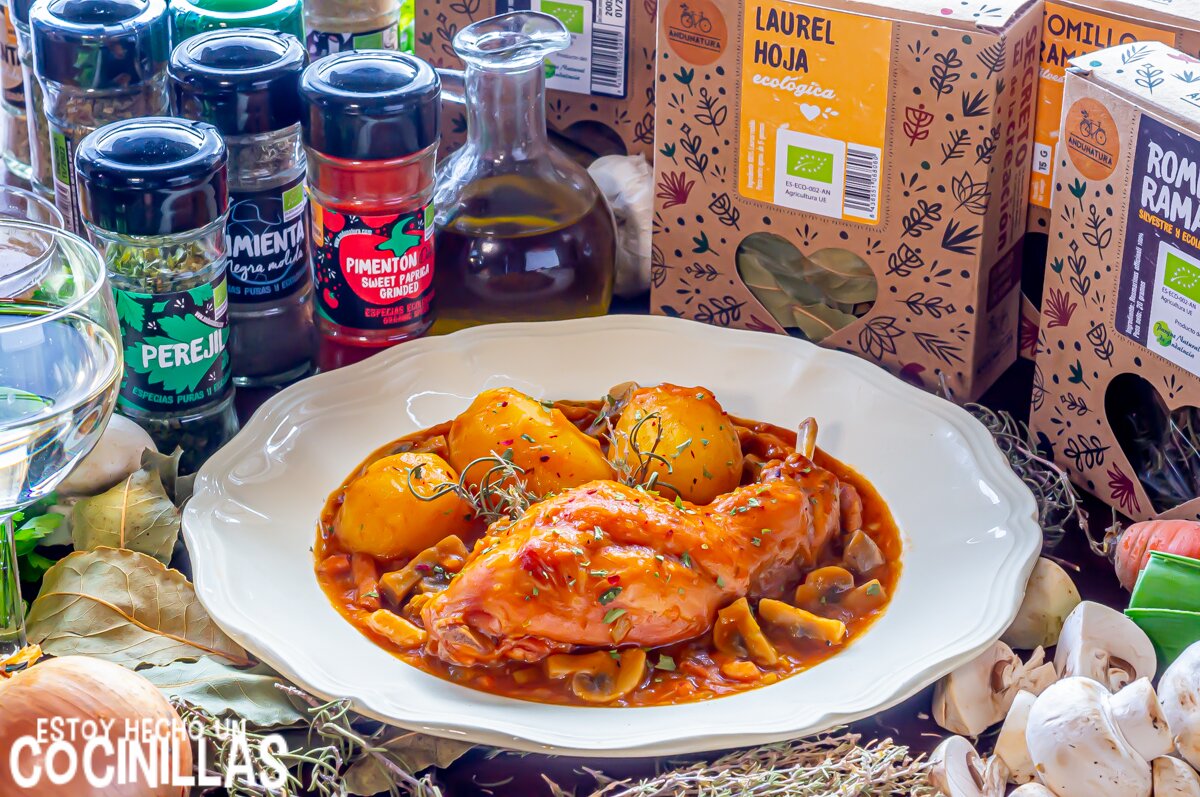 Conejo a la cazadora is healthy and full of flavors stew which is very famous in La Mancha.
This stew is made with key ingredients, such as rabbit, pancetta, mushrooms, carrots, leeks, chopped tomatoes, and white wine.
It is a great stew to serve for a family gathering on a Sunday afternoon or any time of the week.
Potaje de Cuaresma is an Easter stew; this classic dish doesn't contain meat like other Easter stews.
It is a stew packed with pulses, vegetables, and fish, more specifically: chickpeas, spinach, tomato, salted cod, eggs, and pepper.
This delicious Easter stew is a synonym for comfort food and doesn't need any toppings or side dishes to go with it.
12. Atascaburras – Potatoes, cod, and garlic mash
Humble and simple, Atascaburras is one of the most famous dishes in Castile La Mancha. It is an old recipe that is often prepared in winter, but you can make it all year round.
This dish is made with potatoes, cod, eggs, garlic, nuts, olive oil, salt, and pepper.
The potatoes, cod, and garlic are mixed until they have the consistency of mash. Then, the mash is topped with hard-boiled eggs and nuts.
It is a recipe you will want to make again and again.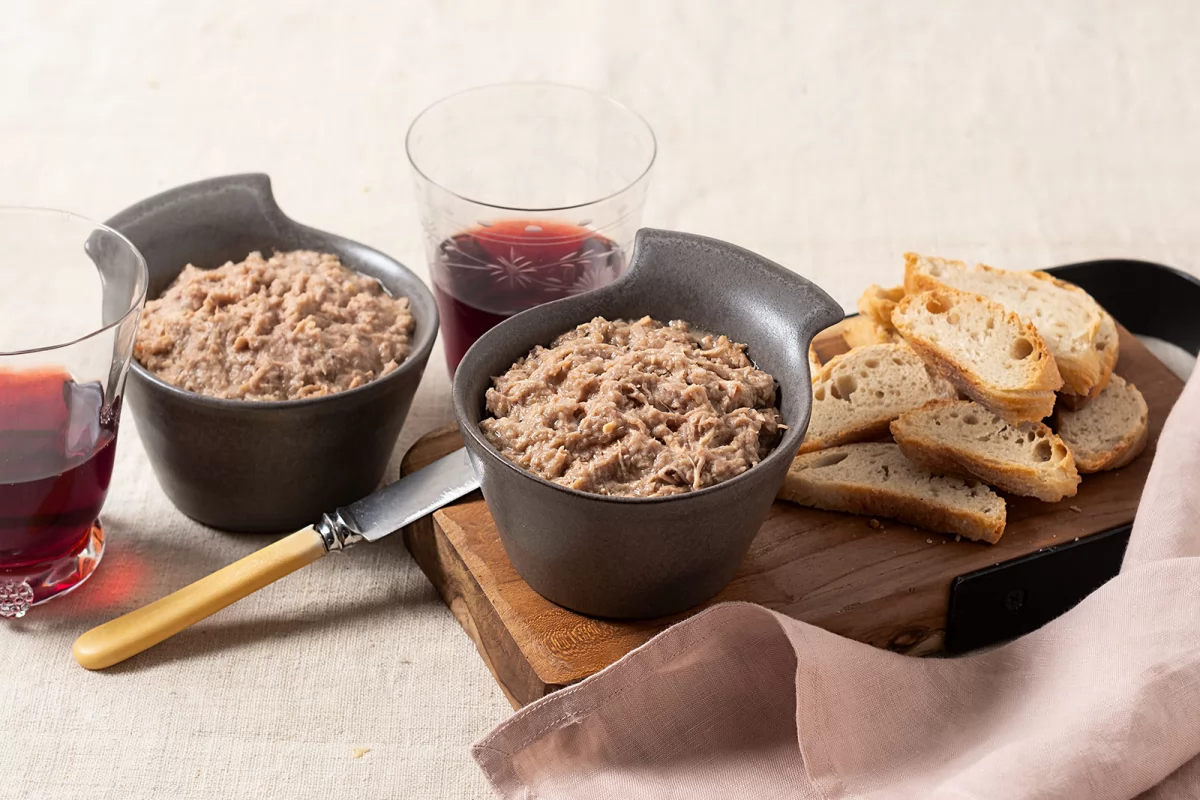 Morteruelo de Cuenca consists of a traditional pate of the city of Cuenca, Castile La Mancha.
The pate is made with different types of meat, such as rabbit, chicken and partridge, liver, bread, and spices.
It is a fantastic starter to serve with thin slices of bread at a dinner party.
One of the typical dishes of Toledo is perdices a la toledana, which can be translated as Toledo-style partridge.
The partridge is cooked alongside carrots, onions, garlic, thyme, cloves, and white wine. It is straightforward, and the herbs and wine pair perfectly with the partridge.
You can serve this dish with patatas a lo pobre (Poor Man's Potatoes) or white rice.
15. Duelos y quebrantos – Scrambled eggs with chorizo and pancetta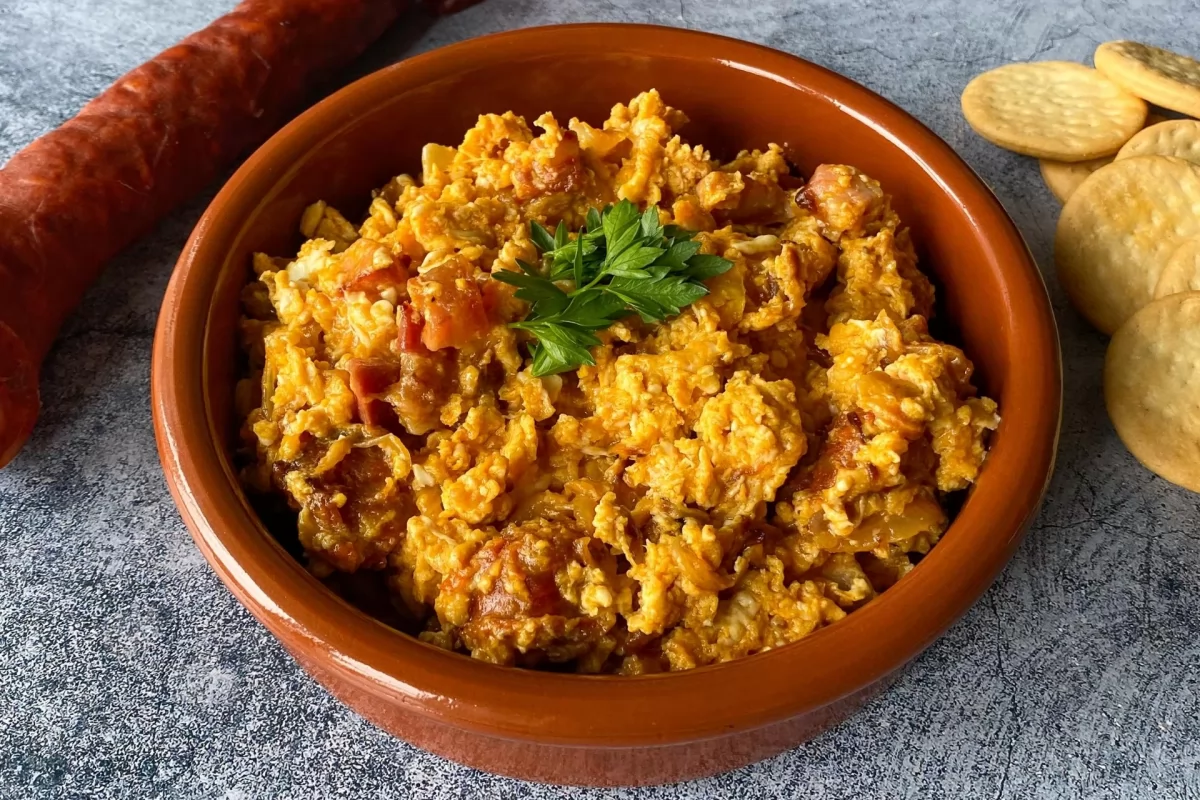 Duelos y quebrantos is a very special dish in La Mancha. It is well-known because the dish is mentioned in Don Quixote, the famous novel by Miguel de Cervantes.
The recipe is straightforward and quick, but it is flavorsome. You will need eggs, fresh chorizo, bacon, onions, garlic, parsley, and olive oil to make this dish.
16. Miguelitos de la Roda – Traditional pastries filled with cream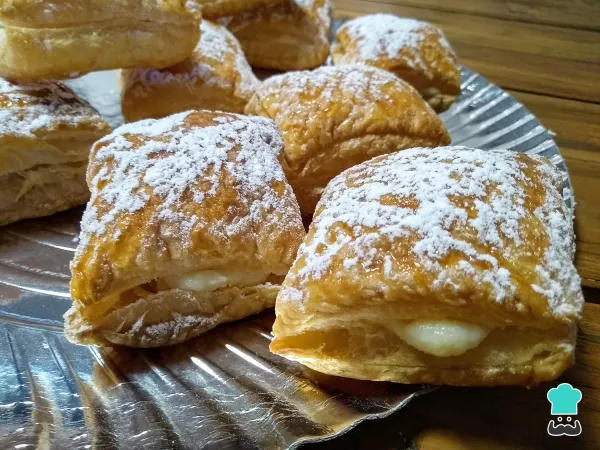 Who doesn't love pastries? Miguelitos de la Roda are pastries that originated in Albacete.
These delicious and flaky sweet is made with pastry, icing sugar, milk, cornflour, cinnamon, orange and lemon zest, sugar, and honey. They are filled with pastry cream, baked, and topped with icing sugar.
They are irresistible and perfect with a hot drink.
If you fancy something sweet, you must try flores fritas. These are delicious fried dough in the shape of flowers. They are popular in carnival and Easter, but you can make them all year round.
They are made with milk, eggs, flour, aniseed, orange zest, sunflower oil, sugar, and cinnamon.
Enjoy these sweet creations with a cup of coffee, hot chocolate, or your favorite tea.