If you have a sweet tooth, you will be amazed by all the delicious cakes you can find in Spain. From crumbly and spongy cakes to savory and sweet cakes.
Whether you are looking for a Spanish cake recipe to treat your little ones or impress your friends at a party, we have compiled over 20 recipes that you can make at home.
The Best Spanish Cakes Recipes
Mantecadas de Astorga is a traditional cake in the city Astorga, Leon. They have the texture of a cupcake, but they aren't exactly a cupcake.
Made with simple ingredients such as flour, sugar, butter, eggs, and cinnamon, this cake is very easy to make at home. The most difficult of preparing this cake is making its cupcake cases.
The best way to serve these delicious small cakes is with a glass of cold milk.
One of the most popular cakes in Cordoba is Pastel cordobés. There is no visit to Cordoba without trying this delicious cake which you can find in any pastry shop.
Pastel cordobes consist of a cake made with puff pastry that is filled with Cabello de angel (pumpkin jam) and sprinkled with sugar and cinnamon.
There is a slight variation in which Serrano ham is added to the filling, and it gives it a salty and sweet, odd combination that works well.
3. Greixonera – (Balearic Islands)
Greixonera is a typical cake from the Balearic Islands, but more specifically from Ibiza. This cake is made from ensaimadas pastries that were cooked the day before.
The key ingredients of this cake are ensaimadas, egg yolks, milk, sugar, liquid caramel, and cinnamon, and it's an easy recipe to make at home.
The texture of this cake is soft, just like a bread pudding, but it's delicious.
Serve a piece of Greixonera with liquid caramel and whipped cream.
Ponche Segoviano is a dessert cake that comes from Segovia, a historical city in Castile and Leon.
It consists of a layer cake that has egg custard and marzipan. This is the perfect cake for anyone who has a sweet tooth!
It isn't an easy and quick cake to prepare, but it is worth making once in a lifetime. Make sure you choose a day, like the weekend, in which you don't have many plans.
Mantecados are small cakes that are traditionally eaten during the Christmas festivities.
These crumble cakes are made with wheat flour, sugar, lard, egg yolks, cinnamon, and sesame seeds.
They are mostly produced in Seville, but no matter which Spanish city you visit at Christmas, you will be able to find mantecados in pastry shops and supermarkets.
6. Mona de Pasqua – Easter cake (Catalonia)
If you are looking for Spanish Easter cakes and desserts, Mona de Pasqua is probably the most traditional cake across Catalonia.
This is a cake with the consistency of sweet bread, and it has ingredients such as eggs, flour, milk, sugar, olive oil, and citruses like oranges and lemons.
Following the tradition, this cake is eaten for breakfast or merienda (late afternoon meal) and served with hot chocolate. However, you can also have it with coffee, tea, or a glass of milk.
7. Tarta de queso – Basque Cheesecake (Basque Country)
One of the most delicious desserts in Basque cuisine is Tarta de queso, translated as Basque Cheesecake.
What makes this cheesecake different from other cheesecakes around the world is the creaminess that is obtained from the type of cheese used in this recipe.
Whenever you visit San Sebastian or Bilbao, don't miss the opportunity to try this mouth-watering cheesecake.
Coca de San Juan, Coques de Sant Joan in Catalan, is a traditional cake in Catalonia and other regions like Valencia.
This is a cake that is eaten in Noche de San Juan, a national celebration which takes place on the 23rd of June, that people celebrate by going to the beach and lighting fires with family and friends in the evening.
The cake is made with ingredients like flour, sugar, egg yolks, lemon, and pine nuts. It isn't quick to prepare, but it is worth the effort.
A simple but spongy cake is bizcocho de aceite de oliva. This is an easy and quick recipe you can make at home.
You just need the following ingredients: eggs, sugar, milk, olive oil, flour, yeast, and icing sugar, and you will have a delicious cake to share with friends and family.
You can decorate it with fruits and nuts if you wish, and it goes perfectly with a coffee, tea, or glass of milk.
10. Tarta de Santiago – Spanish almond cake (Galicia)
Northern Spain is known for some of the best Spanish cakes, and an example of this is Tarta de Santiago, a traditional cake that comes from Santiago de Compostela, Galicia.
It is an almond cake only made with three main ingredients: almonds, sugar, and eggs. Almonds are the key ingredient as this is a part of Spain where you will find the best almonds.
It isn't a cheap recipe, as almonds aren't often budget-friendly, but it is a cake that any nut lover will want to eat again and again.
This delicious cake comes from the capital of the Basque Country, Vitoria, and it is traditionally eaten on the 28th of April when there is an important regional celebration to remember San Prudencio, the patron saint of the city.
Tarta de San Prudencio consists of a sponge cake that is filled with whipped cream and chocolate truffle. What makes this cake different from others is the fact that the cake is soaked in champagne.
If you visit Vitoria at the end of April, you will be able to find this cake in any pastry shop. However, it is also an easy cake to make at home.
The best way to eat this cake is very chilled but not to the point that it is frozen.
Tarta San Marcos is one of the classiest cakes in Spain. Although it is said that it was first made in Leon, you can find it anywhere in the country.
This cake is made with two layers of cake, a whipped cream filling, and a sweet syrup. Once prepared is also topped and decorated with laminated almonds and more whipped cream.
It is a delicious adult's cake, as it has some alcohol in it, to serve and impress your friends and family at a party.
If you are looking for a sweet, soft, and spongy cake, you will love this Spanish-style apple cake.
This is the type of cake that doesn't need much of your attention, as once you mix up all the ingredients, it goes directly to the oven.
The cake also is made with simple ingredients that you are likely to have at home, or you can easily get from any supermarket. Apples, milk, flour, and eggs are some of the key ingredients you will need.
Tarta de Manzana is perfectly eaten on its own, but you can also add some whipped cream or vanilla ice cream if you would like to get a combination of flavors.
Apart from the popular Roscón de Reyes, another traditional Christmas cake is Tarta de turrón.
It consists of a cake that is prepared with soft nougat, eggs, sugar, cream cheese, cream, and flour, and it is the perfect cake to prepare if you don't have much time as it only takes about 40 minutes to assemble.
This cake is often eaten during the Spanish Christmas period; however, you can make it any time of the year, especially if you love the taste of nougat.
What isn't to like about a custard, milk chocolate, and biscuits cake? Tarta de la Abuela is a classic Spanish cake that everyone loves.
This layer cake won't take you much of your time as once it is assembled, you just need to leave it in the fridge to set.
Tarta de la Abuela is the perfect cake for a family gathering or children's party. They will finish their piece of cake in no time.
This is a classic cake that children and adults love, so you will never go wrong with serving a cake like this one at a birthday party or any type of celebration.
Tarta de tres chocolates consist of a three-layered cake that is made with junket, so there is no oven involved in the process, three different types of chocolate – white, milk, and black chocolate, and a buttery biscuit base.
If you make this cake for a child's birthday party, grab some colorful sprinkles to decorate the cake.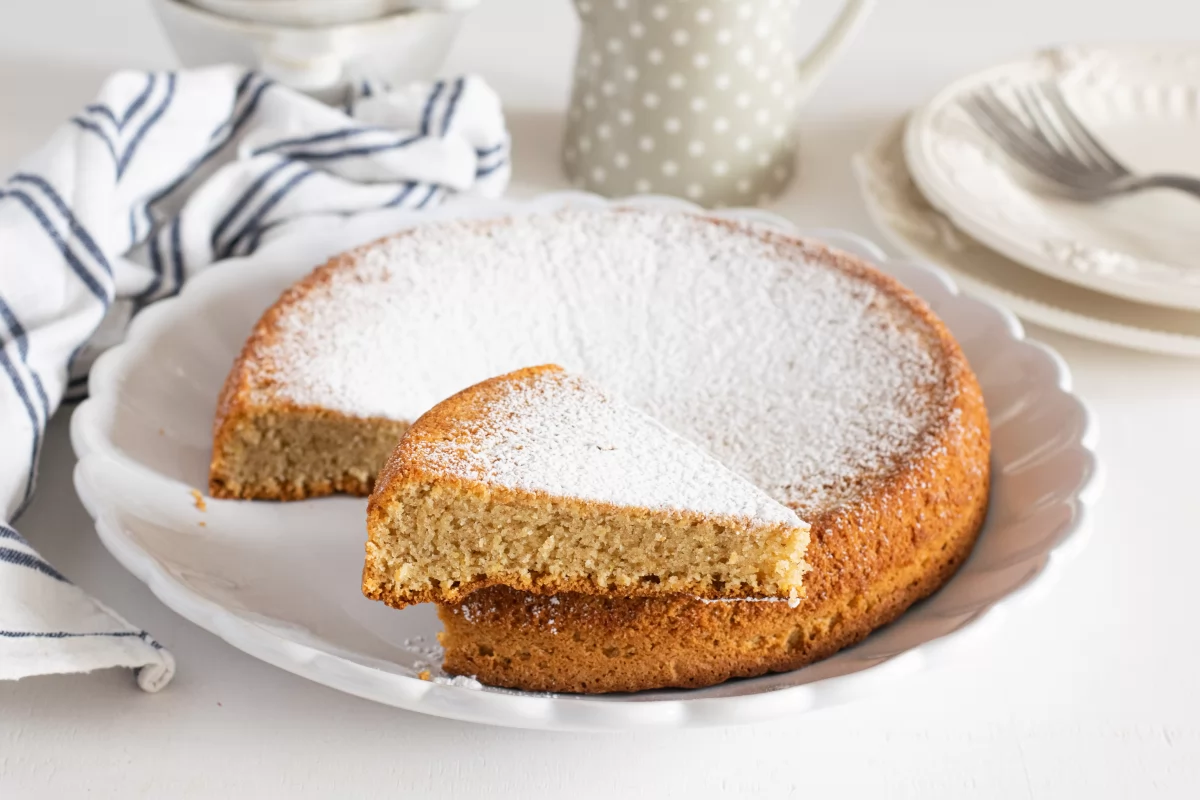 Gató de almendras is a spongy cake that comes from the region of Majorca.
It is very easy to make at home, and you are likely to have most of the ingredients in your cupboard.
The cake is made with ingredients like eggs, ground almonds, sugar, cinnamon, and salt, and it is decorated with icing sugar.
Despite its simple ingredients, you will be amazed by the delicious sweet, and nutty flavor of this cake.
It is the perfect cake to enjoy as an afternoon snack with a glass of milk, coffee, or tea.
Cocas are delicious spongy cakes that are typical of the regions of Valencia and Catalonia.
Coca de llanda is a cake made with sugar, lemon, eggs, milk, flour, and sunflower oil. The preparation is simple enough to follow at home as you just need to mix the ingredients together and then put it in the oven.
The best way to serve a piece of this cake is by accompanying it with creamy hot chocolate.
Roscón de Reyes is a synonym of Spanish Christmas. This is a traditional cake that is eaten on the day on which the three kings deliver the presents to the kids, although it's also eaten the day before too.
The cake is made with flour, milk, butter, eggs, sugar, lemon, orange, and candied fruits. Making this cake at home does take some time, so most Spaniards opt to buy this cake in the supermarket or local bakery.
Roscón de Reyes is traditionally filled with whipped cream, but there are many variations – filled with a chocolate mousse, custard, etc.
Wheat flour, cornflour, sugar, butter, eggs, and lemons are some of the ingredients that make this traditional cake from Galicia.
This is a similar cake to Roscón de Reyes, but one of the main things that make it different is that Tarta larpeira has pastry cream.
It isn't an easy and quick cake to put together, but it is worth trying to make it at home on the weekend.
21. Torta Malagueña – Malaga-style cake (Malaga)
This Malaga-style cake has ingredients that represent some of the flavors of the local cuisine. Made with aniseed pine nuts, raisins, laminated almonds, and cinnamon, it is the perfect cake if you love sweet flavors.
Serve this spongy cake with your preferred hot drink or a glass of Malaga sweet wine.
Quesadilla herreña is a cake that comes from El Hierro island and the Canary Islands.
It is made with three different types of cheese (cow, goat, and sheep), eggs, flour, sugar, aniseed, lemon, and butter.
The cake has the consistency and texture of a cheesecake, so you can either have it for dessert or an afternoon snack and serve it with ice cream or whipped cream.
One of the most traditional cakes in Melilla is Cortadillos de Melilla. These are small cakes that consist of two pieces of sponge cake with a middle layer of aniseed cream. They are also sprinkled with icing sugar.
This is a lovely cake to enjoy at any time of the day alongside a cup of coffee or tea.
Sobaos pasiegos are small cakes, similar to cupcakes, that are from the region of Cantabria, but they are known nationally, and you can find them almost anywhere in Spain.
These cakes are made with flour, butter, sugar, honey, eggs, lemon, yeast, and a pinch of salt, and it is an easy recipe that children will love.
These sobaos pasiegos are the perfect sweet breakfast!