If you are looking for a way to spice up your breakfast, you will love discovering these popular Spanish breakfast recipes.
Whether you love savory and light breakfasts or have a sweet tooth, in this list, you will find drinks and foods that are ideal for an early start of the day, as well as a late afternoon snack or what Spaniards call merienda.
Let's jump into these delicious breakfast recipes!
Spanish Breakfast Recipes
One of the most popular Spanish sweet breakfast options is churros with chocolate.
Churros consist of fried dough in the shape of a lace. The dough is prepared with simple ingredients that you probably have in your cupboard – flour, water, and salt.
These are often accompanied by delicious thick hot chocolate made of dark chocolate, milk, and corn flour.
Whether you are visiting Spain or fancy a different breakfast, you must try these delicious churros with chocolate, a breakfast option approved by adults and children.
Tostadas con aceite is a simple but delicious breakfast option that is very popular across Spain.
This breakfast consists of toasted bread with a drizzle of extra virgin olive oil. As it is very simple, the bread and olive oil must be of high quality.
Depending on your preferences, you can add something else to this toast. For example, Iberian ham and turkey are some of the most popular options.
If you are a coffee lover, you need to order a café con Leche on your next trip to Spain, or you can try to make it at home.
Café con Leche is an essential drink for Spaniards. They have it for breakfast, after a big lunch meal, for merienda, or any time of the day.
If you try to recreate this recipe at home, it is very important to know that filter coffee will not work. You need to make a shot of espresso, to which you will add steamed milk.
4. Zumo de Naranja – fresh-squeezed orange juice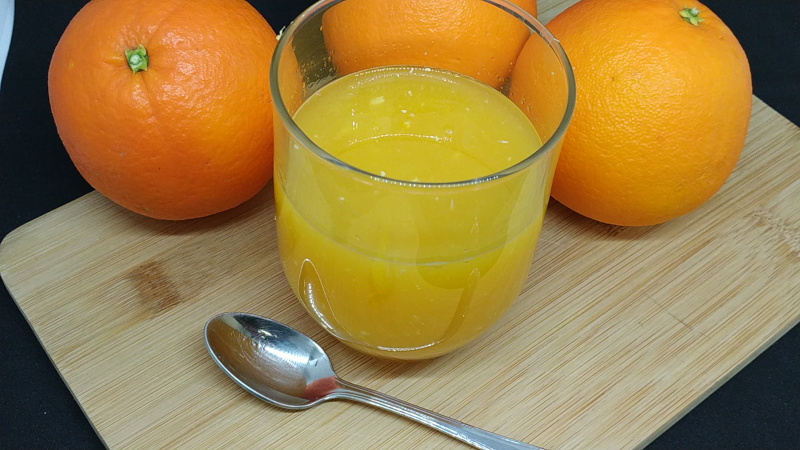 One of the healthiest and most delicious drinks is Zumo de Naranja, fresh squeezed orange juice.
It is very common to have a glass of orange juice at breakfast, and many Spaniards will have it in addition to a cup of coffee.
The high quality of oranges in Spain makes it a very popular drink that is packed with vitamin C. A glass of fresh orange juice can help you strengthen your immune system.
If the oranges are a bit bitter, you can always add a bit of honey or sugar.
5. Ensaimada – Majorca-style pastry (Majorca)
There is no visit to Majorca without trying its delicious ensaimadas. These are fluffy pastries that have a similar texture to a soft croissant.
Ensaimadas are made with flour, yeast, eggs, lard, sugar, salt, and water. Preparing them does take time; however, it is worth making them.
You can prepare the mix the night before and bake them in the morning for a delicious and fresh breakfast.
Ensaimadas go perfectly with a cup of coffee or tea, as well as a hot chocolate to dip in.
Magdalenas are the Spanish version of cupcakes, and they are a popular option for those who love having something sweet in the morning.
These Spanish-style cupcakes are made with ingredients like flour, olive oil, milk, eggs, white sugar, lemon, and salt.
These are regular and plain cupcakes, but you can always add icing sugar, chocolate, or other toppings.
7. Pan con Tomate – Bread with tomato spread (Catalonia and Andalusia)
Pan con Tomate, also known as pan tumaca or pa amb tomàquet in Catalan, is a breakfast favorite in Catalonia and many parts of Andalusia.
It consists of toasted bread topped with a tomato sauce that is made by grating fresh tomatoes and mixing it with olive oil and salt. It is perfect on its own, but many people opt for adding a few slices of Serrano ham.
You can have it for breakfast or as a tapa at lunch or dinner.
8. Frixuelos – Spanish-style crepes (Asturias)
Frixuelos Asturianos is a delicious breakfast and merienda recipe that is traditional from the region of Asturias. Not only are they eaten during big celebrations like Antroxu, the carnival in Asturias, but any day.
Frixuelos consists of Spanish-style crepes that are made with flour, eggs, milk, sugar, lemon, aniseed, and olive oil.
Once they are done, they are all put on top of each other and sprinkled with some sugar.
Frixuelos are best served with a hot drink or a regional liqueur for adults!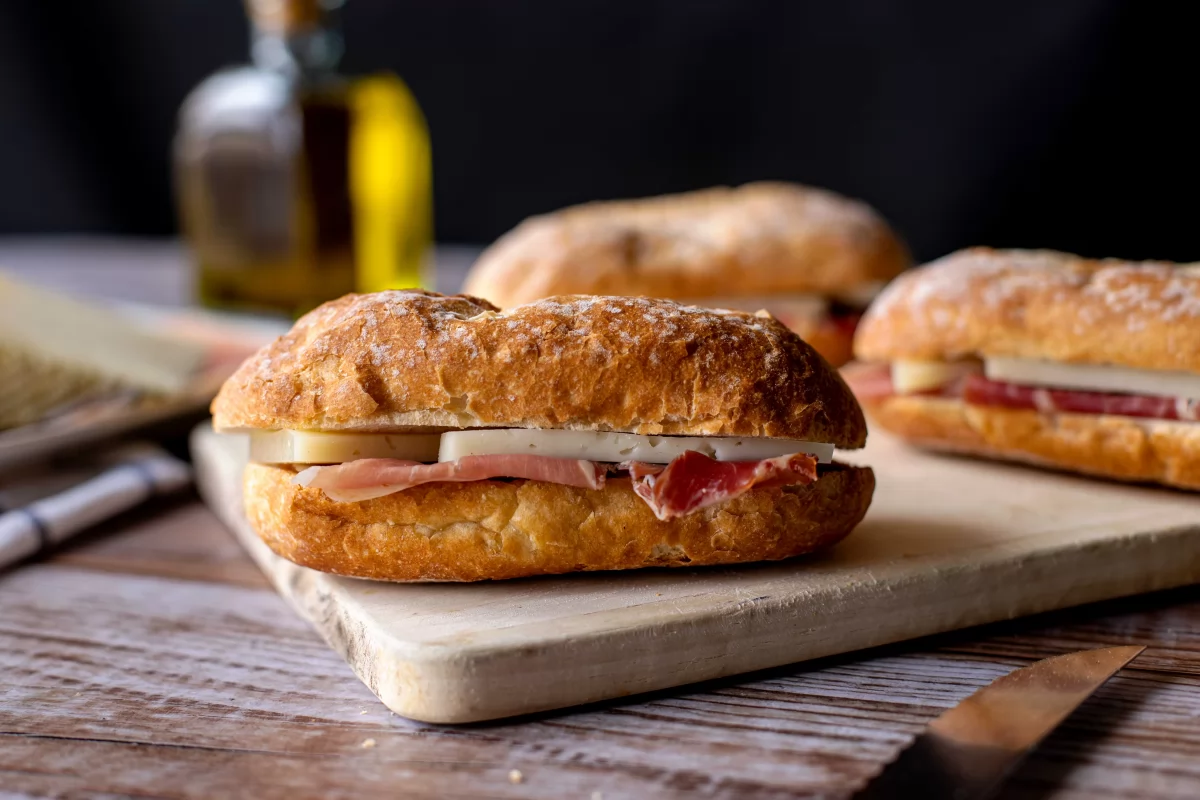 Having a bocadillo (sandwich) for breakfast is very common in Spain. It is probably one of the top food choices to start a packed day.
There are plenty of sandwich options, and this can be seen in the menus, but the Serrano ham and cheese sandwich is the most popular.
The key to a good Serrano ham and cheese sandwich is getting high-quality ingredients. Make sure to buy a good loaf, Serrano ham, and a sheep cheese like Manchego cheese.
Adding a bit of extra virgin olive oil to the bread gives it extra flavor.
Chocolate Caliente, also known as chocolate a la Taza, is a traditional Spanish recipe that you can have either at breakfast or late afternoon.
This hot chocolate is a bit different from other chocolates as it is mainly made with chocolate rather than milk, and it has a thicker consistency.
There are a few different recipes for Spanish hot chocolate, but the traditional one is made with 60% or more dark chocolate, cocoa, water, and sugar.
Chocolate Caliente is often accompanied by a good portion of churros to dip in or a sweet pastry.
11. Soletillas – Spongy thin cakes (Barcelona)
Soletillas are another delicious, sweet breakfast for those who want something quick to have with their coffee.
Made with eggs, flour, yeast, sugar, salt, and icing sugar, these simple spongy thin cakes will amaze you.
Not only are they great for breakfast, but they can be used to make desserts like the famous Italian tiramisu or pudding.
Who doesn't love a good croissant for breakfast?
If you are visiting Spain, you need to have breakfast at a bakery and order one. Although with so many cakes and pastries it can be difficult to make up your mind.
These croissants are made in the same way you would make a regular croissant; however, it is filled with smooth and sweet almond cream and topped with laminated almonds too.
A cup of coffee and an almond croissant is the perfect breakfast for those who have a sweet tooth.
13. Torrijas – Spanish-style French toast
Torrijas used to be a sweet dish only served during the Easter period in Spain; however, it has become a more popular option in many bars and restaurant menus.
Made with bread, milk, eggs, sugar, cinnamon, and lemon, you will love the flavor coming through and want to eat them again and again.
They are similar to French toast, but they are smaller and have slightly different flavors.
Now you can also find some variations of torrijas, and they are even incorporated in some desserts.
14. Sobao pasiego – Cantabria's Spongy cake (Cantabria)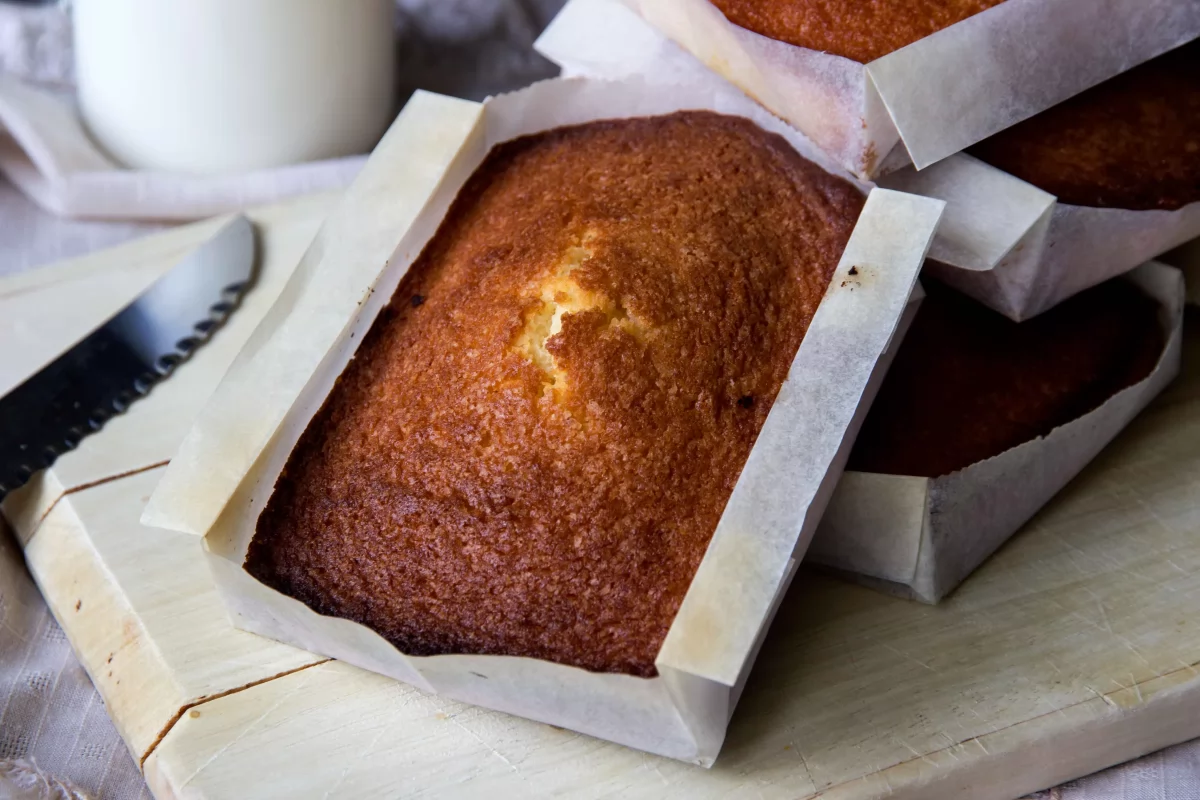 If you are visiting Northern Spain, and more specifically Cantabria, you need to try sobao pasiego, a spongy cake that comes from Cantabria.
They were only eaten during national festivals and special occasions like Christmas; however, you can eat them now at any time of the year anywhere in Spain.
Their buttery flavor and spongy texture make it so easy to eat them, and children love these cakes too.
Accompany sobaos with a nice hot drink at breakfast or merienda.
Leche con gofio isn't a popular breakfast in Spain, but it is a traditional breakfast in the Canary Islands.
This used to be a regular breakfast in the past, and now it is more difficult to find it as it has been replaced by commercial cereals. However, older generations still remember this breakfast very well.
This is a very simple dish as it consists of milk with gofio, a sort of flour made from roasted grains. However, it has plenty of good nutrients.
Whether you are looking for a sweet breakfast, mid-afternoon snack, or dessert, you will love fardelejos, lovely pastries from the region of La Rioja.
These are made with ingredients like flour, eggs, lard, ground almond, lemon, and icing sugar.
The best way to enjoy fardelejos is by having a coffee alongside.
Pan con mantequilla is one of the simplest breakfasts you can have in Spain. As its name says, it is bread with butter.
If you are wondering what is special about bread with butter, it is the butter that is the key ingredient here. Mantequilla de Soria is a high-quality butter produced in Soria, and it is obtained by pasteurizing the cream from the milk of Friesian and Swiss Brown cows.
It also comes in different varieties: natural, salty, and sweet.
If you visit Soria, and order pan con mantequilla for breakfast, you won't be disappointed.
18. Fartons con horchata – Horchata drink with fartons (Valencia)
One of the most refreshing and popular sweet drinks in Spain is horchata. It comes from the region of Valencia, and it is here where it is often served with fartons.
Horchata is a drink made with tiger nuts, water, and sugar, whereas fartons are soft and spongy pastries with the shape of a thick bread stick.
The combination of these two foods makes a delicious and sweet breakfast or merienda.
19. Mollete con Manteca colorá – Traditional mollete bread roll with paprika seasoned lard (Malaga)
When visiting Malaga or its surroundings, you need to try mollete con Manteca colorá if you love meat.
Mollete is a traditional bread from Antequera, a beautiful town near Malaga, and it is often eaten with savory fillings like Serrano ham or olive oil and tomato.
In this case, it is spread with Manteca colorá, lard that is seasoned with paprika and can contain pieces of pork meat too.
It is a very hearty breakfast to start the day, but it can also be eaten at lunchtime.
20. Trenza de Almudévar – Thin sweet pastry with dried fruits and nuts (Aragon)
Trenza de Almudévar is a sweet pastry that originated in Huesca, Aragon, in the 80s. Since then, it has become a popular breakfast and merienda that everyone loves, even those who aren't big fans of sweet flavors.
Making this sweet pastry does take some time because you will need to prepare the pastry and the glazed too. The pastry mix is deliciously made with flour, milk, butter, eggs, and nuts, and once it is baked, it is finished with a sugary glaze.
These pastries are perfect with a cup of coffee or the hot drink of your choice.
Whether you love having biscuits for breakfast or as a snack throughout the day, you want to try torta de txantxigorri.
These are Navarra-style biscuits prepared with ingredients like flour, eggs, yeast, cinnamon, water, and txantxigorri (lard).
They aren't very difficult to prepare, and they are definitely a different breakfast.
Susos, xuxos or pachangas are some of the most delicious pastries you can have any time of the day.
This recipe consists of a fried pastry that is traditionally filled with smooth pastry cream; however, it can be filled with chocolate cream too.
This isn't a breakfast you would have every single day, but it's perfect as a treat.