Bocadillos, and sandwiches, are part of Spanish cuisine. They are enjoyed at any time of the day – breakfast, lunch, or dinner.
Whether you plan to spend the day at the beach with your family or go on a day trip, bocadillos are always quick and easy to prepare and take with you anywhere.
But not only are the perfect grab-and-go breakfast or lunch, but you can also find different variations at tapa bars served with a cold beer or glass of wine.
In this blog, we have compiled 15 classic bocadillos recipes you can replicate at home, from the traditional bocadillo de tortilla to other lesser-known sandwiches like bocadillo almussafes, a traditional sandwich in the region of Valencia.
Bocadillos Recipes
One of the most classic sandwiches in Southern Spain is the Serranito sandwich.
This consists of a small baguette or large bread roll that is filled with fried green peppers, pork loin, serrano ham, and a few slices of tomato. Although it's necessary, you can add aioli or mayonnaise.
It's often eaten as a tapa but also as dinner. If you visit Andalusia, you definitely want to eat one of these at the bar. Serranito sandwich is full of flavor!
There is no visit to Madrid without trying one of the most typical sandwiches in the city, the fried squid sandwich.
However, if you aren't still going to Madrid, it is a sandwich you can replicate at home too.
You need fresh squid, chickpea flour, olive oil, bread, and mayonnaise to make this sandwich. If you struggle to find fresh squid, you can also use frozen calamari, but you will tell the difference.
3. Sandwich mixto – ham and cheese sandwich
Sandwich mixto is one of the easiest but most delicious sandwiches that are popular in the whole country.
It is a breakfast staple for many Spaniards, so no matter where you go on holiday in Spain, you will be able to order one.
For this sandwich, you only need two slices of white bread, ham, butter, and cheese. Put all the ingredients together, and then once you have your sandwich assembled, put it on the grill to melt the cheese and toast the bread.
A quick and easy sandwich to put together in less than 10 minutes is the tuna sandwich.
It is a light and delicious sandwich that is prepared with a small baguette, olive oil, tinned tuna, lettuce, tomato, and mayonnaise.
The key to enjoying this sandwich is to eat it straight away since the tomato juices, and mayonnaise can make the bread soggy.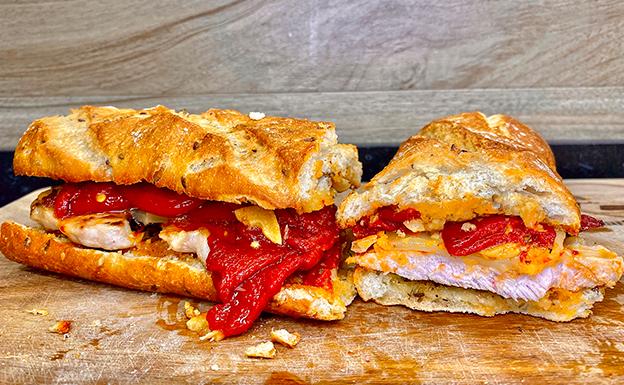 If you are looking for a comforting sandwich, bocadillo de lomo y queso. This type of sandwich is perfect for preparing for dinner or as a snack when done in smaller quantities.
The recipe is very simple and doesn't have lots of ingredients. You only need a nice crunchy baguette, a few slices of pork loin, cured cheese like Manchego, Piquillo peppers, and olive oil.
Although the sandwich is quite filling, you can add a side of chips or crisps.

Bocadillo de jamón, a Spanish ham sandwich, is the most popular sandwich in Spain. Locals have it at breakfast, lunch, or dinner.
This three ingredient sandwich is perfect for any occasion and won't take much of your time. Grab a baguette, olive oil, and high-quality Spanish ham. In most cases, locals use Iberian ham, but you can also use Serrano ham.
These ingredients match perfectly, but if you want to level up your sandwich, add some Manchego cheese or spread some fresh tomato.
Another classic Spanish sandwich is bocadillo de tortilla, a Spanish omelet sandwich.
This sandwich does take more time than other sandwiches since you need to make a Spanish tortilla before assembling your sandwich, but it is worth the effort.
You will need the typical ingredients to make a tortilla (eggs and potatoes) as well as a nice crunchy baguette.
Spice up the sandwich by adding onion to the tortilla and spreading mayonnaise or aioli to the bread.
This is a sandwich loved by children and adults!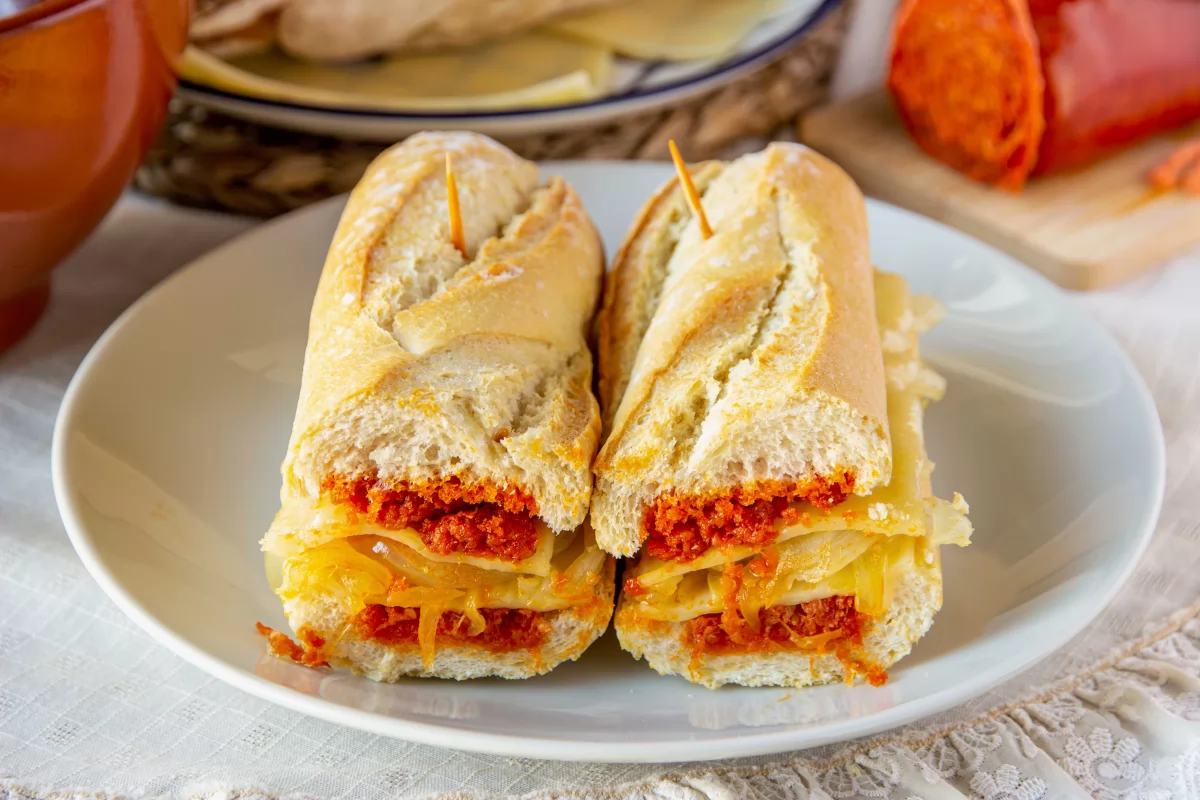 Bocadillo almussafes is a traditional sandwich from the region of Valencia. It is the perfect sandwich to boost your energy.
To make this sandwich, you will need sobrasada (a Majorcan sausage spread), Emmental or Edam cheese, an onion, and a baguette.
First, fry the sobrasada and onions, then assemble the sandwich and put it in the oven for a few minutes until the cheese is melted.
This sandwich goes perfectly with a beer and a side of crisps.
Bocadillo de queso, a cheese sandwich, is as simple as it sounds, but it is the perfect sandwich for those who love cheese.
It doesn't get easier than this two ingredient sandwich, and because of its simplicity, the cheese and bread must be of high quality. You can choose any cheese you like, but the more common ones are Manchego cheese and goat cheese.
This sandwich is perfect to have for breakfast, quick lunch, or dinner.
A sandwich that you will find in any bocateria (sandwich shop) is bocadillo de pollo.
This chicken sandwich is made with grilled chicken breast, lettuce, tomato, onion (optional), mayonnaise, and bread.
It is a filling and comforting sandwich that you will want to have again and again.
 If you are looking for a hearty sandwich, then bocadillo de chorizo is the one for you. 
There are two different ways you can prepare this sandwich. You can use either fresh chorizo or chorizo slices.
Chorizo slices are the easy and quick solution when you want to take a sandwich with you on a day trip or work, whereas the fresh chorizo sandwich is the one that is best to enjoy at home.
The latter one is prepared by cutting the fresh chorizo sausage into slices, cooking them in a pan, and putting them in a baguette.
Bocadillo de brascada is a traditional sandwich from Valencia, and it is the perfect sandwich to have at any time and anywhere. Whether you plan to spend the day at the beach or go on a hiking trail, this sandwich will give you the energy you need.
Made with beef fillets, Serrano ham, onion, garlic, and olive oil, this sandwich is full of flavor.
Enjoy this delicious sandwich with a refreshing drink.
Montadito de pringá is a synonym for tapas in Seville. This juicy and delicious sandwich is a classic dish in bars across Andalusia.
In order to make this sandwich, you need to have cooked a puchero andaluz, Andalusian chickpea stew with chicken, beef, chorizo, and black pudding, as the meat from the stew is the filling that goes into the sandwich.
The best way to serve montaditos de pringá is in small pieces of bread and a refreshing drink.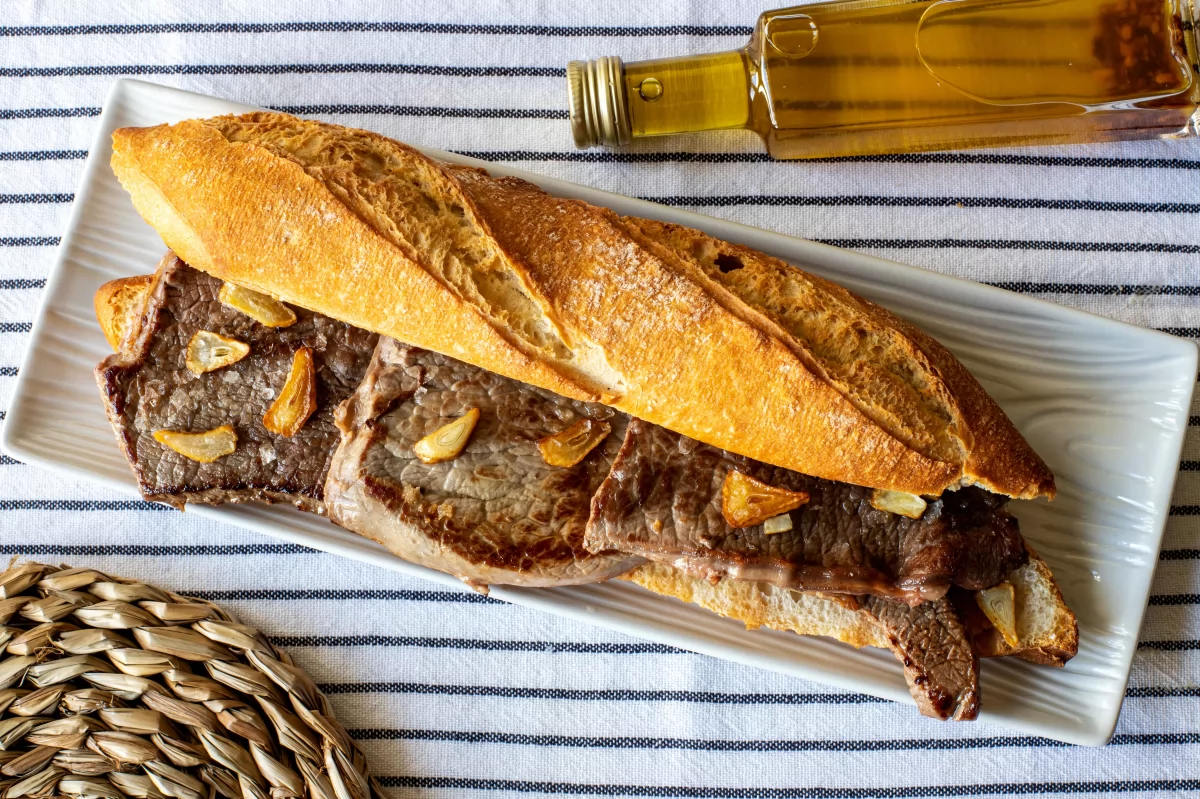 This sandwich originated in Madrid; however, it became popular across Spain in no time, and you can have one of these in many tapa bars or bocaterías.
Pepito de ternera is a sandwich that locals often have for either lunch or breakfast, and it does not take a lot of time to prepare.
For this sandwich, you need beef fillet, garlic, salt, and a crispy baguette or large bread roll. Once you fry the beef fillets in olive oil and garlic, you put them in the baguette, and it is ready to eat!
You can add sauces like aioli or mayonnaise as well as a fried green pepper to give it more texture.
15. Bocadillo blanco y negro – Sausage and black pudding sandwich (Valencia)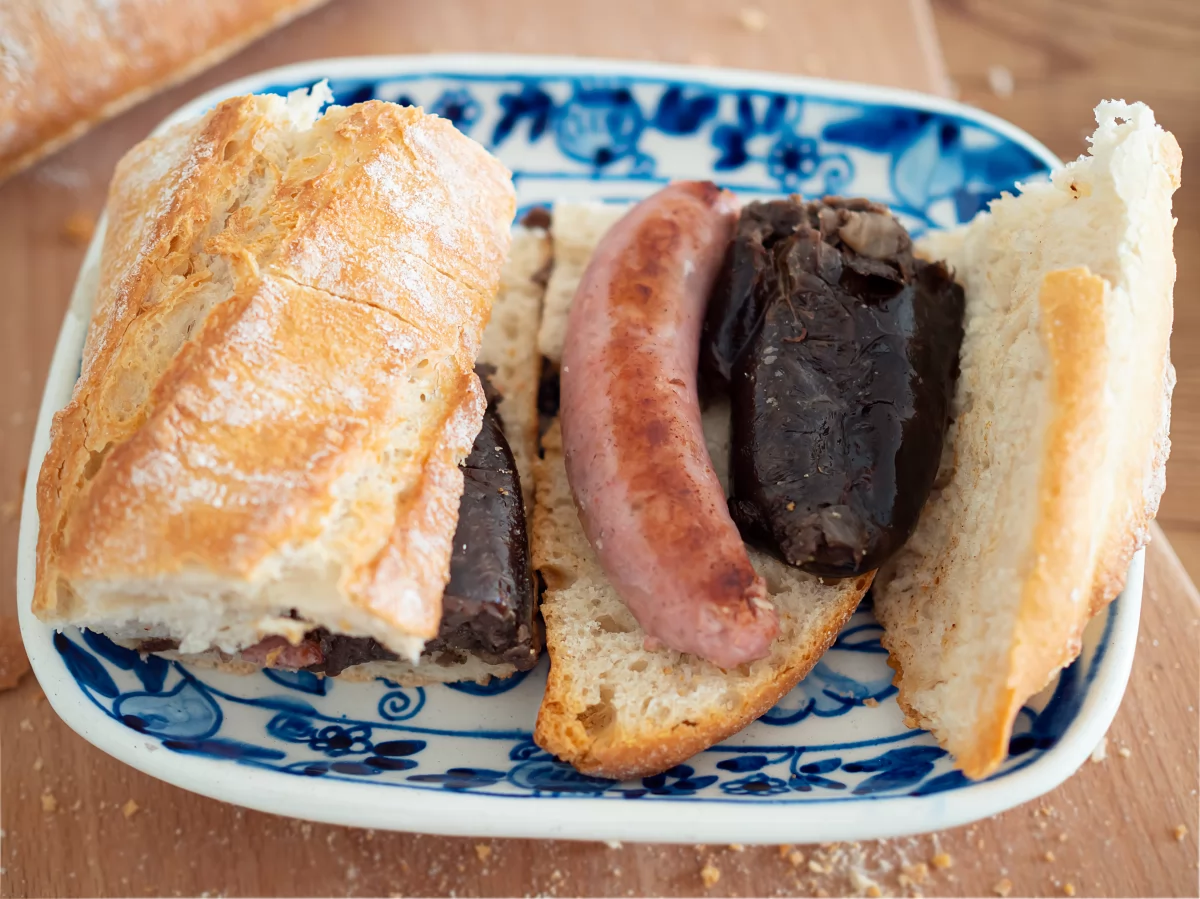 A popular sandwich that is typical in Valencia is bocadillo blanco y negro, a sausage and black pudding sandwich. Due to its high meat content, locals enjoy this sandwich for lunch.
To make bocadillo blanco y negro you will need to pan fry the sausages and black pudding and then add them to a nice and crispy baguette. 
If you liked this article about Bocadillos recipes, consider checking out these other round-up recipes below —