Balearic cuisine has always been influenced by Valencian and Catalan cuisine, and you will find many similar recipes and recipes with a unique twist.
Due to its location, it isn't a surprise that the Balearic Islands have numerous dishes made with fish and seafood. Still, another common ingredient is pork in many different ways, including in the form of cold meats and spreadable like sobrasada.
If you are ready to dig into some of the classiest Balearic dishes, we have compiled a list with 20 delicious recipes.
Balearic recipes
Caracoles a la mallorquina is a dish that you either love or hate. This traditional Majorcan dish consists of snails slowly cooked with potatoes, pancetta, tomato, chili pepper, and herbs such as thyme and mint.
This dish is served with a few slices of bread to dip in the sauce as well as aioli sauce.
2. Panades – Balearic pasties
The Balearic Islands gastronomy is known for its incredible pasties. That is what a panade is, a pasty. They are so popular that you will find these pastries in any bakery across the islands.
However, if you don't plan to visit Majorca, you can recreate this delicious recipe at home.
This full-of-flavour pasty is filled with lamb, pancetta, peas, and sobrasada (a traditional spreadable made with paprika and pork).
Refreshing and light are the two words that describe ensalada payesa ibicenca. This Ibizan-style salad is a favorite in the summer months.
There are variations to this recipe, but this salad is commonly made with potatoes, tomatoes, onions, green peppers, tuna, olives, extra virgin olive oil, and salt.
The best way to enjoy this salad is chilled.
4. Oliaigua – Menorca vegetable soup
Oliaiqua is a typical recipe of Menorca. It is a very easy and quick soup to prepare, and it used to be a famous soup in the past because of its simple and affordable ingredients.
This Menorca vegetable soup only contains tomatoes, green peppers, onions, garlic, parsley, paprika, olive oil, and water.
It is often served with pieces of melon, figs, or bread, and you can have it either hot or cold depending on the season.
Sopas Mallorquinas consists of a traditional soup recipe that is worth trying. It is hearty, delicious, and nutritious.
It is made with a wide range of ingredients: pork loin, potatoes, tomatoes, cauliflower, cabbage, peppers, bread, parsley, and sweet paprika.
With so many ingredients, this soup will leave you satisfied.
Cocas are synonym for Majorca. They are similar to focaccia and can be topped with different ingredients – anything from vegetables to meat and fish.
However, one of the most popular ones is coca de trempó. This one is topped with tomatoes, green peppers, onions, extra virgin olive oil, salt, and pepper.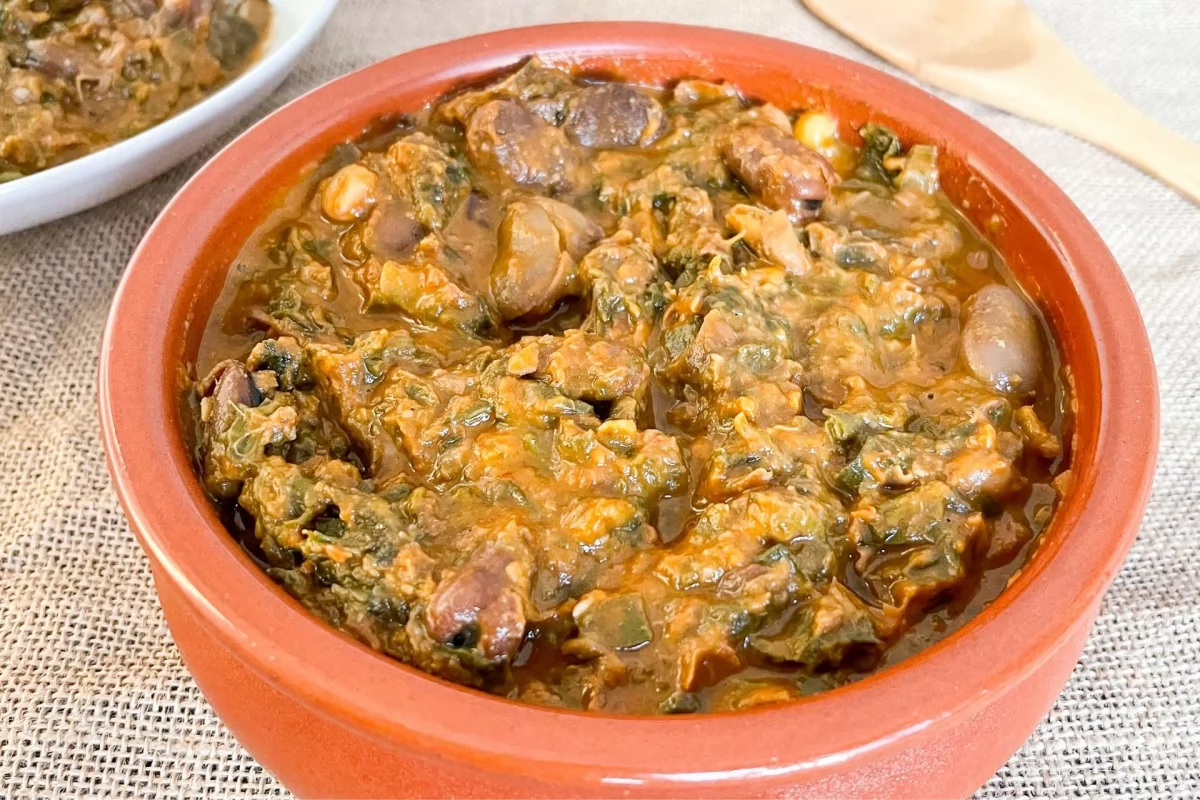 When Easter approaches, locals often prepare cuinat ibicenco, a traditional recipe from Ibiza and Formentera. This stew is easy to make and full of flavors.
To make cuinat ibicenco, you will need broad beans, grass peas, Swiss chards, garlic, mint, sweet paprika, ñora pepper, olive oil, salt, and pepper.
Enjoy this vegetable stew with a few slices of bread.
Bikini mallorquín is probably one of the easiest recipes in Majorcan cuisine. Despite being simple, you will love its rich flavors.
This sandwich is made with two slices of your favorite bread, butter, sobrasada spread, and Gouda cheese.
The sandwich is grilled until the cheese is melted and the bread is golden.
Berenjenas rellenas a la menorquina is a popular summer recipe in the Balearic Islands, especially in Menorca.
This dish consists of aubergines which are stuffed with a filling made with tomatoes, peppers, onions, breadcrumbs, eggs, sweet paprika, thyme, parsley, oregano, sa,lt and olive oil.
These aubergines are perfect for lunch with friends.
If you are looking for a traditional fish stew, guiso ibicenco de raya it is. The star ingredient of this stew is ray, but it is also made with potatoes, tomatoes, almonds, egg yolks, garlic, bread, and sweet paprika.
You can prepare this stew in advance and simply warm it up before serving it during your next family gathering.
11. Tumbet – Majorcan ratatouille
A delicious vegetarian recipe is Tumbet Mallorquín, a dish very similar to the French Ratatouille.
This traditional dish is made with potatoes, aubergines, courgettes, peppers, tomatoes, onions, flour and garlic.
It is perfect as a main course, but you can also serve it as a side dish with meat or fish.
If you are looking for a recipe for a special occasion, you will love caldereta de langosta, a typical dish of Menorca.
It consists of lobster cooked in a delicious sauce made with tomatoes, peppers, onions, garlic, bread, almonds, ñora pepper, and water.
The key to intensifying the flavors of this dish is resting it for a few hours before serving. It is a dish that seafood fans will love.
When it comes to bread and pastries, Majorcans know how to do it. Cocas de patatas is a classic sweet bread.
To make these bread rolls, you will need potatoes, milk, eggs, lard, flour, sugar, fresh yeast, and olive or sunflower oil.
Depending on the season, you can have it with ice cream or hot chocolate, but in any case, don't forget to sprinkle some icing sugar on top.
Paella is the most well-known Spanish dish worldwide, but the truth is that many people aren't aware of all the variations of paella and rice dishes.
If you love soupy rice, you will love Arroz Brut, a typical soupy rice from Majorca.
It is made with key ingredients such as rice, chicken, chicken liver, sobrasada, green beans, peas and ñora peppers.
15. Bullit de peix (guiso ibicenco de pescado) – Ibizan fish stew
Fish lovers must try Bullit de peix, a fish stew from the beautiful island of Ibiza.
Rockfish, tomatoes, potatoes, fish stock, garlic, parsley, saffron, olive oil, and salt are the ingredient to make this Ibizan fish stew.
For an extra touch, serve this stew with homemade aioli sauce.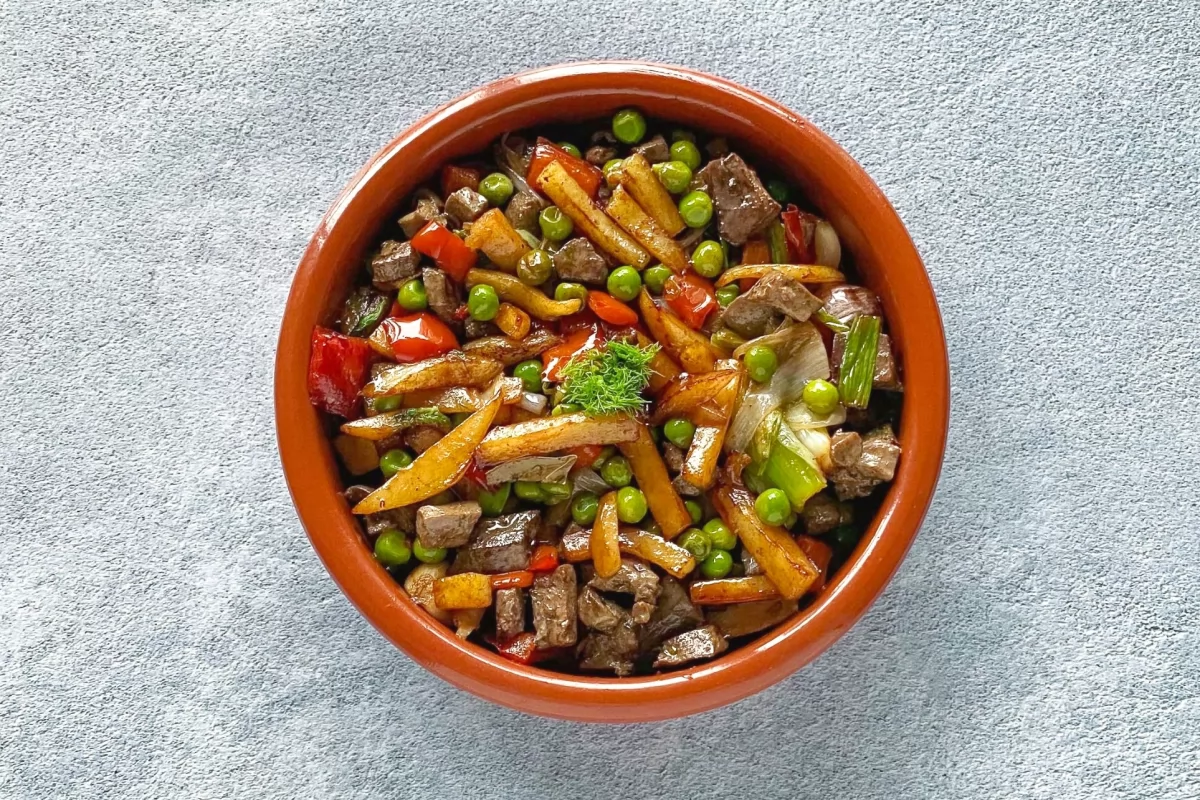 One of the most emblematic Majorcan recipes is Frito mallorquín, a fry-up made with lamb and a combination of vegetables and herbs, such as potatoes, peas, sofrit (a spring onion from the Balearic Islands), red peppers, and fennel.
Although the traditional recipe includes lamb, there are different variations, so you can switch lamb for octopus or make it only with vegetables.
After this hearty dish, you won't be hungry for hours.
If you are visiting Majorca, you can't leave the island without trying the delicious ensaimadas, a classic pastry in the Majorcan cuisine.
This rounded pastry is made with flour, eggs, lard, yeast, sugar, and water, and then it is topped with icing sugar.
Enjoy these Majorcan pastries with a cup of Spanish hot chocolate or a coffee.
 Coca de tallades is a spongy cake often eaten during the carnival period. This spongy cake has savory ingredients, which make it unique.
If you fancy making this cake, you will need sobrasada spread, candied pumpkin, lard, flour, eggs, butter, milk, sugar, and olive oil.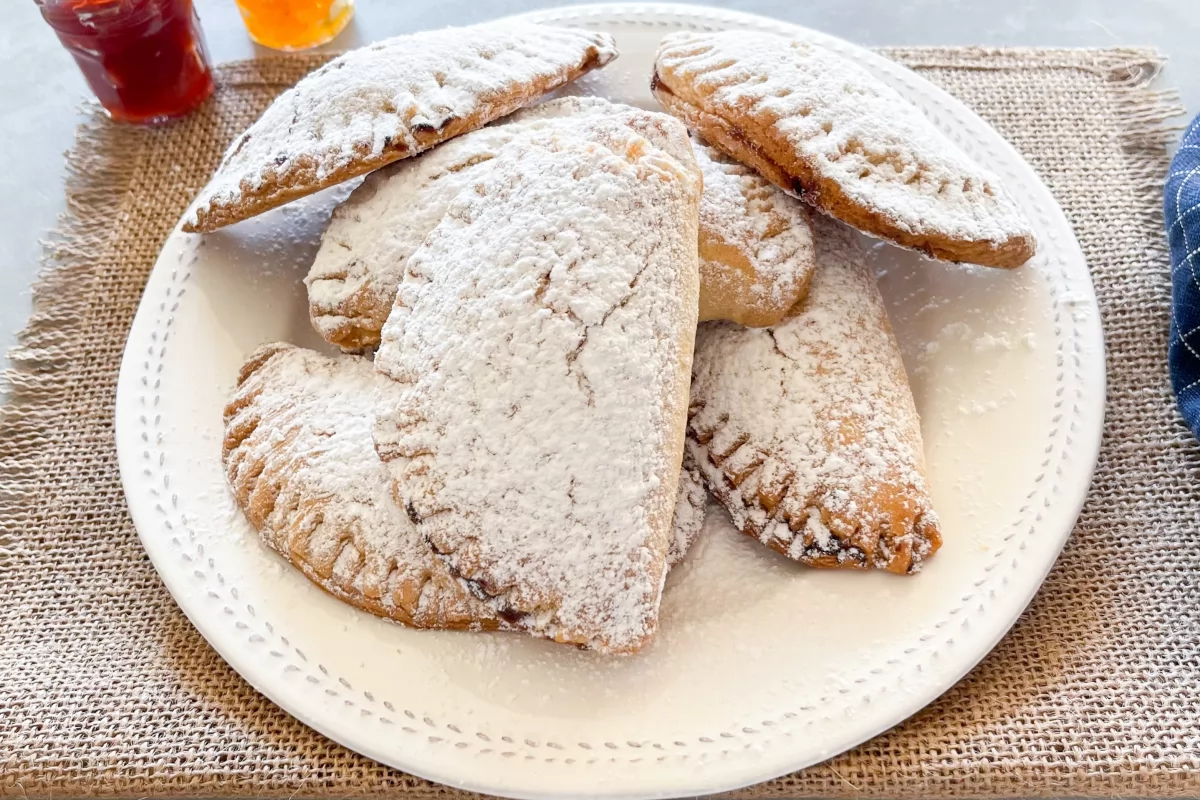 Rubiols or robiols are Majorcan sweet pastries you can enjoy all year round, but locals usually eat them during Easter.
The pastry is made with key ingredients such as flour, lard, eggs, and orange zest and then filled with apricot jam, strawberry jam, or ricotta cheese.
They are packed with flavor and are perfect for an afternoon snack or any time you need something sweet!
Who doesn't love a bit of cake? Gató mallorquín is a typical cake of Majorca, but you can find it in the rest of the Balearic Islands.
Simple but delicious, this cake is only made with four ingredients: eggs, almonds, lemon zest, and sugar.
This is a fantastic cake to enjoy with a hot drink and is also suitable for those who follow a gluten-free diet.