Asturias is an incredible foodie destination, and there is much more than its delicious cider and traditional cheeses.
Asturian cuisine is a combination of land and sea ingredients that provides a wide variety of unique traditional recipes – from the popular Asturian bean and sausage stew to lesser-known recipes like Pitu de Caleya (a chicken stew).
If you are ready to taste Asturian cuisine, we are going to tell you 18 of the best Asturian recipes.
Asturian recipes
1. Fabada Asturiana – Asturian bean and sausage stew 
Fabada Asturiana is the star dish of Asturian cuisine. It is a well-known recipe in the whole country, but you will enjoy the best Fabada in Asturias.
It consists of a hearty stew made with white beans, pancetta, fresh chorizo, black pudding, a piece of cured ham, saffron, and water.
This recipe is a synonym for comfort food, and it is very welcome on a cold winter day.
2. Cachopo – Fried steak filled with ham and cheese
One of the best Asturian recipes is Cachopo de ternera. This is a dish which locals constantly talk about where to find the best cachopo.
This Asturian recipe is made with beef steaks, Serrano ham, cheese, eggs, and breadcrumbs. This fried steak is delicious, and the combination of serrano ham, cheese, and beef is just perfect.
Cachopo is often very big, but it is also served with a side of handmade chips or roasted peppers.
This is a recipe loved by adults and children.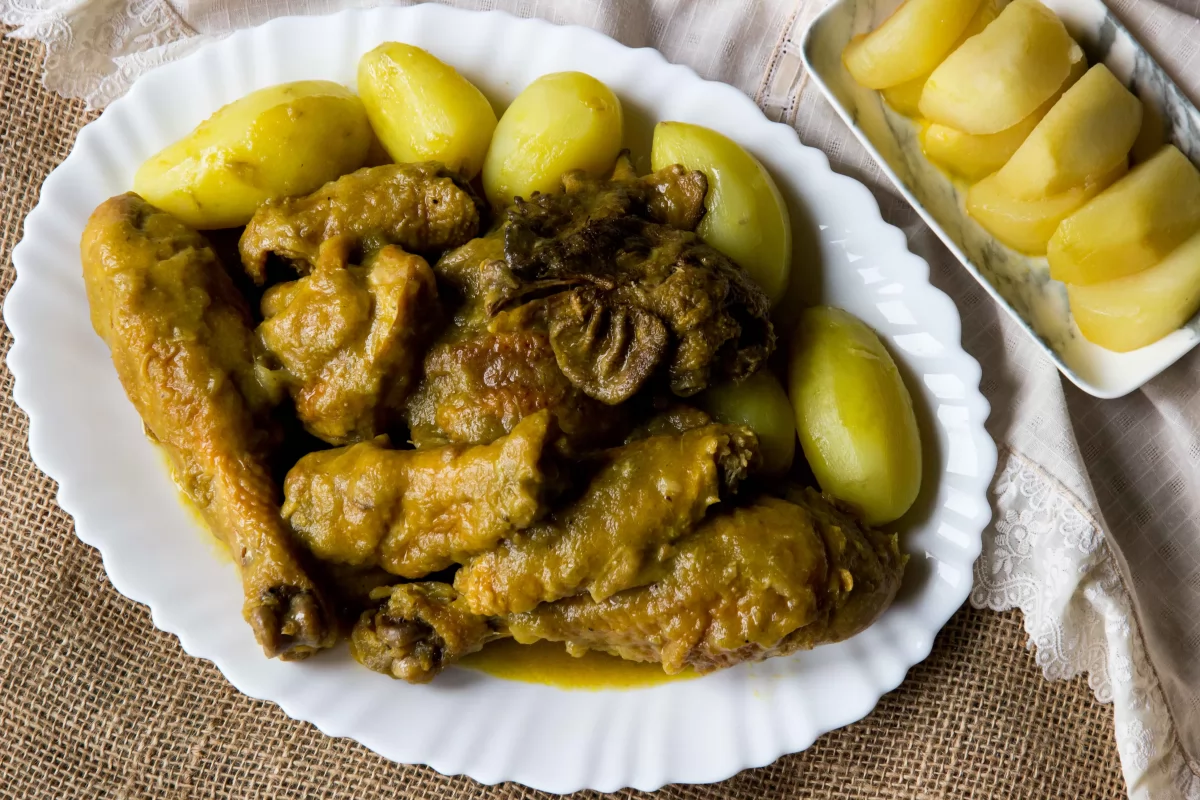 Pitu caleya is an old and traditional Asturian recipe that is perfect for those who love chicken. It is rich in flavours and delicious.
This chicken stew is prepared with a full chicken, so it makes the most of all the parts of the chicken and avoids waste. On top of this, it has other ingredients such as peppers, onions, garlic, sherry wine, and brandy, and it is seasoned with salt and pepper.
Unlike other chicken recipes, this one is served with a side of roasted potatoes and apples.
If you want an easy and quick Asturian dish, chorizo a la sidra it is. It is a very common appetizer that you will often find in tapa bars and traditional restaurants across Asturias.
This humble recipe is made with only two ingredients: fresh chorizo and apple cider. This is why it is very important that you get high-quality products.
The chorizo is slowly cooked in the apple cider and then sliced and ready to serve.
The best way to enjoy this dish is by having a few slices of bread to dip in the sauce.
Another traditional Asturian stew you might want to add to your list is Callos a la asturiana. Like many other stews, this one is perfect for a rainy and cold winter day.
Pig trotters, pork tripes, serrano ham, onions, garlic, sweet paprika, white wine, and olive oil make this dish a must for meat lovers.
Enjoy this stew with a few slices of bread.
Pote asturiano is a famous Asturian recipe that takes time to prepare, but the flavors coming through this stew are worth the hassle.
To make this Asturian-style stew, you will need white beans, potatoes, fresh chorizo and black pudding, pancetta, cured ham, collard greens, and saffron.
This bean stew doesn't need anything else, but you can always have it with a few slices of bread.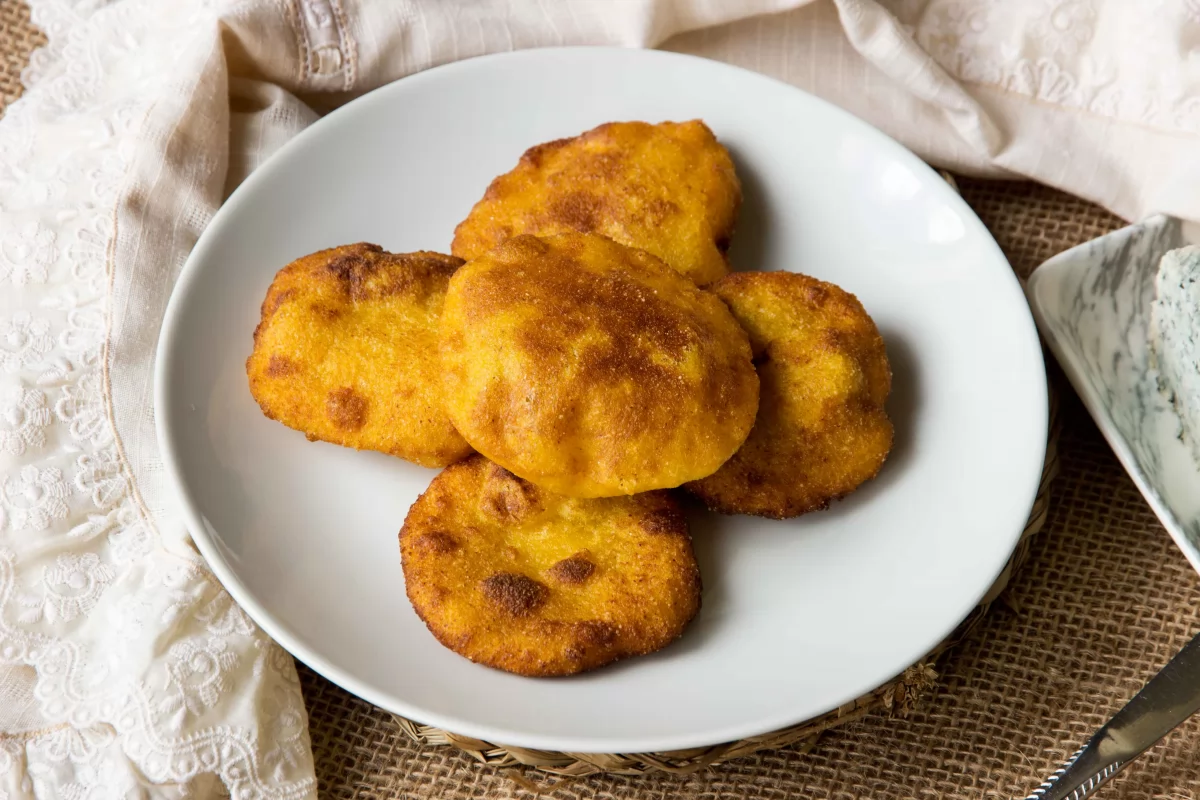 Tortos de maíz consists of fried dough made of corn and wheat flour, water, and salt. They resemble a small Mexican tortilla, but they aren't the same.
These tortos can be topped with different ingredients, either sweet or savory. However, one of the most classic Asturian toppings is queso de cabrales (Cabrales cheese), a traditional blue cheese.
A traditional stew from Oviedo, the capital of Asturias, is carne gobernada, a delicious meat stew perfect for those winter and rainy days.
It is made of beef, tomatoes, carrots, onions, white wine, garlic, and olive oil. The meat melts in your mouth, and the vegetables also add a great texture to the dish.
Enjoy this beef stew with a few pieces of bread.
If you love fish, you must try pastel de cabracho, a classic Asturian appetizer that is often enjoyed during special occasions such as Christmas.
This sort of fish pate is worth trying. Some of the ingredients inside this pate are cabracho (red sea scorpion fish), carrots, leeks, onions, eggs, cream, and tomato sauce.
Spread the paste on small pieces of bread and enjoy them with a glass of Asturian cider.
Escalopines al Cabrales is a dish full of flavors. Made with key ingredients such as beef fillets, breadcrumbs, and flour.
The beef is coated in flour, eggs, and breadcrumbs and then fried. These delicious fillets are often accompanied by homemade Cabrales cheese sauce and potatoes.
It is an easy recipe that everyone will love.
11. Pixín – Fried fish
Another classic dish of Asturian cuisine is Pixín which consists of small pieces of fried fish, specifically monkfish.
It is a recipe that won't take you longer than 15 minutes, and you can enjoy it as an appetizer or make it a main course by adding a generous side of salad and chips.
This crispy fried fish needs to be served with good homemade mayonnaise. The mayonnaise gives it an extra touch.
12. Bollo preñao – Chorizo bread roll
Bollo preñao, also known as choripan, is a traditional Asturian recipe perfect for a picnic, mid-afternoon snack, or party.
They are simply homemade bread rolls that are filled with fresh chorizo. They are the perfect bite to enjoy with a glass of beer or wine and with friends.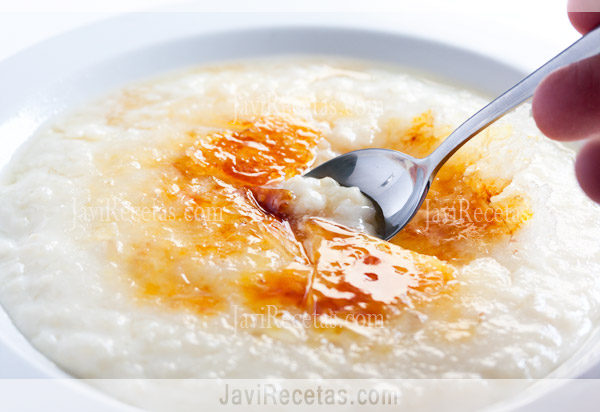 Arroz con leche isn't a traditional Spanish dessert you will only find in Asturias. However, Asturians have their version of this rice pudding.
In comparison to the typical rice pudding, Asturian rice pudding has double the amount of milk which makes it creamier and softer.
To make arroz con leche asturiano, you will need whole milk, rice, sugar, lemon zest, and unsalted butter. If you like cinnamon, sprinkle cinnamon once the dessert is set, it gives it a delicious taste.
You can batch this rice pudding in advance and serve it at a family gathering.
Tarta de queso Afuega´l pitu is a classic Asturian cheesecake with uniquflavorsrs.
It is made with Afuega'l pitu (an Asturian cheese), condensed milk, cream, corn flour, eggs, sugar, biscuits, and butter.
This cheesecake is often served with a homemade apple sort of jelly called pastel de manzana.
15. Frixuelos – Asturian crepes
This Asturian dessert resembles French crepes. They can be sweet or savory, and although they are especially typical during the Carnival period, you can enjoy them all year round.
Frixuelos are very easy to make, too – flour, eggs, milk, sugar, salt, and sunflower oil are the ingredients you need.
You can enjoy these Asturian crepes with apple compote, whipped cream, sugar, or your favorite savory filling.
If you visit Asturias, you will find casadielles in any pastry shop. They are the perfect sweet treat in the afternoon with a cup of coffee or tea.
These pastries are filled with nuts, topped with sugar, and have a touch of aniseed.
Carbayón is another delicious Asturian pastry that is particularly popular in Oviedo. It consists of a soft puff pastry filled with an almond filling and covered with icing.
It isn't an easy pastry to pull off, but they are so scrumptious that are worth baking.
18. Moscovitas – Almond and chocolate cookies
Who doesn't love cookies? Moscovitas are traditional cookies to enjoy with a hot drink and friends.
Made with almonds, flour, cream, and milk chocolate, they are crunchy and incredibly delicious.