Aragonian cuisine isn't as popular as other Northern Spain cuisines, but it is rich, flavorsome, and simple. Its gastronomy originated from the influence of nearby towns and cities.
Stews and meat dishes, especially made with lamb, are famous in Aragonian cuisine. However, vegetables such as borage and fruits are part of its gastronomy too.
If you are ready to taste its regional cuisine, we have compiled 18 traditional Aragonian recipes for you.
Aragonian Recipes
Fritada aragonesa is a humble and delicious recipe made with vegetables.
Potatoes, red and green peppers, courgettes, onions, olive oil, salt, and pepper make this traditional Aragonian recipe.
It can be served as a main dish or as a side for meat or fish dishes. No matter how you have it, you will love the earthy flavors coming from the vegetables.
2. Huevos al salmorrejo – Eggs with sausage, asparagus, and pork loin
First things first, salmorrejo can be easily confused with salmorejo (with only one "r"). The latter is an Andalusian dish that consists of a cold tomato soup, whereas salmorrejo is an Aragonian dish with pork, eggs, and asparagus.
This is a hearty main dish perfect for lunch with friends and family.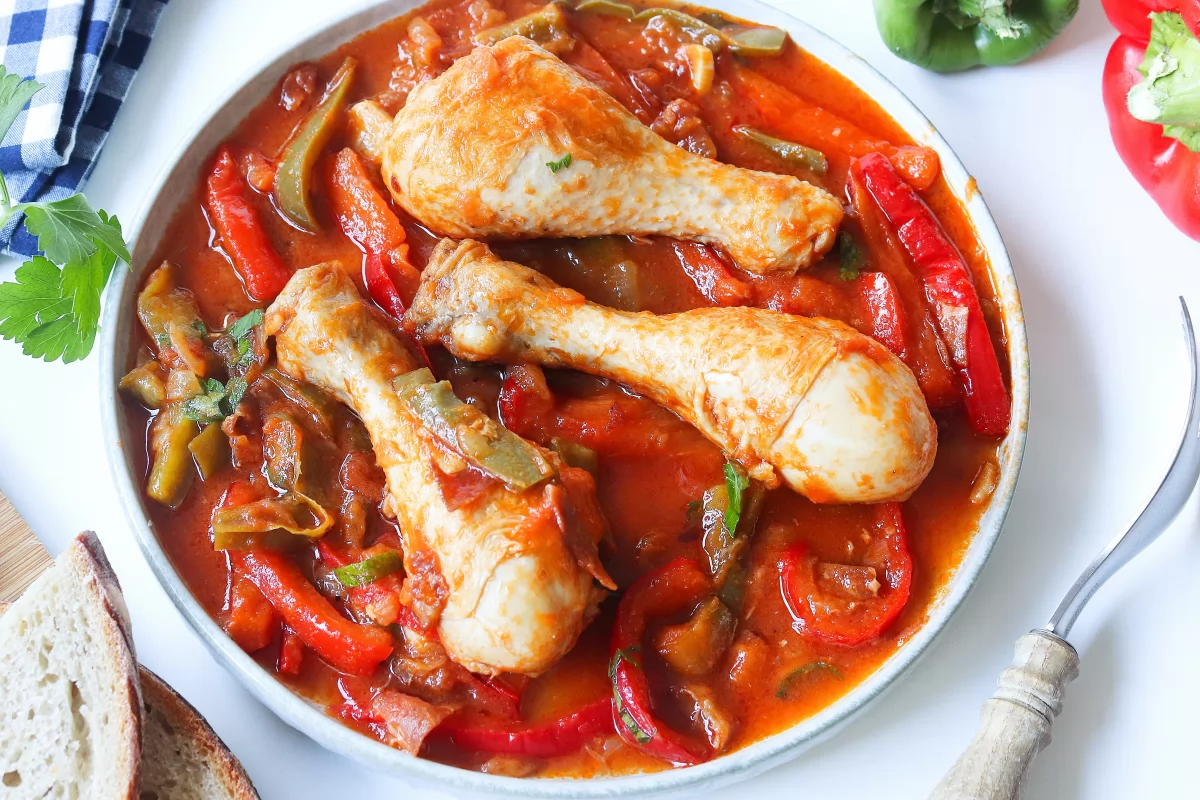 Pollo al chilindrón is one of the most popular Aragonian recipes. This delicious chicken stew is a favorite for many Spaniards, and you are likely to find this dish in other parts of Spain too.
To make pollo al chilindrón, you will need chicken thighs, Serrano ham, red and green peppers, tomatoes, onions, garlic, white wine, and salt and pepper.
This is an easy recipe that you can put together in less than 1 hour.
4. Recao de Binéfar – White beans, rice, and potatoes
 There is nothing better than a stew on those rainy and winter days. Recao de Binéfar is a synonym for comfort food. It consists of a stew made with pulses.
White beans, potatoes, rice, onions, garlic, parsley, dried chili, sweet paprika, olive oil, and salt are the ingredients that make this Aragonian stew.
This is an easy recipe to make any day of the week.
Magras con tomate is a recipe that originated in the region of Aragon, but it is also very popular in other Northern Spanish destinations like Navarra.
This dish is only made with Serrano ham, eggs, tomatoes, bread, onion, garlic, olive oil, and salt.
It is very straightforward to prepare, but it is packed with flavor! Enjoy magras con tomate for brunch or lunch.
Cardo con salsa de almendras is a traditional Christmas recipe from Aragon. However, you can enjoy it any time of the year.
The ingredients for this dish are cardos (thistle stems), almonds, pine nuts, flour, milk, garlic, olive oil, and salt.
Once cooked, serve immediately, and enjoy as a main course.
If you are looking for a traditional chicken recipe, you will love pollo en pepitoria.
Chicken, eggs, flour, chicken stock, onions, garlic, ground almonds, saffron, and sherry wine are the key ingredients to make this flavorsome chicken dish.
Serve this delicious chicken with a side of vegetables, white rice, or chips.
8. Ternasco asado – Roasted lamb with potatoes
Meat lovers must try this Aragonian recipe. It consists of a dish whose main ingredients are lamb and potatoes.
All you need to make ternasco asado is lamb leg, potatoes, peppers, white wine, and fresh herbs like parsley, rosemary, and thyme. The combination of roasted lamb and herbs is splendid!
This a fantastic recipe to make for family gatherings or a Sunday.
9. Fardeles – Fried pork liver
An unconventional but traditional recipe is fardeles, fried pork livers.
They are made with pork liver, pork meat, eggs, breadcrumbs, lard, and aniseed. All the ingredients are put together and fried.
Lentil stew isn't only from Aragon, but this recipe we are sharing is a take on how to make Aragonian-style lentil stew.
This dish is made with brown lentils, morcilla (Spanish black pudding), mushrooms, leeks, tomatoes, cured ham cuts, parsley, olive oil, and salt. However, you can also add potatoes and carrots to the stew.
These lentils are ideal for a cold winter day.
Chiretas rebozadas is an Aragonian recipe, more specifically from Huesca. This is a simple meat dish that uses different parts of the lamb.
It is made with lamb tripe, heart, lungs, pancetta, rice, garlic, parsley, salt, and pepper. All the ingredients are put together, sliced, dipped in egg and breadcrumbs, and fried.
Enjoy with a side of salad and a glass of red wine.
If you want to try a different recipe, this Aragonian dish is ideal for you. Arroz con borrajas y almejas consists of a dish made with rice, borage and clams.
The flavors coming through these ingredients are incredible, and it is a great lunch; it isn't too heavy or too light either.
The best way to enjoy this soupy rice is with a glass of wine and a few pieces of bread.
Migas aragonesas, also called migas del pastor, is the perfect lunch for a Sunday with family and friends.
Migas is a dish that you can find in other parts of Spain, and they normally have different meat pieces like sausages, chorizo, etc. However, these Aragonian-style migas are meat-free.
They are made with migas (breadcrumbs), potatoes, eggs, green grapes (to garnish), onions, garlic, water, olive oil and salt.
Pan de cañada, also known as pan plano con aceite, is a typical bread of Aragon. This long bread is very easy to prepare, and you will love its texture too.
Fresh yeast, flour, olive oil, water, salt, and sugar are the only ingredients you need to prepare this homemade bread.
Madejas is an appetizer that originated in Huesca, Aragon. The star ingredient of this recipe is lamb tripe.
Lamb tripes are boiled and grilled and topped with a homemade green sauce made of parsley, garlic, olive oil, and salt.
Enjoy with a few slices of bread and a glass of wine or beer.
16. Frutas de Aragón – Fruits covered in chocolate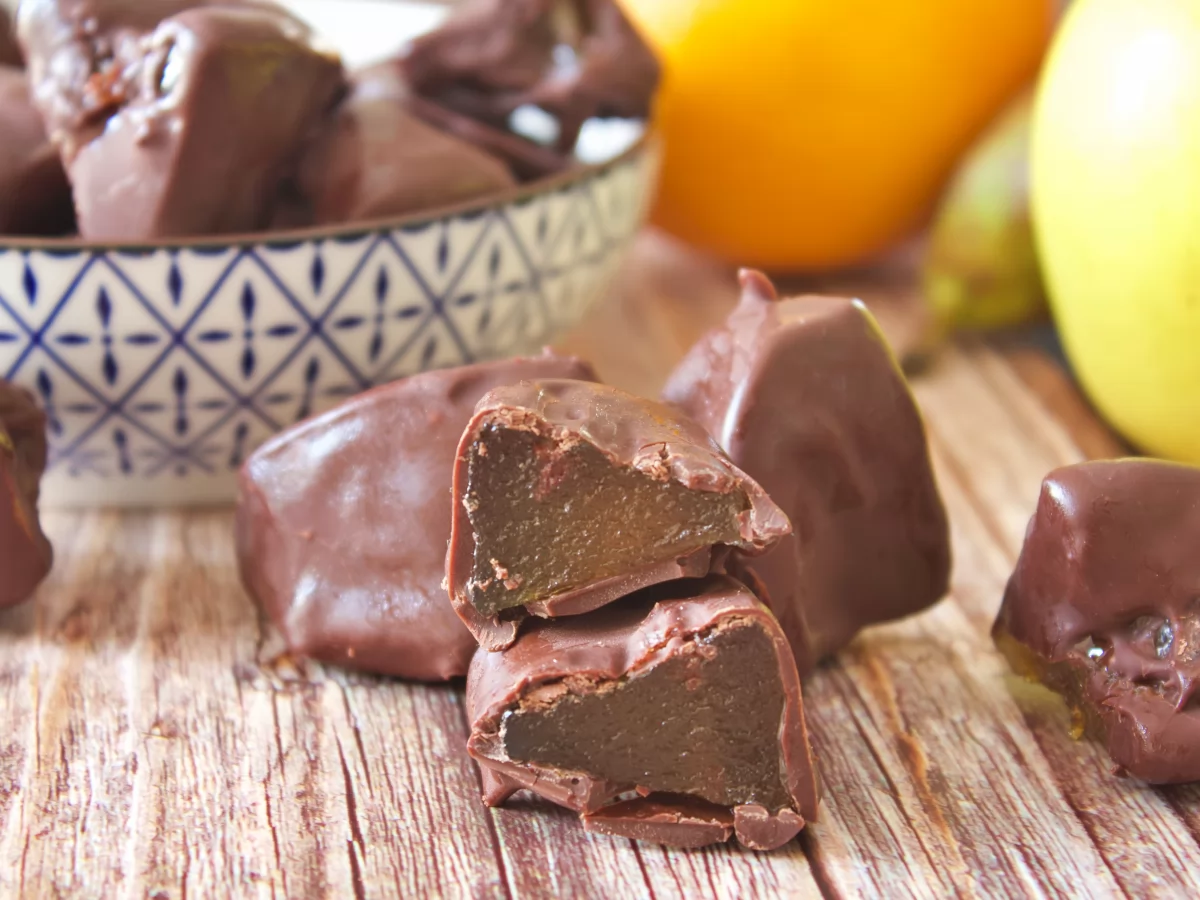 Frutas de Aragón is a classic Aragonian dessert and probably the most well-known too. It might sound too easy; however, fruits are candied, so it does take some time to prepare them.
Pears, apples, and oranges are candied, covered in a mixture made of chocolate and lard, and left in the fridge to set.
Are you looking for a sweet Aragonian recipe? Trenza de Almudévar is the answer. This sweet pastry braid is perfect for those who have a sweet tooth.
They are made with homemade puff pastry and filled with pastry cream and almonds, nuts, and raisins.
Although they take a bit of time to prepare, it is worth spending the time to make these delicious pastry braids.
18. Españoletas – Aragonian cookies
Another delicious sweet recipe is Españoletas, Aragonian cookies which are perfect for breakfast, afternoon, or any time you need something sweet.
Eggs, flour, sugar, lemon, yeast, and olive oil make these delicious spongy cookies.
Enjoy them with a cup of coffee or hot chocolate. They are perfect for dunking!