From fresh fish and seafood and hearty stews to delicious tapas and mouthwatering sweets, Andalusia has some incredible dishes you must try during your trip to Spain and recreate at home.
In this blog, we are going to show you traditional Andalusian recipes that you will want to make again and again.
History of Gastronomy in Andalusia
Fish and seafood are two big ingredients of Andalusian cuisine, but gastronomy is very rich as it uses many fresh vegetables, meats, and nuts too.
The gastronomy in Andalusia has been highly influenced by other cultures such as Christian, Jewish, and Moorish. This is the reason why there are also numerous dishes that include spices like paprika, nuts, dried fruits like almonds and raisins, and olive oil.
Andalusian Local Products
Andalusia has a good variety of local products that you may want to get when you visit this beautiful region. Some of the most popular products in Andalusia include bellota ham, extra virgin olive oil, Alora olives, custard apples, raisins, cane honey, and some popular wines like Jerez wine.
Traditional Andalusian Recipes
If you are ready to taste some Andalusian recipes, these recipes are popular in the region.
Puchero andaluz is one of those traditional dishes that is often cooked on a cold winter day. This hearty stew has ingredients like potatoes, carrots, chickpeas, and meat. Many locals have the soup with the vegetables first and then have pringá, a mix of meats served with salted pork lard and bread.
Gazpacho is a well-known soup in Andalusia and the whole of Spain. This delicious cold tomato soup is a refreshing dish that is perfect for those summer days in Andalusia in which temperatures reach up to 40 degrees. It's often served as a starter or appetizer in many bars and restaurants.
A simple but delicious Andalusian recipe is spinach with chickpeas. Although it is very popular in Seville, it is cooked all over the region. Having this dish reminds you of comfort food.
It's often served as a tapa in bars, so you can have it with any other dishes like croquetas.
4. Serranito – Serranito sandwich
Serranito is the most popular sandwich in Andalusia. This mouthwatering sandwich consists of pork loin, fried green pepper, serrano ham, tomato, and bread. It goes perfectly with a portion of chips.
Carne Mechada is a type of meat that is often served with small sandwiches in tapas bars. It is prepared with a good piece of pork loin, garlic, onion, and wine. After the meat is cooked, it is cut into slices which are kept in the fridge.
It is served as a slice of cold meat, just like ham.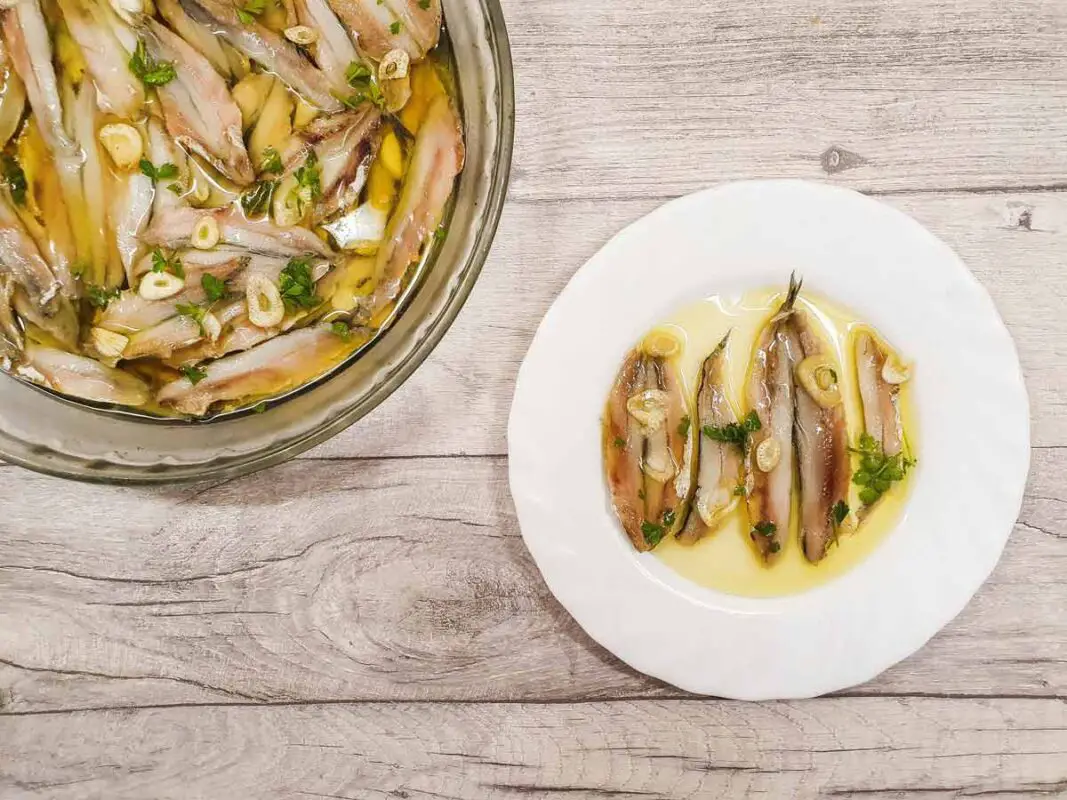 This appetizer or tapa is a must-try if you love to fish. The dish is made with fresh anchovies that are marinated in vinegar or vinegar and olive oil and then seasoned with garlic and parsley.
The best boquerones en Vinagre are those that have been marinated for longer than 5 hours.
7. Pestiños – Honey-glazed fritter
A delicious Andalusian sweet is pestiños, honey-glazed fritters. This sweet has Moorish influences and is very similar to the Moroccan chebakia.
Pestiños are also an Easter sweet, so if you are spending Easter in Southern Spain, you need to try these incredible honey-glazed fritters. You will find them in the city's convents and bakeries.
8. Torrijas – Spanish style french toast
These Spanish-style French Toast are traditional in Andalusian cuisine. Made with main ingredients like bread, eggs, and milk, they are to die for. Most locals have torrijas during the Easter period, and you will easily find them across bakeries and supermarkets.
Nowadays, you can also try different variations of torrijas – with honey, sugar and cinnamon, chocolate, and even wine.
This meat dish is made of Iberian Pork Cheeks which are slowly cooked with chopped tomatoes, peppers, onions, and spices.
The meat melts in your mouth, and you will want to have it again and again. It is often served as a main course accompanied by a portion of chips.
Recipes by Region
The following recipes are traditional in specific Andalusian cities.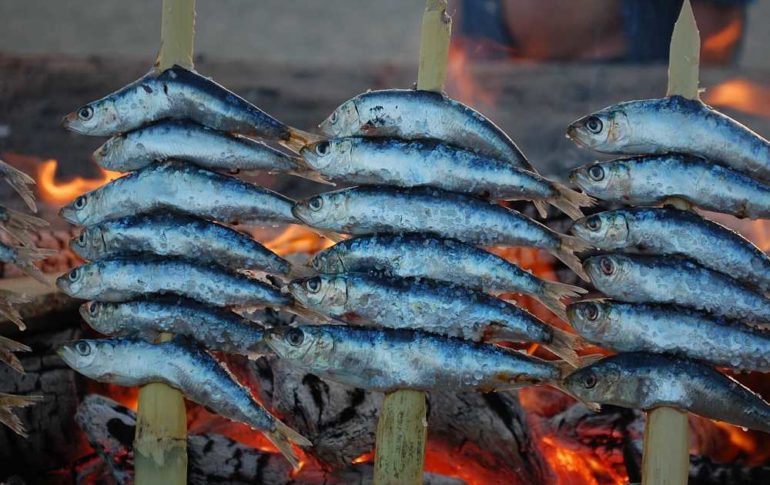 The most popular dish in Malaga is sardine skewers. You will see them across chiringuitos (beach bars) and restaurants. The recipe is simple but delicious.
Sardines are put in skewers which are placed on a small barbeque made in a little boat – just designed for roasting sardines and other fish. However, you can also cook them at home.
11. Fritura malagueña – Malaga-style fresh fried fish (Malaga)
Malaga is the synonym for fresh fried, and therefore you will find plenty of fish recipes in the city. This Malaga-style fried fish is a simple recipe that consists of frying a mix of fish like cazon, anchovies, and kingklip.
It can be eaten as a tapa or main dish, and it is served with aioli or mayo dip and a refreshing drink.
Made with ingredients like oranges, olives, salt cod, and boiled eggs, this potato salad are a great light and refreshing starter on a summer day.
Although adding salt cod to a salad may sound odd, you will be surprised by how all the ingredients come together.
13. Gazpachuelo – White fish soup (Malaga)
This warm soup is the perfect solution to any cold day. It originated from fishermen in the area hundreds of years ago. The soup has simple ingredients like fresh white fish (often hake), prawns, potatoes, mayonnaise, and fish broth.
14. Ajoblanco – Chilled almond soup (Malaga)
Another must-try soup in Malaga is Ajoblanco, a chilled soup made with bread, crushed almonds, garlic, water, olive oil, and salt. It is often topped with sliced green grapes.
This is a great soup for vegetarians and vegans too.
This delicious potato dish needs to be on your list of food to try in Granada. It is simply prepared by frying potatoes, onions, and peppers, and it is served as a side with meat or fish.
16. Piononos – Spanish pionono (Granada)
If you have a sweet tooth, you will love these spongy sweets made with eggs, flour, sugar, and syrup. Although they aren't the easiest sweets to make, they are worth the hassle.
If you are visiting Granada, Casa Ysla is the best place to enjoy these delicious sweets.
17. Habas con jamón – Broad beans and ham (Granada)
Delicious ingredients like broad beans, ham, garlic, and spring onions make this recipe worth trying. Despite its easy process, it is perfect as a tapa or main when you add a couple of fried eggs to it.
18. Flamenquín – Fried pork roll (Cordoba)
The first traditional dish that comes to any Spaniard's mind when thinking about Cordoba is flamenquin. This is a delicious fried roll made with pork fillet, serrano ham, and cheese.
The gooey cheese and the flavor of the meat are unbelievable!
Another variation of gazpacho is salmorejo. This cold soup is traditional in Andalusia, but especially in Cordoba. The soup consists of cold tomato soup topped with diced serrano ham, boiled egg, and a sprinkle of olive oil.
In comparison to gazpacho, this tomato soup is thicker, and it's topped with other ingredients.
20. Rabo de toro – Oxtail stew (Cordoba)
Cordoba's star dish, rabo de toro is a comforting stew made with oxtail. The meat is cooked for hours, leaving it very tender and juicy. It is served as a main course and accompanied by homemade chips.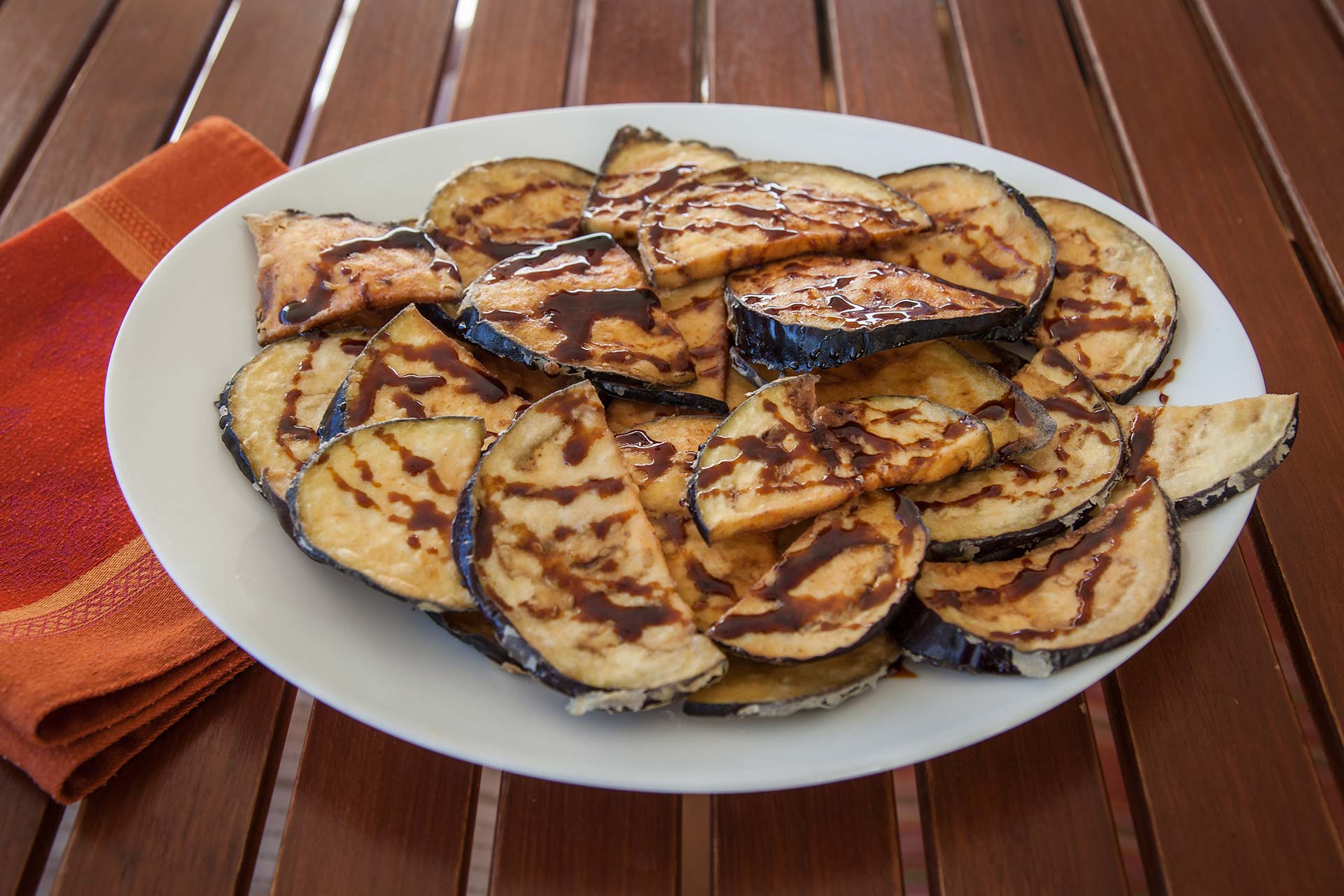 This is one of the most popular appetizers in Cordoba. Made with ingredients like aubergine, flour, and cane honey, this simple and quick recipe is perfect for enjoying with friends at home or in a bar.
22. Caracoles – Snails (Seville)
Snail is a popular dish in Spain, but especially in Seville. This is the type of dish you will either love or hate. The process of cooking snails is simple, and many people consider snails a delicacy.
They are often served as a starter or tapa across Andalusia.
This is a delicious soup that is prepared during the Christmas period, such as Christmas Eve. The soup consists of a chicken broth topped with boiled egg, diced serrano ham or chicken, and croutons.
It is the perfect starter for a winter day and Christmas Eve.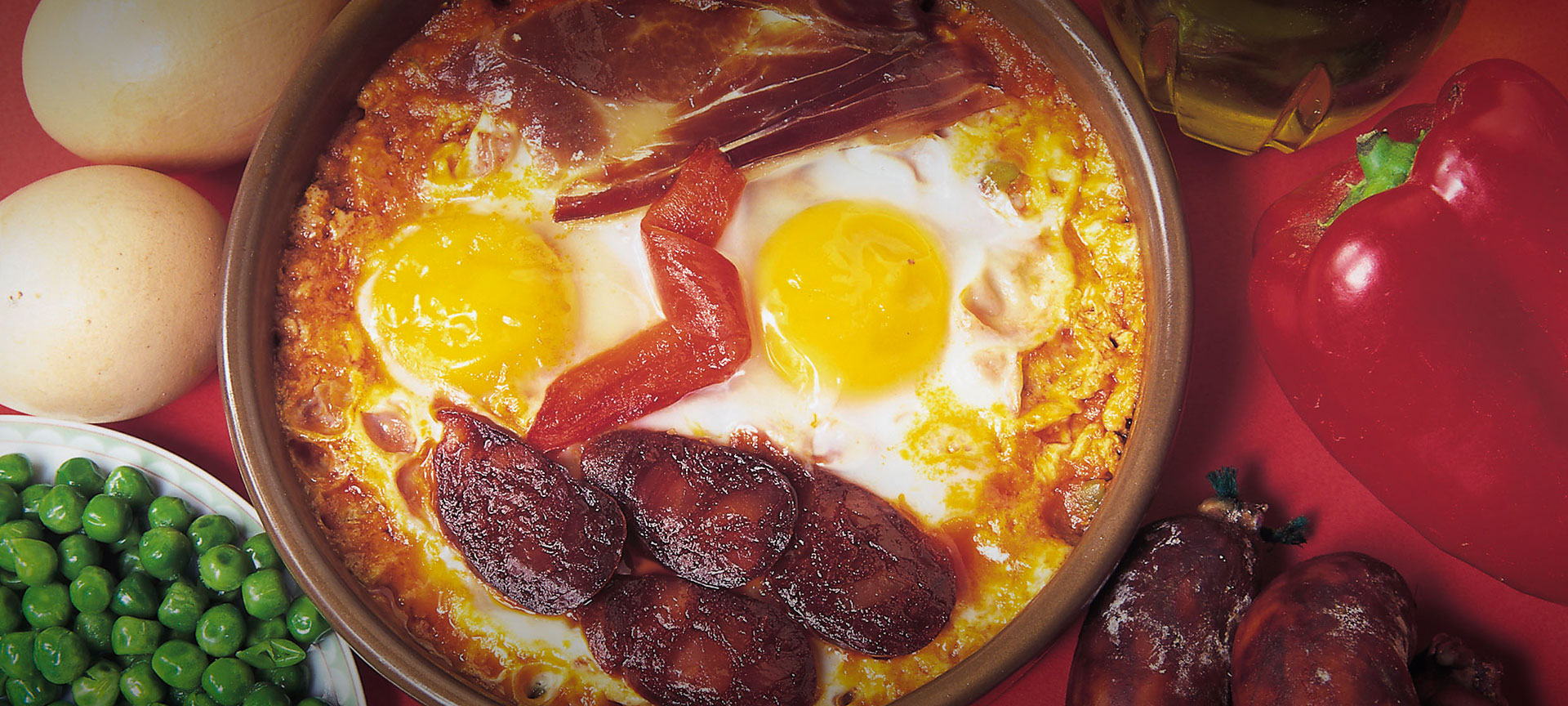 Also known as Gypsy Eggs, this meal starter is full of flavor – potatoes, cooked egg, chorizo, and spices cooked in a terracotta dish.
The dish is popular across tapa bars and restaurants, but there is no reason not to cook it at home.
25. Mojama – Spanish dried salt tuna (Huelva)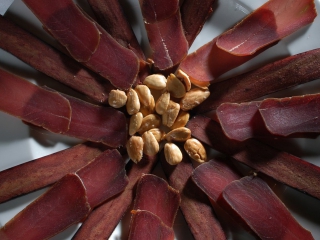 Mojama is a delicacy from Huelva, although it is also very popular in Cadiz too. This dried tuna is sold in markets across Andalusia, and it is often used as a topping for tapas.
For example, you can add mojama to some toasted bread or put it on a salad to give it an extra touch of saltiness.
If you are visiting Huelva or Cadiz, you cannot miss the opportunity to try cuttlefish meatballs, they are incredibly delicious, and you will find them in any tapas bar.
However, you can also prepare this recipe at home; you just need to know that it can be hard work but are worth the effort.
27. Ajo gañán – Sardines with potatoes (Huelva)
This traditional recipe from Huelva consists of a dish made with fresh roasted sardines and potatoes. It is a very simple recipe but it is delicious. If you are visiting Huelva, this is a must-try dish.
28. Gañotes – (Cadiz and Huelva)
This Easter sweet is easily found in the provinces of Cadiz and Huelva. A gañote is like a fried donut with a spiral shape and is scented with anise, lemon, and cinnamon. They are worth trying!
29. Galianos – Shepherd's stew (Jaen)
Galianos is a hearty stew that was originated in the mountains of Jaen, and this why it's known as the shepherd's stew. The stew is made with rabbit, hare, or chicken, crushed tomatoes, and torta de pastor (similar to a flatbread).
30. Pipirrana – Summer Spanish salad (Jaen)
This refreshing salad from Jaen is a staple in every tapa bar and home during the warm summer days. Made with healthy and delicious ingredients like tomatoes, green peppers, and garlic and topped with boiled egg and tuna, it is the perfect starter for a meal.
This black pudding recipe comes from the towns of Ubeda and Baeza in Jaen. Although you can adventure to make this black pudding spread, you can also buy it in many shops across Jaen.
It is often served on sliced bread in tapas bars.
This fish dish is traditional from Baeza, a small town in Jaen. It consists of cod loin fried and cooked in a delicious sauce and topped with fresh parsley. If you visit Jaen during Easter, you will find this dish in every restaurant.
One of the locals' favorite tapas dishes in Cadiz is Spanish shrimp fritters. These fritters are made with baby shrimp, chickpea flour, and spring onions and are a match made in heaven. They are perfect for enjoying with a glass of sherry wine and friends.
34. Cazón en adobo – Marinated cazon fish (Cadiz)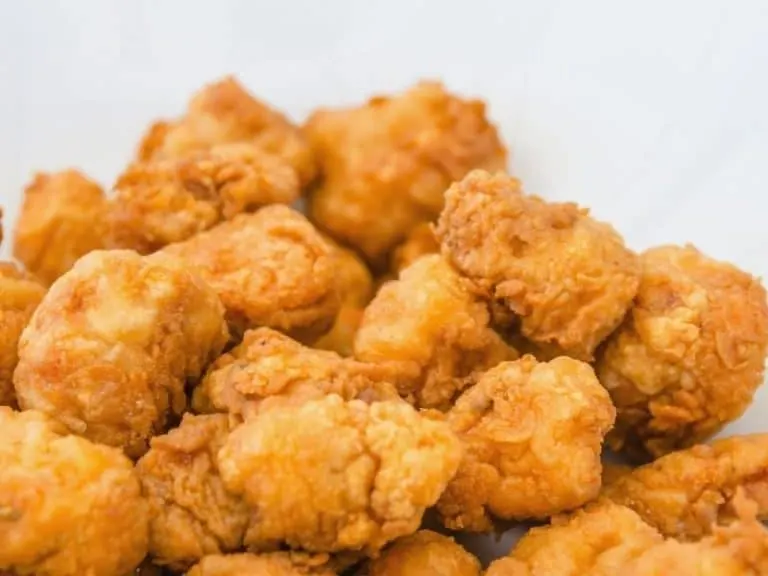 Cazon fish, known as dogfish in English, is very predominant in the region of Cadiz, and this is how the recipe emerged. The dish consists of dogfish that is marinated in a mix of spices and then fried.
A classic winter recipe in Cadiz is chickpea and langoustine stew. This comforting dish will warm you up on the coldest days. Serve it with a few slices of bread and fresh parsley, and enjoy this delicious stew.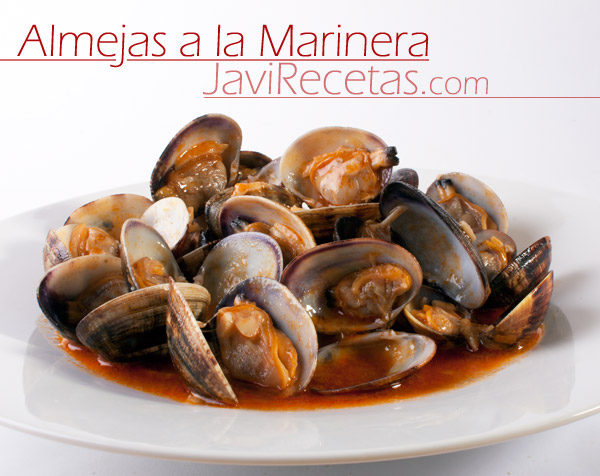 If you love seafood, you will love this easy but delicious clam recipe. The key to the recipe is cooking fresh clams and using a good white wine for the sauce. You won't be able to resist dipping a slice of bread in the sauce.
37. Caldo quemao – Sardine soup (Almeria)
One of the most popular dishes in Almeria is caldo quemao, a stew made with fresh sardines and vegetables like tomato, peppers, and onion. It is the perfect remedy for a winter day.
Another winter dish in Almeria is Gurullos con Conejo, a hearty stew that is slow-cooked with legumes like chickpeas and white beans, vegetables, and rabbits. If you visit Almeria, you will want to order this at the tapas bar or restaurant.
39. Trigo – Chickpea and wheat soup (Almeria)
Chickpeas, wheat, fennel, and different types of pork meat, including fat, made this traditional comfort soup. You will find this popular dish across restaurants and bars in the region of Almeria.
40. Papaviejos – Sweet fritters (Almeria)
Papaviejos are sweet fritters that are very traditional in Almeria during Semana Santa (Holy Week). The main ingredient is potato, but you will be surprised by the flavor of these. Adults and children can't resist these delicious, sweet fritters.